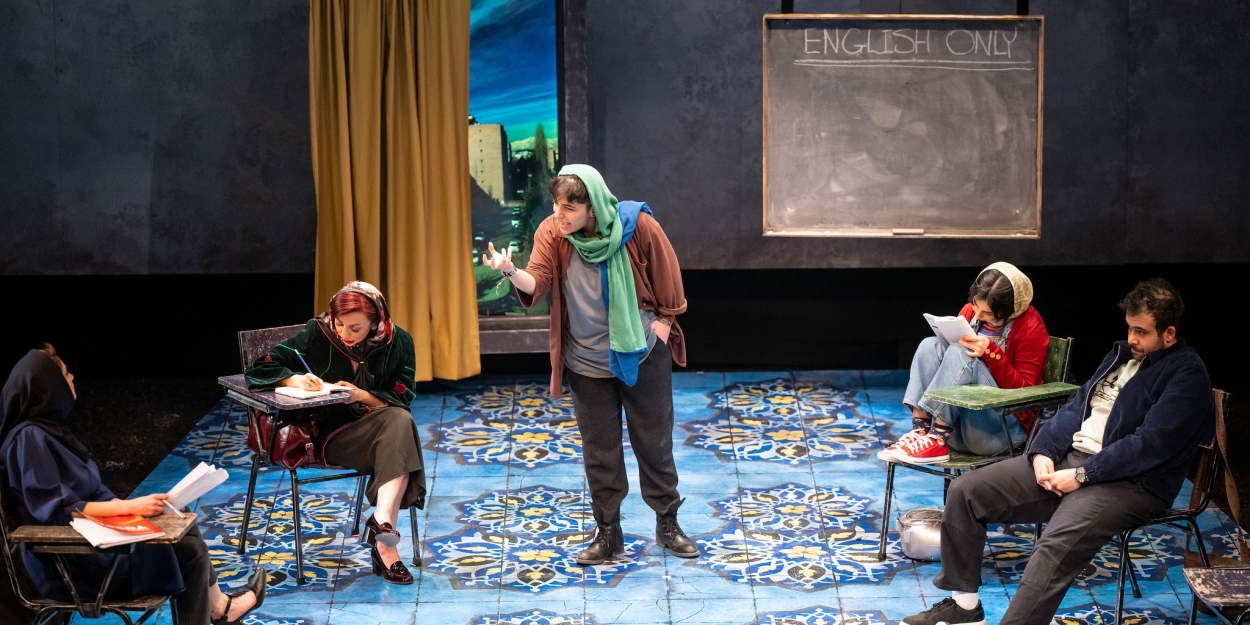 Review: ENGLISH at Soulpepper Theatre
Soulpepper Theatre kicks off their 2023 season with a full Iranian cast in English, playing until March 9, 2023
Soulpepper Theatre launches their 2023 season with English, written by Sanaz Toossi, playing at the Young Centre for the Performing Arts until March 9. Set in Iran in the spring of 2009, English follows a small adult ESL class where each student and their instructor all have a push-and-pull relationship with their native tongue Farsi and their yearning to learn English in hopes of a better life. English was planned to be included in the 2020 season but had to be postponed dur to the pandemic. Considering current events, including the murder of 22-year-old Mahsa Amini by the Islamic Republic that spearheaded women's rights protests across Iran, the launch of this production now is as timely as ever.
Ghazal Partou plays Marjan, a young woman who has lived in America and England and has returned to Iran where she teaches a small English as a Second Language class to four adults preparing for the upcoming TOEFL exam. Her main rule for her class - English Only! The students include Elham (Ghazal Azarbad) whose determination to perfect pronunciation as to become as accent-less as possible reflects her struggle with her own self identity; Goli (Aylin Oyan Salahshoor) who is young and eager to impress; Roya (Banafsheh Taherian) who is proud of her Iranian heritage and doesn't understand why her son who has moved to America has named her granddaughter an English name she can't pronounce, and Omid (Sepehr Reybod) who's understanding of the language seems a bit too advanced for this class.
With Canada being the multicultural mosaic that it is, English speaks to everyone, as either immigrants or descendants of immigrants who have had to struggle with learning the language on top of their mother tongue while forcing their own tongues to wrap around foreign syllables and expressions in order to keep up with the rush and bustle of integrated Canadian life. The identity struggle each member of this cast faces is humanistic and they resonate with the audience - when Teherian as Roya pleads that their own names and language must be celebrated even when they are learning to integrate into a new world and when Azarbad as Elham insists that they listen to and learn from native English speakers so that they could learn to speak without a foreign accent to hold them back in their new lives. Both points are real and valid.
Partou's portrayal of Marjan is fascinating. Her relationship with Farsi and her Iranian heritage is enigmatic throughout the story. As the audience, we are aware that she chooses to favor English over her native tongue which drives her determination to enforce the English only rule in her class, but the reason behind that is not specifically mentioned.
Directors Guillermo Verdecchia and Anahita Dehbonehie (who also serves as the set designer) have done exquisite work in crafting a performance that is visually dynamic and engaging. The classroom setting is far from state of the art but feels well lived in. Rob Denton's sound design, in particular during the various scene transitions, is rather unique. In the beginning, his music choices sound very much like the peppy intro for educational training videos we all remember from school or work which then merged into commentary about learning English to the current state of Iran to lead into the next scene.
As an ESL tutor, English resonated with me as I often chose personal stories to help connect with my students. I see the students I've worked with along with my own immigrant parents reflected in the characters within the show. This is a performance that will surely resonated with everyone.
Photo Credit: Dahlia Katz