New Digital Series, Off Kilter, Now Streaming On CBC Arts And Worldwide On CBC Arts YouTube Channel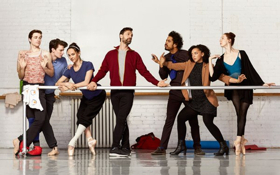 Priscilla Galvez and Alejandro Álvarez Cadilla of Falter & Find Productions are pleased to announce that the Hail Mary of ballet comebacks, Off Kilter, an eight-part digital series is streaming this spring in Canada, via cbc.ca/watch as well as on the CBC TV app, and starting June 12 on youtube.com/cbcarts worldwide.
The series "mockuments" choreographer Milton Frank, a man remaking himself into the critically-acclaimed asshole he never got to be in the 90s. Off Kilter is created and co-written by award-winning director, Alejandro Álvarez Cadilla (Le Trak, Deep Sleep, Disportrait, Fisk, Untitled Portrait) who also stars as the lead, Milton Frank. Directed by Clara Altimas (CPR, 'Sup Meg, Girl Couch), Off Kilter stars
Sarah Murphy-Dyson
(Working Moms, Reign),
Zarrin Darnell-Martin
(Room, Falling Skies, Spotlight), Manuel Rodriguez-Saenz (Caught, The Strain, Kim's Convenience), Alyssa Owsiany (Out with Dad), and stand-up comic Amy Cunningham, along with Principal and Soloist dancers from The National Ballet of Canada, Brendan Saye, Harrison Wynn, and Chelsy Meiss. Off Kilter is written by Cadilla and Amy Cunningham, choreographed by the acclaimed Shawn Hounsell (Royal Winnipeg Ballet, National Theatre Ballet - Prague), produced by Priscilla Galvez (The Drop-In, In Contempt, Kodachrome) and executive produced by Cadilla and Galvez. Milton Frank was the ballet world's up-and-comer who never up-and-came. After a massive plagiarism scandal, Milton kept meaning to make a triumphant return to the world of professional ballet. It's been the next thing on his to-do list for 25 years, in fact, but it's not until his comeback gets intertwined with the agendas of PR genius BB (Darnell-Martin) and Anna (Murphy-Dyson), an almost-retired ballerina, that any of those intentions start to materialize. "This is a show I've created inspired by my 27 years in dance and the brilliant, generous, offensive and absolutely ridiculous individuals I had the pleasure of working with along the way," says Alejandro Álvarez Cadilla. "It is co-written by comedian Amy Cunningham and myself (I also play the choreographer) and will be heavily focused on what dancers, especially women, go through as a matter of course. Unlike the vast majority of dance films and shows done, this is from an insider's point of view, albeit with a lot of humour and exaggeration thrown in." Cinematography by Conor Fisher (Black Rock or Bust, Beat, Stray Dog), editing by
James Watts
(375MTL) and costume design by Katherine Woo (I, Pedophile, Stray Dog, Happy Endings). Off Kilter is a CBC Arts original production and is produced with the participation of the Independent Production Fund (IPF). About Alejandro Álvarez Cadilla:
Montreal-based Alejandro Álvarez Cadilla is former principal dancer and guest artist with some of the most acclaimed ballet companies in the world including Nacho Duato's Compañía Nacional de Danza and
William Forsythe
's Ballett Frankfurt. He studied scriptwriting with Oscar-nominee Pedro Loeb and is a graduate of The Oxford School of Drama. His first short film Le Trac was personally selected by
Edward James Olmos
for the Los Angeles International Latino Film Festival. His second short film Deep Sleep won Best International Short Film at the London Independent Film Festival and had 33 international film festival selections. His TV hour documentary Disportrait, a co-production with ZDF/Arte and the Tribeca Film Institute, won the Golden Prague Grand Prix TV Award and was nominated for a Robert Award in Denmark. Alejandro premiered his short documentary Fisk, Untitled Portrait, commissioned by CBC, at the Palm Springs International ShortFest in 2017, which was also selected to screen at Flickers' Rhode Island International Film Festival, Pittsburg Shorts Fest and Master of Art Film Festival in Bulgaria among others. He is currently shooting the follow-up titled The New York Opening, also commissioned by the CBC. About Priscilla Galvez:
Priscilla Galvez is a Toronto-based producer and director. She produced and directed the CBC Arts documentary series Art Kids, profiling young artists across Canada. In 2017, she produced the afro-futurist action short film The Drop In for Bell Media that premiered at the Toronto International Film Festival, Fantastic Fest and Canada's Top Ten Film Festival. Priscilla has worked on television series and feature films for BET, Syfy Channel and Netflix as Associate Producer for Blue Ice Pictures. She is currently in development on the feature film version of The Drop In. About CBC/Radio-Canada:
CBC/Radio-Canada is Canada's national public broadcaster. Through our mandate to inform, enlighten and entertain, we play a central role in strengthening Canadian culture. As Canada's trusted news source, we offer a uniquely Canadian perspective on news, current affairs and world affairs. Our distinctively homegrown entertainment programming draws audiences from across the country. Deeply rooted in communities, CBC/Radio-Canada offers diverse content in English, French and eight Indigenous languages. We are leading the transformation to meet the needs of Canadians in a digital world.