These Six Plays Will Debut at American Stage Lift Every Voice: New Play Festival
The festival runs March 3 - 5, 2023.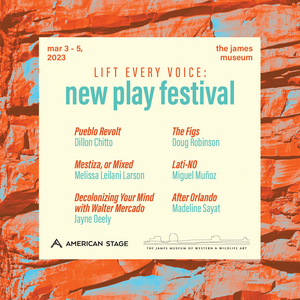 When American Stage put out a call for emerging playwrights to submit their never-before-produced scripts, the submission box was flooded with more than 200 entries.

This February, it has been narrowed down to six plays, all ranging from queer dramas to historical pieces. What do they all have in common?

They're all plays in their infancy stages, and American Stage hopes to give them a platform on their way to the top.

"We sought to feature playwrights and plays that promote, celebrate, or explore the experience of BIPOC and/or LGBTQIA+ individuals with themes that are relevant to our world today, featuring characters who inspire us," said Associate Artistic Producer Patrick A. Jackson. "It was important to consider what voices may be missing from our mainstage season this year and consider celebrating them with a selection in the festival."

On March 3-5, The James Museum of Western & Wildlife Art will come alive with speakers, playwrights, panels, and of course, staged readings of the six brand-new plays, all cast with local actors.


At Friday's opening, Chicago-based dramaturg, Regina Victor will open the weekend with a keynote speech about the impact of new plays on American culture.

"I am thrilled to be a part of LEV's mission to champion new and emerging voices in American Theatre. I have dedicated my career to this work and it's an honor to co-conspire with American Stage," Victor said.

Panels and staged readings will unfold all weekend.


In addition to six main pieces of theatre coming to the James Museum stage, Pinellas high school and middle school students will get the opportunity to show off their playwriting skills. The annual American Stage Write On! program connects local schools with theatre professionals to help guide students toward writing their own plays.

This year, students from Thurgood Marshall Middle School, Lakewood High School, Northeast High School, and Boca Ciega High School will showcase their original works as staged readings.

"I love new plays. I love working on them, lifting them up, and celebrating the Bards of our day," said American Stage Producing Artistic Director Helen R. Murray. As we continue to evolve as a society, we need these writers to hold up the mirror and bring us into the nuanced viewpoints and conversations about the way we live."
Pueblo Revolt by Dillon Chitto
The year is 1680 in what we now know as New Mexico. The Indigenous population is living under Colonial Spanish rule, and the Pueblo Revolt will soon begin. Two brothers, one a budding revolutionary, and the other, a gay idealist, are bracing for a battle of survival, morality, and what it means to be human in this historical comedy.
Mestiza, or Mixed by Melissa Leilani Larson
Lark Timon is no stranger to failure; it loomed large throughout her filmmaking career. Plagued by debt and professional disappointment, Lark chances upon a potentially career-changing opportunity only to be confronted by questions about her art, her relationships, and her identity as a mixed-race queer woman.
Decolonizing Your Mind with Walter Mercado by Jayne Deely
Zee, a bartender struggling through her mid 20's in New York is visited by the three ghosts of Christmas past. But instead of the Chrismas Carol narrative, the three ghosts are her Puerto Rican ancestors, confronting her with a long-forgotten truth. Decolonizing Your Mind with Walter Mercado is a uniquely Puerto Rican, uniquely New York, and uniquely queer story.
How much would you sacrifice for love? The Figs is a fairytale-like play about what-ifs, desires, and obsession. Follow a mad king obsessed with figs, a star-crossed princess infatuated with an innkeeper, a boy whose only friend is a swan, and a wily storyteller. The Figs pushes for audiences to remember the wonder held inside a good story.

Lati-NO! by Miguel Muñoz
Popular student John Flowers is "living the dream" at Americaland High School and hiding his Latin roots while pretending to be the all-American boy in this dark comedy. Everyone is in love with him, he can do no wrong, that is until, a new student, Macho, with maracas in hand, blows his façade. What happens when the dream starts to crumble and who is John without his false reality?
Written in response to the Pulse Nightclub tragedy, After Orlando is a short play that shares a first-person account of what goes through your mind during this terrifying moment. But who is speaking? Is it the shooter, the bystander or the victim? Three actors, three directors, three perspectives, and one play.