Previews: FALSETTOS at MadTheatre
A story created from two one-acts written nearly a decade apart, Falsettos pairs 1980s March of the Falsettos and 1990s Falsettoland, two acclaimed Off-Broadway musicals.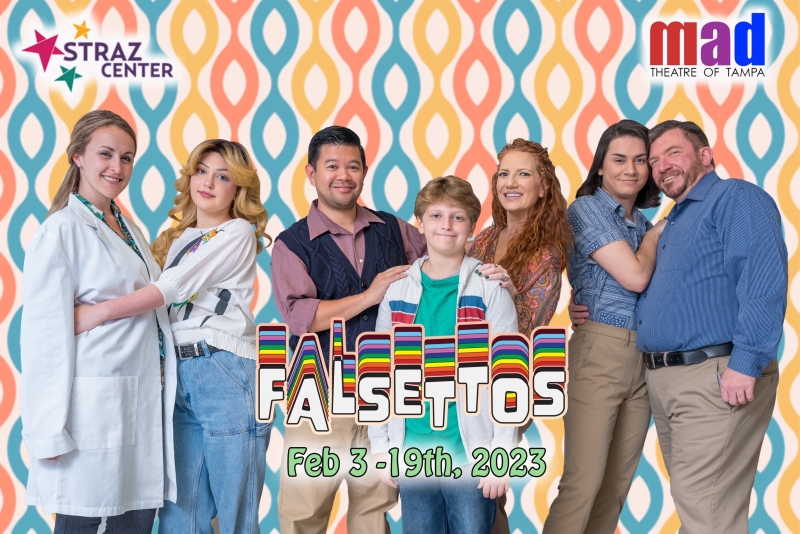 On Friday, February 3 - 19, madTheatre presents the musical Falsettos at the Shimberg Playhouse at Straz Center. A story created from two one-acts written nearly a decade apart, Falsettos pairs 1980s March of the Falsettos and 1990s Falsettoland, two acclaimed Off-Broadway musicals, with music and lyrics by William Finn and book by William Finn and James Lapine.
Directed by Anthony Paul Gilkinson with music direction by Megan Zeitler, Falsettos is the story of a gay man named Marvin who leaves his wife, Trina, and son, Jason, to be with Whizzer, his lover. Marvin does not want to abandon his tight-knit family, so he moves Whizzer into his home with his ex-wife and son and forces them to be a modern family, bringing about an equal amount of drama and comedy. The family gets psychiatric help to deal with their unconventional living situation and additional insight from their lesbian neighbors during the inception of the AIDS crisis.
"This was Modern Family in the 1970s, long before the tv show," Anthony quipped.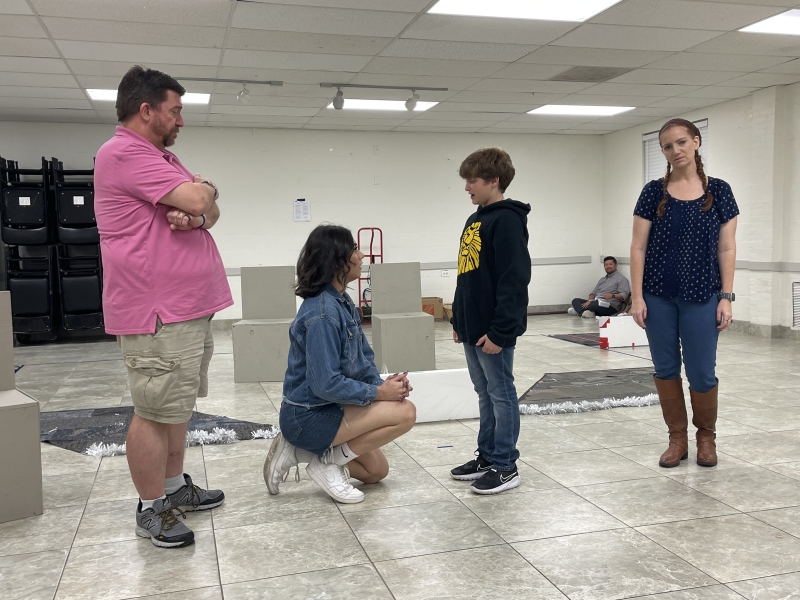 Falsettos stars Marcus Blake as Marvin, Jessica Berger Vitalo as Trina, Evan Lomba as Whizzer, Chris Cordero as Mendel, Sam Sobel as Jason, Casey Vaughan as Charlotte, Gabrielle Ray as Cordelia, and is stage-managed by Nicole Petta.
"The show is about a Jewish family in New York City and their circle in the late 1970s and early 1980s as they deal with marriage, divorce, and the approaching AIDS crisis," explained Anthony.
Act One deals with the divorce, the new lover, and the boy trying to understand his relationship with his dad now that he's come out as gay. Two years later, Act Two deals with the son's Bar Mitzvah and the personal impact of the start of AIDS (though at its inception and in the play, it is identified as an unknown disease).
"In 1981, you rarely survived."
madTheatre partnered with the Tampa Jewish Community Center and Federation to be honest and sincere about how to portray those things in the show.
Anthony has a personal connection to the shows, as he saw Falsettos in New York in 1993. He and his partner at the time stumbled upon a theatre that was playing the show.
"I went in blind, not knowing anything about the show. Two hours and 15 minutes later, I was wrecked. I was 22. At that point, many of my friends had HIV or were dealing with full-blown AIDS, dying from AIDS. The show stayed with me, and I knew one day I wanted to direct this show. When deciding our season, I lobbied for it because it hasn't played here in Tampa since 1999. I identified my friends with these characters because I had people like this in my life."
Anthony had his own idea of what the characters would look like; however, the cast transformed his vision and made them their own. He gave an example of an incredible metamorphosis of a character.
"Evan Lomba plays Whizzer. Evan enjoys being androgynous in his look - his words. He's 19 years old, so he's young, and is able to bring such depth to the character. There were Drag Queens and people who dress androgynously back in 1981 - it's not a new thing - but this character wasn't written that way. I said I wanted to work on it with you through these next two months. Everybody's fantastic, but Evan really made this character, unlike any other portrayal of Wizzer. Evan is not like anyone else. He sings the songs differently. His character is different. He's in a total boy look, but he's got long hair, which I thought was appropriate for the 70s because guys had long hair. He changed me because I started to see the character differently, and it works just as well, so it's really wonderful."
The youngest cast member Sam Sobel, who plays Marvin's son, Jason, is already a star in Anthony's eyes at the tender age of 11.
"Sam is just a delight. He was the first of the seven actors to be off-book. He can tell an actor their line before even the stage manager. He's pretty much off-book for everybody. He knows everyone's line and blocking."
Anthony said that people should see the show because it's about family.
"The show is called Falsettos because Falsetto is when you use your high voice for singing. Falsettos signifies boys who aren't quite men or men who act like boys. During the journey of the show, they learn what it means to be a man and what their place is as a man in this community," he said. "It's funny. It's got amazing singing and has a lot of drama where you're holding back tears. Afterward, I hope people think I wasn't expecting this show to move me the way it has."
To learn more and to purchase tickets, visit https://cloud.broadwayworld.com/rec/ticketclick.cfm?fromlink=2222593®id=101&articlelink=https%3A%2F%2Fmadtheatre.com%2Ffalsettos%2F?utm_source=BWW2022&utm_medium=referral&utm_campaign=article&utm_content=bottombuybutton1