BWW Review: Rodgers & Hammerstein's CINDERELLA Enchants at the Show Palace Dinner Theater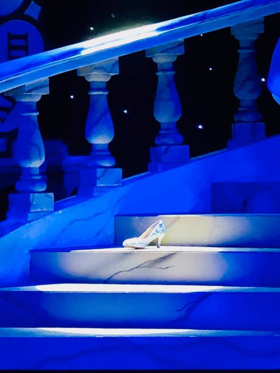 One of the most interesting pop cultural disputes involves Richard Rodgers and Oscar Hammerstein's original Made-for-TV production of CINDERELLA. The very first version starred Julie Andrews in the title role and the late great Kaye Ballard as stepsister Portia. There are certain experts who believe that 107 million individuals in 1957 watched the show, in whole or in part, making it one of the most viewed TV programs of all time. That's more than the audience that watched the Beatles on Ed Sullivan in 1964; more than the M*A*S*H series finale in 1983; and more than most Super Bowls. (Some, however, claim that it's impossible to get the real audience numbers, and hence, it's become a minor dispute.) But CINDERELLA came back twice on TV since then, with a memorable 1965 production (featuring Lesley Ann Warren and future General Hospital star Stuart Damon) and a 1997 version starring Brandi that celebrated diversity.
But the stage production is where you would think it best shines, and that's where CINDERELLA should get to show off, to showcase its glorious musical magic.
It's no wonder that CINDERELLA has become one of Rodgers & Hammerstein's staples. Only their Sound of Music rivals it in belovedness these days, even though both are not as artistically strong as some of their other works (Carousel and South Pacific, for example). But that's just me. So many Americans cite CINDERELLA or The Sound of Music as not just their favorite Rodgers and Hammerstein musical, but as their favorite musical of all time.
The latest production of CINDERELLA, at the Show Palace Dinner Theatre in Hudson, is actually a newer version of the show, with an updated book by Douglas Carter Beane (who wrote Xanadu for the stage). As famous as the musical version of CINDERELLA has been since its television debut, it only officially opened on Broadway in 2013 with Beane's book. It changed so much from the original, excising the King and Queen characters entirely and adding a curious political subplot. It also added "new", or undiscovered, Rodgers and Hammerstein songs: "He Was Tall," unused in The King and I; "There's Music in You," written for Main Street to Broadway; "Me, Who Am I?" which was cut from Me and Juliet; and "Now is The Time," cut from South Pacific. None of these song further the plot very much, and with the exception of "There's Music in You," aren't very memorable (you understand why they remained cut or unused until unearthed for this version).
The Show Palace production, expertly directed by Jonathan Van Dyke, is tons of fun and has much to offer. It's not perfect, with some very specific issues, but most of the weaknesses occur due to Beane's rewritten script and not from this beautiful production.
The subplot adds nothing of interest and seems to hold the main storyline back; it focuses more on the Prince's policies (so much so that you may want to retitle the show Princerella). Audiences come to CINDERELLA to escape the 24-hour political news cycle, not to deal with anything political in the middle of a beloved fairy tale musical. (I overheard one audience member say during the show, "I wonder if the Prince is going to suggest building a wall.") And the new songs can't hold candles to classics like "In My Own Little Corner" or "The Stepsister's Lament"; they feel added on and forced, like the makings of a failed Rodgers and Hammerstein jukebox musical.
Only when the original show's songs and moments come through--especially during the transformation scene--does CINDERELLA'S magic really take hold.
That said, there are many reasons to venture to Hudson to see this particular production, but my #1 reason must be the incredible Eileen Lymus-Sanders as Marie/Godmother. This soulful diva owns the stage in a genuine star turn, and her work is wonderfully wow-worthy here. Fabulousness incarnate. Her "Impossible" hits the goose bump-inducing heights. Of all of the versions of CINDERELLA that I have experienced (and even directed), and there have been many, Lymus-Sanders is the best Godmother I have ever seen or heard.
As Cinderella (named Ella in this version), Samantha O'Donnell certainly looks the part and has a lovely singing voice. But so often she gets lost in the shuffle, and we feel she needs even more spunk, more life. Her "In My Own Little Corner" needs to be a plea for escape, a dream of a better life; it's actually a power ballad, one of the great examples of a musical theatre "I Want" song. It's sung quite well, but we're missing the passion that makes us root even more for Ella's ultimate victory.
Kevin Korczynski, so good years ago in the Show Palace's Joseph and the Amazing Technicolor Dream Coat, is spot-on and extremely likable as the Prince, Topher. Although we never get a sense of the dragon-slaying warrior with him (as mentioned in an early song), we do get the idea of a boy who, through his love of Cinderella, becomes a man and, thus, a king. We know Cinderella has her own magical transformation, but ultimately and less magically, so does the Prince. Korcynski also possesses a gorgeous singing voice, hitting all the right notes perfectly. Whenever he was onstage, the audience knew they were in swell hands.
As Sebastian, sort of Topher's personal Roger Stone, Dan Kelley certainly captures the villainous sleaze of the part. With his skunk-colored wig, Kelley resembles the weird spawn of Cruella de Vil and The Little Mermaid's Grimsby.
The ultra-talented Julia Rifino gives another splendid performance as Gabrielle, one of Ella's stepsisters. This is a different take on the part, and Rifino, bespectacled with poodle hair, plays the character's overt nerdiness for all it's worth. As her larger than life sister, Charlotte, Jay Goldberg is adorably dowdy. Imagine Joy Behar as played by Divine in a Mrs. Lovett wig, and you'll get an idea of what he looks like as the lamentable stepsister.
As Madame, the stepmother, Jill Godfrey is a hoot with her Dodie Goodman voice, using her folding fan prop brilliantly as a way to punctuate her sentences. With her puff of red hair, she looks like Dune's Lady Jessica in a Ziggy Stardust wig.
Patrick Marshall as the heralding Lord Pinkleton emerges as one of the best in the cast. He's particularly outstanding with "The Prince Is Giving a Ball," and constantly gives the show a much-needed boost of energy. Dequan Mitchell makes the most of his part, a would-be revolutionary leader named Jean Michell, and boasts a wondrous singing voice. Fine support and amazing dancing are offered by the outstanding ensemble--Alyssa Elrod, Maria Flynn, Stephanie Garcia, Casey Hicks, Christopher Montanez, Bo Price, Eric Lee Troche, and Mariya Colwell Le Fleur (who also choreographs).
Sound issues plagued the opening number of the show ("Prologue"), where the pre-recorded music blasted way too loud and we could barely hear the singers. Also, everyone in the cast needs a microphone, even the smallest of roles, because some of the cast were difficult to hear in their one or two lines, especially when music blares.
The dancing is quite good, lively, though I wish Cinderella and the Prince waltzed as well as the other dancers in "Ten Minutes Ago." Good work by music director Marty Colonna (with Danny Troob's orchestrations), although some of the vocals especially in the opening number, when heard, left me wanting.
Jeffrey Weber's set is gorgeous and takes us to that fairy tale land. Fun use of props (thanks to Jill Godfrey), including fox and raccoon puppets that steal the show in key moments. Debra Faber's costumes are quite stunning, with the exception of Cinderella's pre-ball dress, where we can see that the gown is clumped in it, making her look like a pink mushroom.
The food at the Show Palace was overall quite wonderful, and I recommend the chicken piccata, farfalle pasta bar and roasted potatoes. The service was nothing short of spectacular, very attentive, and makes me want to make a return visit to this venue in a heartbeat. This is the way to run a dinner theater successfully.
Director Van Dyke is to be congratulated for helming a magical, entertaining show that works wonders. Even with its script issues, this CINDERELLA is guaranteed fun for the entire family. Young children will be enchanted and will find this show in particular a jolt of joy, and so will those of you (myself included) who refuse to grow up.
The Show Palace Dinner Theater's production of CINDERELLA runs thru February 24th. Specialty cocktails and specialty desserts are also available along with dinner for an extra charge.