Review: GOOD TIMES ABOUND AT SMOKEY JOE'S CAFE at Show Palace Dinner Theatre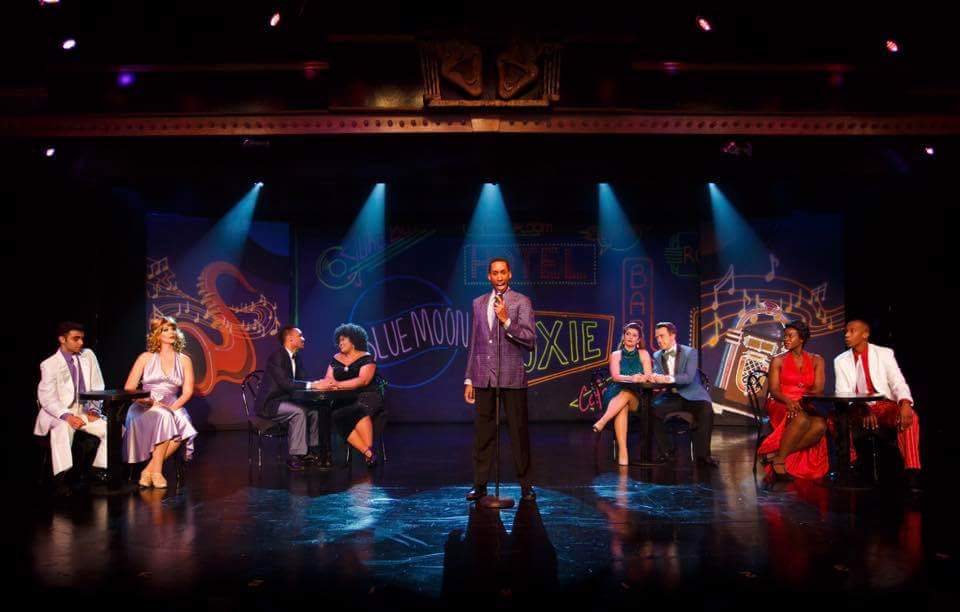 From the first note of In The Neighborhood coming from the fire escape on the side stage to the incredible finale of Stand By Me, center stage in front of a door stoop, only one word could describe the high-energy, powerhouse performances in Smokey Joe's Café: The Songs of Leiber and Stoller at Show Palace Dinner Theatre in Hudson:
Wow.
On opening night, you tend to expect some potential jitters, but this nine-member cast was, in another single word, perfection. Director Matt Belopavlovich, choreographer Susan Downey, and music director Anthony Wright, along with countless others behind the scenes, have a lot to be proud of with this stellar production.
The musical revue made up of the legendary song-writing duo Jerry Leiber and Mike Stoller was like going home. Each performance brought me back to oldies songs playing on the radio in my childhood home. Several seniors at my table were tapping their feet. The rhythm and blues, ballads, gospel, and rock and roll songs - pop standards from the 50s and 60s- were just that infectious.
Smokey Joe's Café doesn't rely on dialogue, but rather lets the music move the story forward. Each song represented a short vignette, highlighting one or more amazing vocals and seamless choreography.
Shifting hues by lighting/Sound Designer Michael Cessna and sliding panels by set designer/master carpenter Todd Everest created a beautiful canvas to let this cast shine.
And you can't recognize them without acknowledging the gorgeous, even sometimes humorous, inventive costuming by Pat Werner. When you're excited to see what they'll wear in the next scene, you know you're on to something.
The ensemble featured Crystin Gilmore (Brenda), Joya Richmond (B.J.), Hannah Timm (DeeLee), Anthony Wright (Victor), Keith Allen (Adrian), Sapir Breier (Pattie), and Gian Raffaele DiCostanzo (Michael) debuting at Show Palace and Josh Hayes (Fred) and Patrick Marshall Jr. (Ken) making a welcome return.
I asked the director how long the cast rehearsed for such a fast-paced show, expecting at minimum a couple of months to be so perfectly in sync and have such chemistry and showmanship in group and individual numbers. His response left me stunned.
The cast nailed the intensive dance choreography and learned the lyrics of 39 songs in just 9 days.
My and the cast's favorite group number included On Broadway, Little Egypt and You're the Boss. I also loved the men's Keep On Rollin and the ladies' I'm A Woman.
In no particular order, some of the standout performances included Wright moving from a drunk in the comedic D.W. Washburn to soul-baring I (Who Have Nothing); Gilmore's steamy Don Juan, telling a man who lost his money, he also lost her; Hayes' bass in Little Egypt and the funny, audience-interactive Charlie Brown; Richmond's Aretha-possessed belting of Hound Dog; DiCostanzo's Jailhouse Rock did Elvis proud, while Marshall's Spanish Harlem showcased brilliant vocals and some fancy footwork. Timm's Falling and exhausting sexy dance routine in Teach Me How to Shimmy were spot on. Finally, it wouldn't surprise me if Brier's showstopper Saved had a couple audience members calling out amen.
The finale was greeted with thunderous standing ovation, even before the song was finished. That's how exceptional this performance was.
My only negative critique: even after two hours, it ended way too soon.
Smokey Joe's Cafe: The Songs of Leiber and Stoller, matinees and evening through Oct. 1 at Show Palace Dinner Theatre, 16128 U.S. 19, Hudson.