BWW Previews: NEW TAMPA PLAYER'S THE LITTLE MERMAID IS A CIRQUE TWIST ON A DISNEY CLASSIC at University Area CDC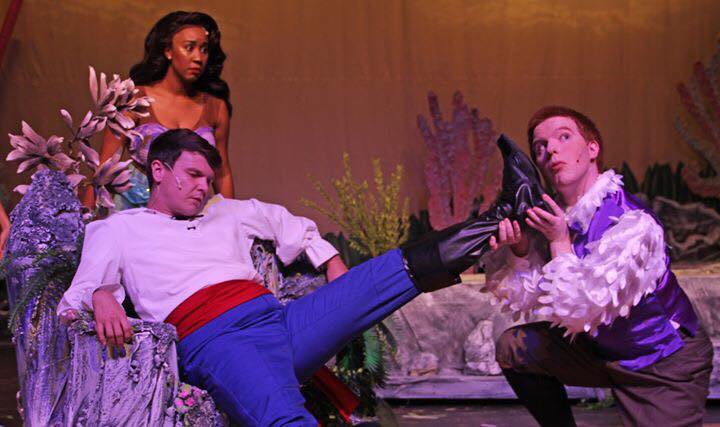 New Tampa Players and director Derek Baxter are putting a fresh, new spin on the classic love story of mermaid and man. Utilizing his circus background and passion for Cirque du Soleil, The Little Mermaid debuting at on July 26 will incorporate aerial and parkour choreography to capture life on land and sea.
"We called our vision for the show Disney's The Little Mermaid - A Splash of Cirque," said Derek. "It's all about seeing if we can expand the elements in the show in a really interesting way. New Tampa Players partnered with Shinobi School and with my history with directing circus, I wanted to figure out how we could develop a lot more of the show beyond aerial. That's how we got into parkour for some of the more modern elements of cirque. Even our Arial will do lira hoop work."
A cast of 54 of all ages and abilities, including six aerialists in the ensemble, will wear 145 costumes throughout the production.
"There's an out-of-the-world phenomenal costume team. I'm so impressed with their talent. They have worked nonstop in creating every costume and all of them look amazing."
In dance and movement since the age of 8, one of the 6 aerialists Becki Mallet has been studying with Shinobi School for over three years. She started in acro to support her friends but ended up falling in love with aerial.
"I was really excited to get to do a musical and to show off one of the newer skills I've been learning," she said. "Some of what we're doing is aerial rope when we are sailors on the ship and then we use the silks, the fabrics that hang down when we are sea creatures not confined to the same laws of gravity or birds in the sky. Lira hoops are used to symbolize swimming."
Despite her excitement of aerial performances, Becki is most excited about being able to tap dance.
"I want everyone to have a fun time. Although it's a familiar story for everyone who's seen the cartoon, there are new things to see. With things seeming so bleak right now, it's nice to escape and have some fun for a few hours."
Derek explained that The Little Mermaid follows the same storyline, but Disney has added new plot points and 9 new songs to the two and a half hour staged production.
"There are definitely moments of truth that you may have missed in the film and they are really fleshed out in the stage version. It's a story for everyone. Obviously, children are going to love it because it's bright, flashy and Disney's Little Mermaid and anyone over the age of 18 who may be nostalgic for the 90s. There are some really truthful moments for individuals just finding their feet in this world following Prince Eric and Arial's story. For the parents, the reality of following Eric, King Triton, and Eric's guardian Grimsby, it's about their struggle about letting their children grow up and become the people they are intended to be and the pride in watching them succeed. There really is a moment that can absolutely touch any journey you are experiencing in your life."
The Little Mermaid is on stage July 26 - August 4 at The University Area Community Development Center. Residents in 33612 and 33613 zip codes can attend the production for free. For tickets and more information go to newtampaplayers.org
Related Articles View More Tampa/St. Petersburg

Stories

Shows