Red Line Productions Announces Lineup For 2019 Season: UNLEASHED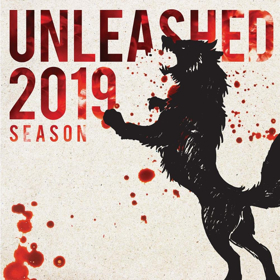 Since September 2014 Red Line Productions have been at the forefront of reigniting the legendary Old Fitz Theatre. We have been the recipients of over 40 nominations for various awards from both the Sydney Theatre Awards and the GLUGS.
They have multiple shows now growing out of the Fitz and playing in much larger theatres, in 2019 their lauded productions of The Wolves and A View From The Bridge will be remounted at Belvoir and The Ensemble respectively, Louis Nowra's This Much Is True will be touring the country and two other productions, which will be announced shortly, will be rolling out across Australia.
Most importantly, their tiny 60 seat theatre has been filled with over 170,000 audience members seeing a show with them.
It has been a remarkable 4 years for a company that operates solely off its box office sales combined with the generosity of individual philanthropists and a couple of passionate foundations and they are now presenting their 2019 Season: UNLEASHED.
More Info: www.redlineproductions.com.au/2019-season
---
Black Birds presents
BROWN SKIN GIRL
Created by Black Birds Directed by Ayeesha Ash
JANUARY 29 - FEBRUARY 9
Brown Skin Girl melds visual art, spoken word, music and movement, drawing audiences into the lives of three Black and Brown women as they navigate the complexities of life as twenty-somethings in Sydney.
Black Birds are bringing their hard hitting show back to Sydney after sold-out shows at Griffin's BATCH Fest. Their previous self-titled work was named by Sydney Morning Herald as "one of the hottest stage tickets for 2017."
Actors & Collaborators: Angela Sullen, Ayeesha Ash, Emily Havea Assistant Director & Producer: Emele Ugavule Choreographer: Sela Vai
More Info & Tickets: www.redlineproductions.com.au/brown-skin-girl
---
Apocalypse Theatre Company presents
ANGELS IN AMERICA PART ONE: MILLENNIUM APPROACHES PART TWO: PERESTROIKA
Written by Tony Kushner Directed by Dino Dimitriadis
FEBRUARY 15 - MARCH 16"The Great Question before us is: Are we doomed? The Great Question before us is: Will the Past release us? The Great Question before us is: Can we Change? In Time? And we all desire that Change will come." (Angels in America, II, 1, i).
Apocalypse Theatre (Metamorphoses, Doubt) returns to the Old Fitz Theatre for their 10th Anniversary as a company, presenting Tony Kushner's Angels In America Parts 1 & 2.
Proudly presented in association with Sydney Gay & Lesbian Mardi Gras.
More Info & Tickets: www.redlineproductions.com.au/angels-in-america
---
The Sydney Premiere of
FIERCE
By Jane e. Thompson Directed by Janine Watson
MARCH 20 - APRIL 13
Suzie Flack has made it to the big league. The first female Australian Rules footballer to play professionally with the men - which is why you haven't heard of her; she doesn't exist.
Fierce is not a just play about football. It is a play about who gets to do what. Who gets to inhabit which spaces. Who is allowed to succeed at which pursuits. Fierce explores what happens when someone refuses to sit neatly in the box society has allotted her.
Janine Watson (Unqualified, Romeo & Juliet) directs the Sydney Premiere of this ode to the drama that is AFL football, masculine culture, and the prevailing idea of what it means to be "Australian".
Cast includes: Lauren Richardson, Chantelle Jamieson Design: Melanie Liertz
More Info & Tickets: www.redlineproductions.com.au/fierce
---
Last One Standing Theatre Company presents the Australian Premiere of
ALICE IN SLASHERLAND
By Qui Nguyen Directed by Rachel Kerry
APRIL 17 - MAY 11
Lewis Diaz is in love with his best friend, which would be fine if he didn't accidentally resurrect the soul of a brutally slain girl named Alice and unwittingly open a literal gateway to hell. Now, with every imaginable kind of demon, monster, and killer ravaging his small town, it's up to Lewis and his newly undead companion to protect his classmates from becoming freshly slaughtered carcasses. With the help of Alice's trash-talking demonic teddy bear, Lewis races to find a way to close the rift before the devil himself shows up and totally ruins their senior prom.
Following their acclaimed production of Dennis Kelly's DNA at Kings Cross Theatre, Last One Standing Theatre Company present Vietnamese-American playwright Qui Nguyen's blood soaked horror-comedy.
Cast Includes: Bardiya McKinnon
More Info & Tickets: www.redlineproductions.com.au/alice-in-slasherland
---
Empress Theatre presents the Australian Premiere of
CYPRUS AVENUE
By David Ireland Directed by Anna Houston
MAY 15 - JUNE 8
'Life is precious. But not so precious that we can't destroy it.'
Belfast loyalist Eric Miller is under attack. Convinced that Irish republican Gerry Adams has disguised himself as a newborn baby and successfully infiltrated his family home, Eric must act swiftly to stake his territory. The battles of the past reignite as Eric's attempts to preserve his heritage and safeguard his future lead him to an act of unthinkable terror.
Shockingly brutal and uproariously funny, Cyprus Avenue throws a grenade at the politics of identity and the madness of bigotry.
Empress Theatre make their debut at the Old Fitz Theatre with a confronting and thrillingly subversive take on modern masculinity.
More Info & Tickets: www.redlineproductions.com.au/cyprus-avenue
---
Sugary Rum Productions presents the Australian Premiere of
ANATOMY OF A SUICIDE
By Alice Birch Directed by Shane Anthony
JUNE 12 - JULY 6
'My mother always said to Live Big. Live as much as I could.'
Three generations of women. For each, the chaos of what has come before brings with it a painful legacy.
'I have Stayed. I have Stayed - I have Stayed for as long as I possibly can.'
The director behind 2016's The Whale returns to the Old Fitz Theatre with this radically experimental new play from Alice Birch (Revolt. She said. Revolt again).
More Info & Tickets: www.redlineproductions.com.au/anatomy-of-a-suicide
---
Mad March Hare Theatre Company presents
THE CRIPPLE OF INISHMAAN
By Martin McDonagh Directed by Claudia Barrie
JULY 10 - AUGUST 3
Set on a remote island off the west coast of Ireland in 1934, this is a strange comic tale in the great tradition of Irish storytelling. As word arrives on Inishmaan that the Hollywood director Robert Flaherty is coming to the neighboring island of Inishmore to film Man of Aran, the one person who wants to be in the film more than anybody is young Billy Claven, if only to break away from the bitter cruelty and tedium of his daily life.
Claudia Barrie (Dry Land, You Got Older, Bengal Tiger at the Baghdad Zoo) directs Martin McDonagh's merciless portrayal of a world so comically cramped and mean-spirited that hope is an affront to its order.
Cast includes: Josh Anderson, Maggie Dence and Jane Watt
More Info & Tickets: www.redlineproductions.com.au/the-cripple-of-inishmaan
---
Bontom Entertainment presents the World Premiere of
CHORUS A NEW AUSTRALIAN ADAPTATION OF AGAMEMNON
By Emme Hoy Directed by Clemence Williams
AUGUST 28 - SEPTEMBER 21
"My will is mine. I shall not make it soft for you." - Agamemnon
This World Premiere is a radical reworking of Aeschylus' Agamemnon from 2017 Belvoir Philip Parson's Fellow, Emme Hoy.
Psychedelic and blackly comic, yet preoccupied with the weight of familial duty and responsibility, CHORUS is about the unending pressure on women to conform to certain roles -- and the potentially tragic results when they break the mould: when they want too much, when they go a step too far.
More Info & Tickets: www.redlineproductions.com.au/chorus
More Hot Stories For You