One-Night Only: THE BEAR PACK Returns in Sydney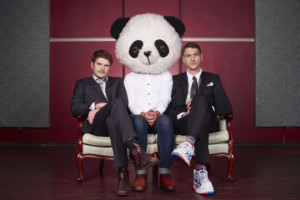 Fresh from a sold-out season at the 2017 Edinburgh Fringe, The Bear Pack return to Sydney for an exclusive one-night only in December.
This is a show that could be about an old abandoned ice-cream factory; a clown who loses custody of his kids; two strangers who coincidently meet at a retro 1980's roller derby and realise they're long-lost brothers. It could be about absolutely anything - and that's the beauty of The Bear Pack.
The Bear Pack is Sydney's Barry Award nominated Steen Raskopoulos (Whose Line Is It Anyway? Australia, BBC's Top Coppers) and Carlo Ritchie (The Checkout), accompanied by Ange Lavoipierre on the cello. Their show is 60 minutes of improvised storytelling inspired by the audience's suggestions - the Bear Pack will create the kind of stories your grandparents wish they could tell you.
With no idea what thrilling and hilarious twisted tale might emerge, audiences are guaranteed to be left in awe of the quick-witted and creative genius of two of improvised comedy masterminds.
Guaranteed to make you feel again, the Bear Pack is the steam-ship of hilarity you've been waiting for. Don't let it sail away without you this December.
*The show is dedicated to the memory of Elliot Miller, a young man and tremendous improviser whose presence is dearly missed. Profits donated to Chris O'Brien Lifehouse.
Steen Raskopoulos is an actor, writer and improviser. His stage credits include his festival shows The Coolest Kid in Competitive Chess (2017), You Know The Drill (2016), Character Assassin (2015) - for which he received a prestigious Barry Award (Best Show) nomination at the 2015 Melbourne International Comedy Festival - and I'm Wearing Two Suits Because I Mean Business (2014). It was during his 2014 MICF season that he received an invitation to perform at the Edinburgh Festival Fringe. A successful run resulted in a sought-after Best Newcomer nomination at the Foster's Edinburgh Comedy Awards the same year. Steen subsequently performed a sell-out season of his hit show at London's Soho Theatre, before a second season was announced due to incredible demand. Steen's most recent credits include Whose Line Is It Anyway? Australia, Hamish & Andy's True Story, and six-part BBC comedy series, Top Coppers, with John Kearns.
Carlo Ritchie: Comedian, Linguist, Gamer, New Englander, Carlo Ritchie is one half of acclaimed Sydney Improv duo "The Bear Pack", considered Australia's leading improvisers. As a standup he has sold out shows both at home and abroad. Founder of Sydney's "Redfern Shanty Club" he has seen it grow to national success and when he's not performing you can find him singing sea shanty's somewhere around the traps.
The show is on Thursday December 14th at 8pm at the Enmore Theatre.
Tickets can be purchased through this link: www.enmoretheatre.com.au/events/2017/12/14/the-bear-pack
More Hot Stories For You