Review: The Musical Adaptation Frank Abagnale Jr's Life Comes To Hayes Theatre With the Wonderfully Vibrant CATCH ME IF YOU CAN.
Thursday 25th July 2019, 7:30pm, Hayes Theatre
The musical adaptation of Steven Steven Spielberg's screenplay(2002) of Frank William Abagnale Jr's autobiography (1980, written by Abagnale and Stan Redding) is given the intimate Hayes Theatre treatment for an evening of high energy song and dance as one of the America's most famous fraudsters is bought to life in CATCH ME IF YOU CAN. Director and Choreographer Cameron Mitchell's attention to detail delivers a slick interpretation of Terrance McNally, (Book), Marc Shaiman (Lyrics and Songs), and Scott Wittman's (Songs) multi Tony and Drama Desk Award nominated musical.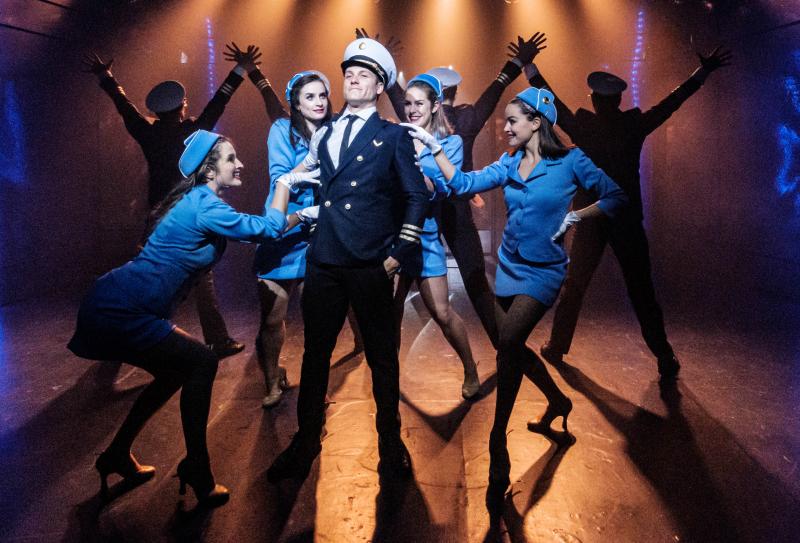 For those unfamiliar with the story which is based on the real exploits of Frank Abagnale Jr (Jake Speer), CATCH ME IF YOU CAN follows the transformation from school boy to international con artist who, from the age of 15, started posing as a French teacher and later went on to an elaborate and successful cheque fraud scheme and a series of audacious impersonations after he ran away from home at the age of 16 following his parents Frank Abagnale Snr (Simon Burke) and Paula Abagnale's (Penny Martin) divorce. Abagnale Jr assumed identities ranging from a Pan Am First Officer, receiving free flights around the world, Chief Resident in a pediatric ward in an Atlanta Georgia hospital where he leads a group of eager young staff, a Bar certified Legal Assistant and even a Secret Service Agent where he comes face to face with the man trying to hunt him down. His exploits have not gone unnoticed by the FBI and the single-minded Carl Hanratty (Tim Draxl) has made it his life mission to capture Frank Jr after he investigates a series forged cheques.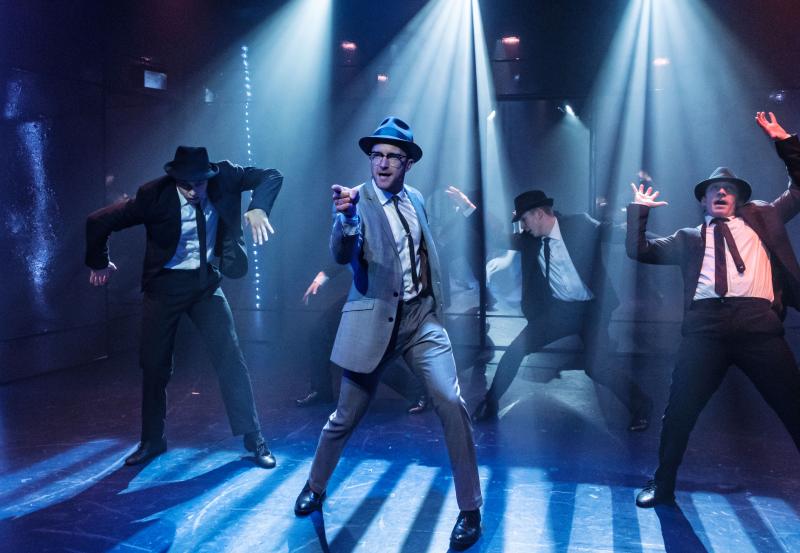 As with Speilberg's movie, the story starts with Abagnale Jr's capture, this time not in his mother's native France but Miami International Airport. The majority of the show is Frank Jr telling the audience about his journey to this scene via the medium of television song and dance special in keeping with Shaiman and Wittman's earlier hit musical HAIRSPRAY which also centered on a 1960's television variety show. Big bold numbers which range from American Songbook style Jazz ballads, Motown pop, vaudeville and TV Variety show pastiche, are presented with the support of an 9 strong ensemble of Jessica Di Costa (also plays
Brenda Strong
), Jordan Angelides, Jarrod Draper, Joel Houwen, Hanna McInerney,
Monique Salle
, Erica Stubbs, Riley Sutton and Stacey Tomsett, and 6-piece band of Musical director Anthony Cutrupi, Musical supervisor Steven Kreamer, Amanda Jenkins on Bass, Tom McRacken on drums, Michael Napoli on guitar and Abi McCunn on reeds
Set designer Kelsey Lee presents a bright shiny space, drawing on the studio stages of the emerging color television specials as inspiration for relatively bare space for dance numbers with black podium boxes being adapted for beds, bar tops and the like. Mirrored walls, which also have the capacity to expose scenes playing out behind the glass, give a distorted view of the action on stage as a symbolism of the way Frank Jr sees what he is doing as relatively justifiable, but in reality, when viewed from other angles gives a warped view of the world. The clean lines of the 1960's style retro proscenium is adorned with lightbulbs with the rare concession to visible modern technology with LED color changing lights which punctuate scenes but everything else is left to the imagination. This works in beautifully with Jasmin Rizk's lighting design which helps shift mood and assists in separating Frank Jr's fantastical "
Live In Living Color"
world from Carl's conservative 'Film Noir' clear-cut world of right and wrong. Christine Mutton's costume design further separates the worlds with bright colors and 'contemporary' designs of go-go dancers, mini-skirted 'trolley dolly' retro flight attendants, and sexy nurses in scandalously short uniforms. Frank's Jr's opinion of his mother, with whom he discovered having an affair with his father's best friend, is reflected in Paula's theme color of red dresses as he sees her as the reason for the destruction of the family and his father's demise into depression and alcoholism. While Frank Jr works through his various disguises, Carl retains a smart classic style befitting an FBI agent with trilby hat and suit concealing a gun holster.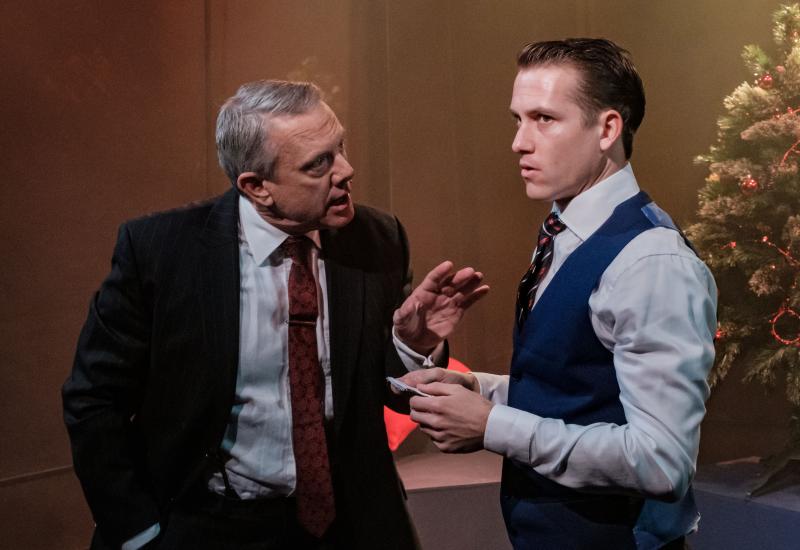 CATCH ME IF YOU CAN is filled with captivating high energy song and dance along with more poignant moments. Mitchell's extensive background as choreographer is evident in this work with creative and precise interpretations for the work as he draws on a number of the tropes of retro imagery to ensure the work is firmly set in the changing world of the 1960's whilst still remaining fresh throughout. With the band behind the scenes this has naturally called for amplification but unfortunately from your reviewer's seat the sound design and balance seemed a touch too high with vocals of big ensemble songs blowing out when they were set to be heard over the band. Balance was better for more intimate songs like Carl's
Don't Break The Rules
, Paula and Frank Snr's
Don't Be A Stranger
and Brenda's
Fly, Fly Away.
As Frank Jr, Jake Speer delivers a solid song and dance along with a dramatic style that ensures Frank Jr is seen a cocky enough to be a con man whilst still having an undertone of a youth running away from a hostile home life where he had first been taken out the school he liked and then faced a world where his mother left them. Beneath the bravado Speer allows Frank Jr's vulnerability to gradually peek out, particularly in relation to his devotion to his father who he idolized.
Tim Draxl is perfect as Carl Hanratty. He is well known for his ability to interpret songs with an amazing depth of emotion and connection and his ability to get inside this role is no different. His vocals are captivating as he ensures the audience understand why Carl is so driven and, when paired with his wonderful stage presence which includes beautiful physicality, has created a deliciously determined authority figure whilst having an undercurrent of a man who has his own demons to contend with.
Father Frank Snr is presented with an endearing camp charm by Simon Burke who ensures the audience see why the younger French Paula fell for the GI when she "walked into that dancehall in Mantrichard". With a cheeky smile and mischief in his eyes Burke makes sure it is clear that Frank Jr idolizes him, as this story is very much the world as Frank Jr sees it. Burke captures Frank Snr's descent after the divorce with an increasingly heartbreaking expression of a man destroyed as he has lost his marriage and also his son.
In keeping with the era where women were often not seen as prominent, particularly in a man's narrative, the female characters are also minor in Frank Jr's world. Penny Martin gives the Frank's French mother a gentleness even though Frank Jr views her as the villain in the family story. She ensures that Paula is initially seen as a more delicate character against Bourke's Frank Snr following her history as the young woman who saw the American's as a way to escape her small town life. She lets Paula grow as she moves on but still has a naivety to think that she could pay off Frank Jr's debts with a cheque. The other prominent female in Frank Jr's life is Brenda Strong (Jessica Di Costa), the young nurse he befriends and eventually asks to marry. Di Costa gives Brenda a wide eyed innocence and a somewhat unbelievable acceptance of Frank Jr's secret in the beautiful Fly, Fly Away.
Aside from the sound balance quibbles, CATCH ME IF YOU CAN is a wonderful expression of Frank William Abagnale Jr's incredible life. Showing the importance of family and stability along with a reminder that you can achieve anything if you really put your mind to it, although probably do it legally, this is an amusing and entertaining work that will satisfy musical theatre fans along with those that remember the story from the movie.
https://hayestheatre.com.au/event/catch-me-if-you-can/
Photos: Robert Catto