BWW REVIEW: Strut & Fret Deliver Another Fabulous Night Of Frivilous Fun With BLANC DE BLANC ENCORE.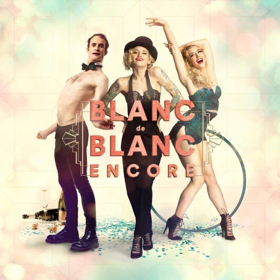 Thursday 10th January 2019, 7:30pm, The Studio Sydney Opera House
Something from Strut & Fret, experts at cabaret circus experiences, seems to be a summer staple at the Sydney Opera House and this year's new offering BLANC DE BLANC ENCORE definitely satisfies. Evoking the essence of the celebratory 1920s and 30's supper clubs, the two hours of entertainment extends the party from their successful BLANC DE BLANC with new ideas, new performers and a few old favorites.
As with the original BLANC DE BLANC ENCORE utilizes a corner stage, this time dressed with a backdrop of large illuminated circles to echo the bubbles of the Blanc de Blanc champagne that forms the basis of the evening of elegant excess. The aesthetic has evolved to a darker take on the 1920's flappers and showgirls of the Montmartre cabaret clubs and New York and London supper clubs. Whilst retaining a white and silver base, black has been incorporating into this new incarnation resulting in a beautiful array of costumes.
BLANC DE BLANC ENCORE refreshingly does away with trying to create any significant underlying story other than the evening being a chance to transport the audience to another world. Performers are introduced by the two Masters of Ceremony, Spencer Novich (from BLANC DE BLANC) and Remi Martin Lenz (From LIMBO UNHINGED). Musical interludes are provided by vocalist Ashley Stroud, a powerhouse of a performer with a velvet voice and a soaring sound. She delivers bold and powerful renditions of songs that range from older jazz to contemporary R&B whilst working her way through the audience or lifted aloft by other performers.
Reed Kelly delivers a breathtaking aerial straps routine with a wonderful speed and captivating head down spin to finish. Remi Martin Lenz takes to the Chinese Pole which evolves to a flexible pole from which Martin Lenz can loom over the audience and later have Caitlin Tomson-Moylan fly over the cabaret tables and first rows of seats (hint: have a glass handy). Tomson-Moylan is also joined by Spencer Craig for a fluid aerial Lyra. Contortionist Uugantuya "Ugi" Otgonbayar presents a personalized dance to a selected member of the audience, positioned in a purpose built 'throne' but unfortunately the challenge of selecting a suitable member of the audience went slightly awry as the selected subject's uncomfortable looks did distract from the feats of flexibility.
Unlike other shows of this format, BLANC DE BLANC ENCORE is less reliant on traditional circus acts and utilizes more physical comedy and dance with Can Can dancers, bath house beauties and several spectacularly fun activities that engage the whole audience and tap into the suppressed inner children within everyone. The lanky pale Novic reprises his clowning antics along with delivering a hilarious mimed physical comedy and interacts well with fellow host Martin Lenz who also delivers a unique brand of physical comedy and body 'music'. It is interesting to see the changes in directorial choices in a post #MeToo era and a world that wants to see more gender balance and less objectification of women. The Can-Can dancers include a male that is wearing less clothes than his female counterparts but still sporting the frilled skirt and boots. Bare flesh is less overt in BLANC DE BLANC ENCORE and in an unusual move for cabaret circus, the men appear to be wearing less than the women.
Gather your friends and dress up (the theme is vintage white with a dash of sparkle) and enjoy the party that is BLANC DE BLANC ENCORE. A brilliant night of grown up entertainment delivered with class, polish and precision whilst still having the flexibility for spontaneity.
BLANC DE BLANC ENCORE.
https://www.sydneyoperahouse.com/events/whats-on/cabaret/2019/blanc-de-blanc-encore.html
I am an International Flight Attendant with a love of Cabaret, Musical Theatre, and Live Performing Arts in general. I try to see as many (read more about this author...)