BWW REVIEW: New Australian Musical EVIE MAY Is A Poignant Peak At The Past When Vaudeville Was In Vogue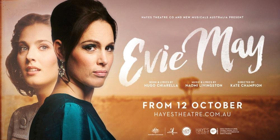 Tuesday 16th October 2018, 7:30pm, Hayes Theatre
Hugo Chiarella (Book and Lyrics) and Naomi Livingston's (Music and Lyrics) new Australian musical EVIE MAY, directed by Kate Champion tells an Australian story about Australian women with humor and heartbreak. Through a fictional Evie May, the end of the era for Sydney's New Tivoli Theatre, commonly called the Tivoli Theatre, is told along with the challenges of being a young woman in love with the "wrong" people in the last century.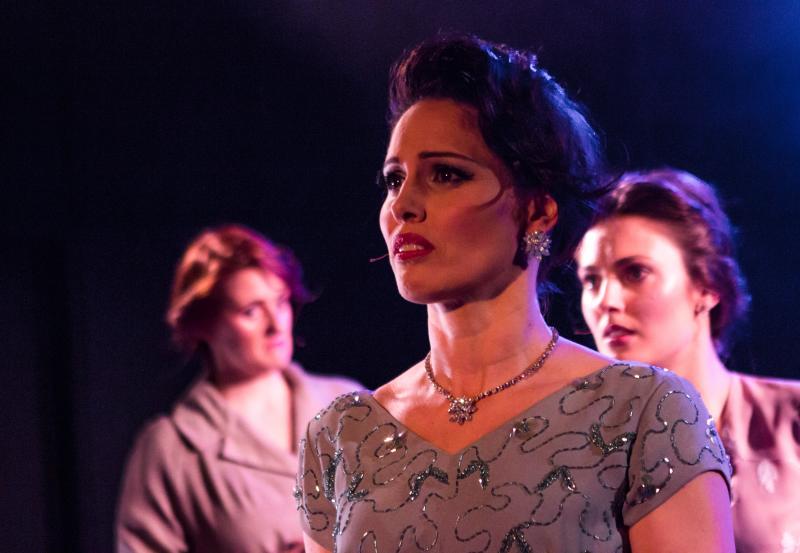 In the 1930's the Tivoli Circuit was successfully touring vaudeville shows of Australian and International Artists around Australia whilst also having a permanent home at the New Tivoli Theatre, more simply known as The Tivoli, in Sydney. In 1966, on closing night of The Tivoli one of it's stars, Evie May (Amanda Harrison) is convinced by her dresser Cole (Keegan Joyce) to recall her path to the stage. Whilst Evie May gets lost in her memories, her past as Evelyn May Murphy plays out with Loren Hunter capturing the spirit of the schoolgirl who snuck out of her Mosman Park Catholic boarding school, Iona Presentation College, with best friend Wendy (Bishanyia Vincent), to catch the touring show in the city back in 1935. Young love with the show's star, the American Barlow (Jo Turner), along with the resulting quest to find him after the troupe leaves town plays out as Evie May and Cole bond backstage. Whilst Evie May's determination and dedication to her savior and friend June (Bishanyia Vincent), the singer who saves her when she arrives disheveled and disappointed at the Tivoli Stage Door, sees her have success on stage, her story is marred with regret and condemned love.
Starting with archive images compiled by Tony Melov (video and animation) projected on a scrim, the work is anchored in Evie May's reality of back stage at the theatre. Designer Anna Gardiner has presented this as a rear view of the stage's raised crossover complete with steep stairs, a rack of clothes, travelling trunk and simple dressing table and chair. These simple parts serve to help Evie May's memories as Evelyn May play out. Gardiner's costuming captures the change in fashions and circumstances of Evelyn May and the people that help fill her stories, from the prim schoolgirl stylings of country girls stealing away into town to Evelyn May's frumpy older sister, the bitter housewife Margaret (Bishanyia Vincent), the smooth talking international star and the more 'contemporary' woman Evie May becomes as she prepares for the post show party.
This new work is filled with wonderful music presented with Australian voices that reflect the changing sound of Australia from the more cultured sound of the early 20th century still affected by the motherland that Evelyn May would have learnt at her private school to the broader accents that developed across the country. Chiarella and Livingston's music, orchestrated and arranged by Steven Kreamer (Musical Director) is engaging and ranges from up beat bold works that have the audience tapping along to heart wrenching poignant pieces that a destined to draw a tear from all but the most hardened viewer. Some pieces serve to remind the audience of the Vaudeville source of the story, from Bob (Tim Draxl) and Barlow's comic Ain't No Dope, Evelyn's Bindy Do The Lindy, Evie's Forgetful Sod and June's Life of a Woman. Others flesh out the stories of lost love, hope, determination and regret, often with the older Evie echoing the younger Evelyn as memories are recalled allowing the contrast of young and 'old' voices to blend beautifully.
Amanda Harrison and Loren Hunter are perfectly matched to present the wide eyed and world weary expressions of the performer who sacrificed so much for her reputation and her career. Harrison infuses her portrayal of Evie with a guarded confidence that covers the continued guilt and regret. Hunter ensures this is contrasted with an expression of a naïve teenager filled with ambition and a growing understanding of the realities of the world of judgement and prejudice and an increasing realization of regret that eventually manifests itself as hardness in the older Evie. Harrison has a depth and gravity in her tone whilst Hunter has a haunting tone that balances a growing understanding of the world and her youth.
Bishanyia Vincent is brilliant as she presents Wendy, the young and somewhat bewildered schoolgirl; June, the worldly and confident singer eventually broken by a society that sees her as wrong; and Margaret, Evelyn's hostile horrid sister. Vincent has a fabulous comic timing and presents a ballsy Aussie battler beautifully with a broad accent. Her vocals are captivating and bold and thankfully Chiarella and Livingston have given June a number of opportunities to shine leading the Tivoli's trio of singers as well as a heartbreaking monologue.
The men of the story are generally less detailed as they are set to serve Evie May's story with the exception of Cole (Keegan Joyce) who's importance becomes evident later in the work. Tim Draxl delivers a delightfully physical expression of Bob, Barlow's comic foil, and his ability for goofy boyish charm is played up wonderfully. As traveler Heaney who Evelyn encounters in Kalgoorlie, Draxl gives a grittier performance whilst still exuding charm and his later return in Evie's story captures the rigors of time and the damage of war. Jo Turner's expression of the smooth-talking Barlow is engaging with an underlying tone of being too smooth as Evelyn eventually realizes. Turner's other roles as the Tivoli director and landlord are presented as reasonably innocuous but essentially unlikable as he ensures that the men are seen as hurdles for young Evelyn to have to deal with, from lecherous to the judgmental. Whilst Cole has one song, One Last Chance, the core of expression of the role rests in Joyce's dramatization of the young man contemplating his future and trying to come to terms with his past. He has an innocence and quiet need that captures hearts as the secrets are unearthed.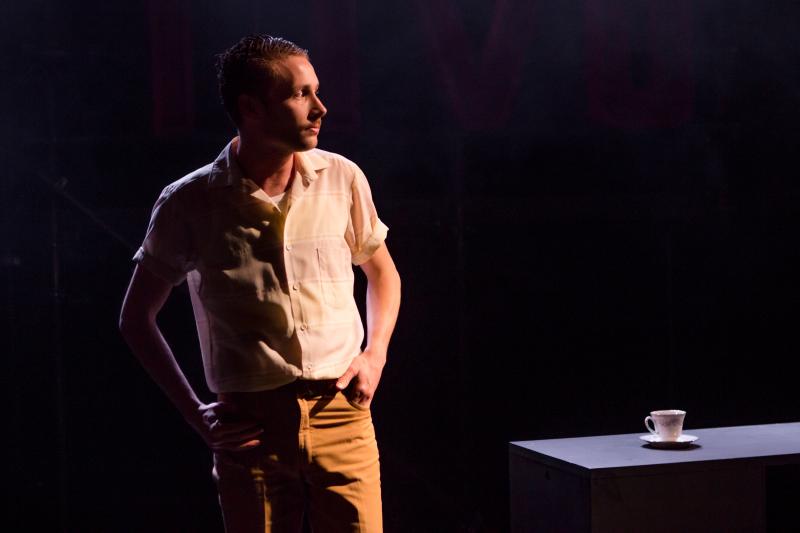 EVIE MAY is a wonderful new Australian work, presented by Australians, telling Australian stories. Capturing a bygone era but also reminding us how some things have still not changed, this is a clever and captivating work that will hopefully be picked up for a tour or a bigger stage treatment but until then do not miss this premiere season.
EVIE MAY
https://hayestheatre.com.au/event/evie-may-a-tivoli-story/