BWW REVIEW: Bravery, Mystery And Mathematics Combine In The Brilliant Stage Adaptation Of THE CURIOUS INCIDENT OF THE DOG IN THE NIGHT-TIME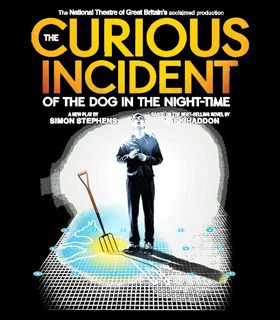 Thursday 5th July 2018, Roslyn Packer Theatre
Marianne Elliott's award winning expression of Simon Stephen's adaptation of Mark Haddon's THE CURIOUS INCIDENT OF THE DOG IN THE NIGHT-TIME gives audiences an insight into what life is like for a gifted child with what is best described as high functioning autism. A visual feast, the multilayered story is bought to life with inventive staging to tell a heart-warming story of overcoming anxiety, achieving against the odds and growing up.
For those unfamiliar with Haddon's multi award winning novel for teens and young adults which captured the interest of readers in the UK and worldwide, THE CURIOUS INCIDENT OF THE DOG IN THE NIGHT-TIME follows 15 year old Christopher's (Joshua Jenkins) investigation into his neighbour's dog's death and the secrets that are unearthed in the process. The premise of the book is that Christopher has chosen to use the investigation as source material for a school project set by teacher and mentor Siobhan (Julie Hale), to write a story he would want to read. Stephen's adaptation takes the novel, written in the first person and presented as purely the murder mystery novel Christopher has written, and expands the idea to have Siobhan reading the story and convincing Christopher to turn it into a play, giving a play within a play expression where memory and re-enactment become blurred at times. Whilst the investigation of murdered dog is relatively mild, the core of the story lies in the challenge of Christopher's behavioural problems that result in him screaming, wailing and fending off human contact, having issues with communication where he struggles to read emotion and understand the use of figurative speech, all compounded by the belief that his mother died two years before the story starts.
Elliott ensures that the audience sees the world from Christopher's perspective. Drawing on his love of mathematics and science, particularly space, Bunny Christie's stage is confined to a cube of black walls marked with grid lines. At first impression the space, edged with white plastic prisms, seems simple but when it comes to life the Christie's genius is fully revealed. In combination with Paule Constable's lighting and Finn Ross'video design, the transition between settings is expressed along with the understanding of Christopher's view of the world. Whilst other characters are bathed in a wash of light with undefined edges when not directly associated with Christopher, the teenager is always bordered by a defined angular space reflecting his desire for order, particularly within his own mind. The expression of the dead dog breaks Christopher's ordered world with an illuminated 'chalk' outline of the animal remaining as a reminder of the basis of the book.
Scott Graham and Stephen Hogget's choreography gives the work a brilliant lyrical expression. The movement through Christopher's day is expressed with balletic fluid dance as the ensemble becomes the empty home as he settles in for a computer game after school while he waits for his father to come home. Faster, frenzied sequences paired with penetrating sound and an overload of visuals convey the sensory overload Christopher experiences when he ventures beyond the safety of his street in Swindon and is tossed around by the chaos of busy London. The ensemble and Jenkins all have a wonderful physicality, being both acrobats and dancers along with actors.
Jenkins is endearing as Christopher, creating a character that captures several traits often associated with people on the autism spectrum whilst ensuring that each is seen as unique to the point that Christopher's condition is never explicitly addressed. Jenkins balances Christopher's naiveite and innocence with his intelligence to create a wonderfully complex character, reminding the audience that people that may have behavioural problems, as Christopher describes himself, can also be highly intelligent people regardless of their difficulties in relating to other people and understanding the nuances of people's behaviour. He ensures that the audience can feel Christopher's frustration when people treat him like he's a child or stupid just because he doesn't react the same way other people do.
Julie Hale, as Christopher's teacher and mentor Siobhan, ensures that the young educator is everything that a child could want from a teacher in her expression of the care and concern for her student. She presents a calm force throughout, expressing the understanding of how to deal with Christopher's condition which in turn develops a trust between the two. Similarly, Stuart Laing, as Christopher's father Ed, ensures that the audience understands that whilst he can be volatile at times, Ed also knows how to navigate his way through dealing with his son and will do everything he can to protect him and make him feel safe. Christopher's mother Judy was unable to cope with having a child with special needs and Emma Beattie conveys the inner conflict between loving her child but not really knowing how to connect whilst also be challenged with other personal issues that distracted her from her parental duties. The rest of the ensemble of Debra Michaels, Amanda Posener, Oliver Boot, Matt Wilman, Danielle Kassarate and Bruce McGregor cover the other incidental characters that form part of Christopher's book with a clarity and an element of comedy adding a levity to the work along with the wonderful physicality that weaves through the scenes.
THE CURIOUS INCIDENT OF THE DOG IN THE NIGHT-TIME is a beautiful expression of not only the challenge of growing up and living with behavioural problems but also a celebration of education, knowledge and mathematics whilst also being a story of families, bravery, comfort zones and overcoming fear. The use of technology in the design elements sits perfectly with Christopher's interests and the imagery and soundscape are just as important as the plot and performances in immersing the audience into Christopher's world so they can understand him better.
A heart-warming and at times heart-breaking expression of a delightful young adult novel, THE CURIOUS INCIDENT OF THE DOG IN THE NIGHT-TIME is a must see for anyone. Whilst there is the occasional expletive, this work is still insightful and interesting and useful for high school children and adults to see as it may help people understand the challenges that other people may have, encouraging empathy and consideration. Regardless of whether you've read the book, this is entertaining, engaging and entirely endearing.