BWW Review: Lively and Engaging ON YOUR FEET! at The Fox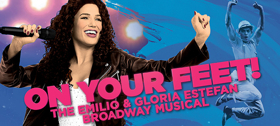 There are jukebox musicals that utilize the catalog of a group to hang a story thread onto that may or may not fit particularly well, and there are those that are portraits of the songwriters themselves. I think the latter actually works the best, and that's what you get when you see ON YOUR FEET!, the Gloria and Emilio Estefan bio-musical that's currently playing at the Fox Theatre. If you're a fan of their music, and the strings of hits they created with the Miami Sound Machine, then you'll find plenty to enjoy here.
The book by recent Academy Award winner Alexander Dinelaris is based on facts, and fares much better than his work on THE BODYGUARD. Essentially, this is the story of how Gloria grew up, met Emilio, went on to become a Grammy-winning songwriting force, and then was seriously injured in a bus crash, before returning triumphantly to the stage. It's what you'd expect, since it's what happened, but it's engagingly told.
Christie Prades (Gloria), and Mauricio Martinez (Emilio) both shine dramatically and vocally, and handle the choreography in nimble fashion as well. There's a genuine spark between these two whenever they interact, and that's essential to making this something more than just another "jukebox musical." Their younger selves are wonderfully portrayed by Amaris Sanchez/Carmen Sanchez (Gloria) and Jordan Vergara/Kevin Tellez (Nayib, Emilio, Jeremy), either of whom you'll see depending on the performance you attend. Nancy Ticotin delivers really solid work as Gloria's concerned mother, who once had her own singing career, but opposes her daughter's involvement in the business. Alma Cuervo gives a very engaging performance as Gloria's grandmother, who steers her toward the path she will eventually choose to take.
Jerry Mitchell's direction is nicely balanced, allowing the drama and music to both have their moments. That's refreshing, and makes the splashier musical numbers stand out even more under Sergio Trujillo's choreography. Emilio Sosa's costumes are struck from a color palette that fits the action and locale snugly. Kenneth Posner's lighting scheme gives the dramatic moments their due, while also delivering a concert vibe. The onstage musicians under Clay Ostwald's fine music direction really hit their mark repeatedly, and the Cuban-inflected rhythms and grooves are instantly infectious.
I think ON YOUR FEET! is well worth seeing, since it's more in the mold of musicals like BEAUTIFUL, BUDDY, or even JERSEY BOYS, which all focus on the lives of the people who actually made the music you're hearing on stage. Catch it at The Fox Theatre through November 19, 2017.
Related Articles View More St. Louis

Stories

Shows
Chris has been active in the local theatre scene for over 30 years and reviewing local theatre for over 11. In addition to his acting (read more...)