BWW Review: CANFIELD DRIVE Asks Where Are You in Your Work to Heal Racial Trauma?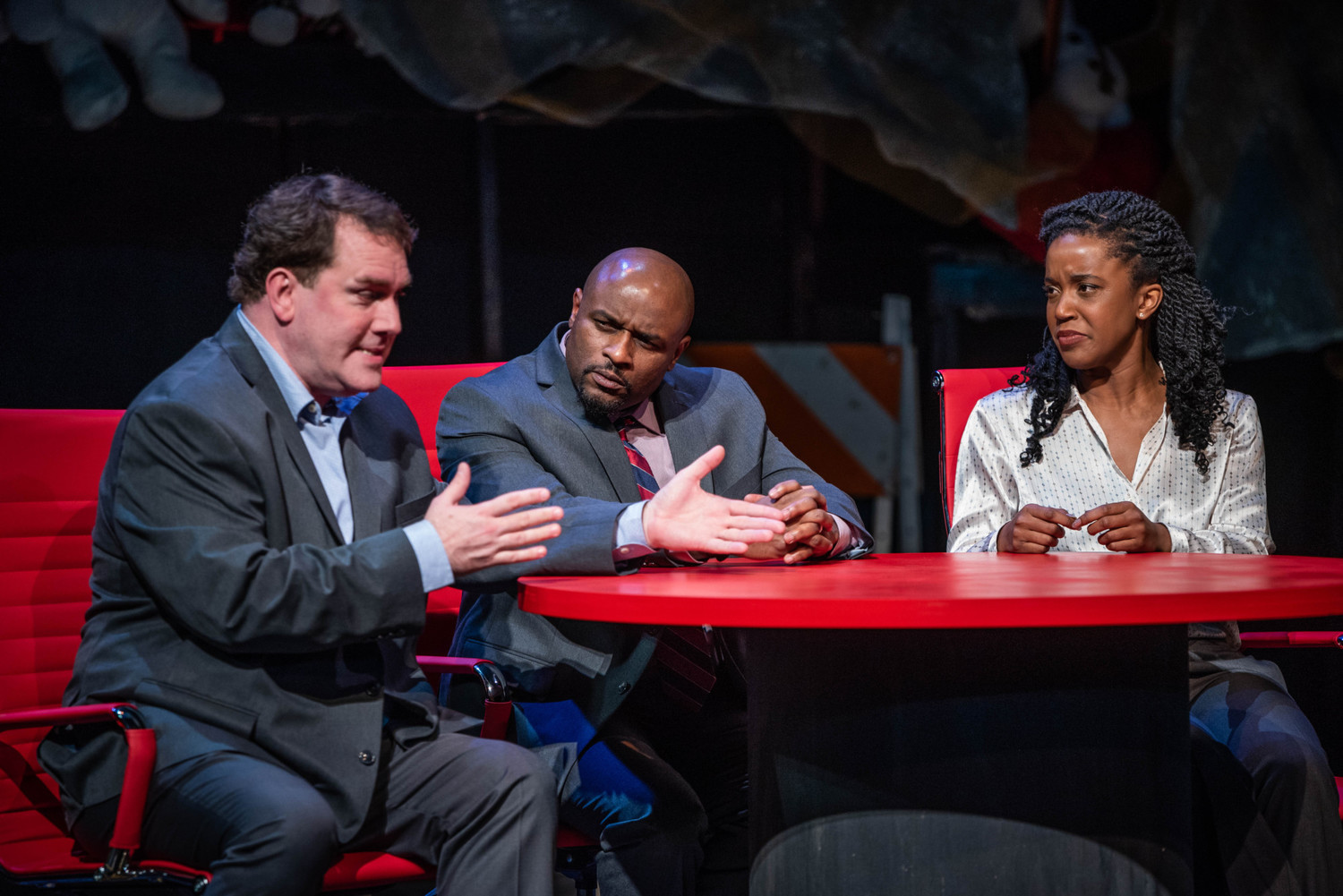 Playwrights Kristen Adele Calhoun and Michael Thomas Walker's new drama, Canfield Drive, received its world premier this month, after being co-commissioned by 651 Arts in partnership with The St. Louis Black Repertory Company and the National Performance Network. Under development for the past four years, this breathtaking new play takes a hard, serious look at incidents and attitudes surrounding the August 14, 2014 fatal police shooting of Michael Brown, the Ferguson protests that followed, and the #BlackLivesMatter movement. Calhoun and Walker, whose work is well-researched and hard-hitting, use a documentary theatre structure, with many short scenes based on interviews from people around Ferguson and around the nation whose voices might not necessarily have been heard in traditional media coverage.
With just four stellar actors portraying a multitude of interesting characters, the work dives right into the depths of a tough topic, refusing to hold back. The work is about Michael Brown, yes, but it is bigger than that, boldly examining 400 years of systemic racism. Some scenes are fraught with overwhelming tension and others lighten the mood with poignant absurdity, but all are woven together to advance a storyline that follows two news reporters from opposite sides of the political aisle (and opposite beneficiaries of white privilege) during the height of the Ferguson coverage.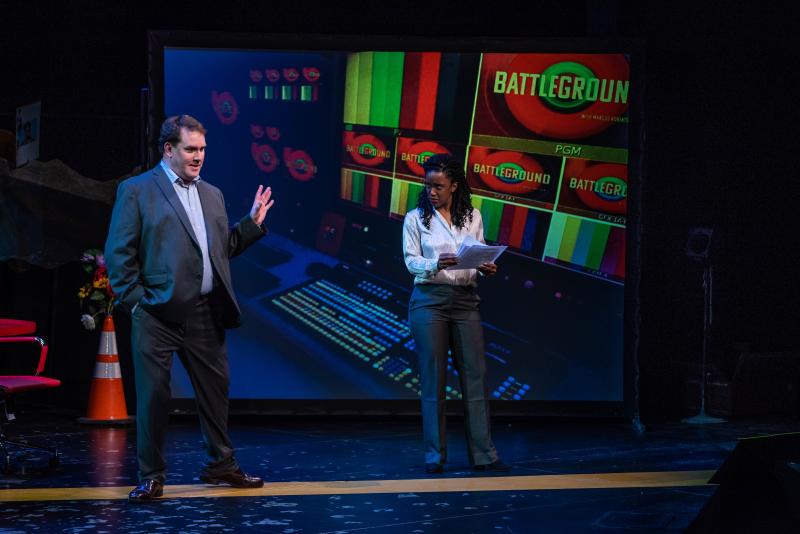 The reporters cover for a news program, Battleground, modeled after cable news talk shows featuring two distinct points of view regarding current political and social issues, moderated by a third person. Using multimedia screens containing actual photos and video footage from several sources including social media, there is a palpable urgency for Battleground's reporters (a black female Imani Duncan-Ward, and a white male Brad O'Connor) to break the news as it happens, but their personal understandings and considerations for black rage, implicit bias, activism, willful ignorance, violence, civil rights, and systemic change are in great conflict, sparking much debate on live TV to their over 8 million viewers who are witness to the breakdown in their relationship.
Calhoun the playwright, billed as Kristen Adele, is stunning in her intense portrayal of Duncan-Ward and other characters. Christopher Hickey definitely looks and plays the part well of O'Conner and others. Eric Conners, tremendously delightful in his versatility, plays moderator Marcus and others. And Amy Loui rounds out the cast with her adept portrayal of many, many various characters, including Duncan-Ward's assistant, Rabbi Susan Talve, and activist Elizabeth Vega. All are equally strong and work well together to create seamless transitions and impeccable pacing.
Canfield Drive, titled after the street where Brown was killed, is the conversation St. Louis and America need right now. It reminds us that it is the conversation alone that both "rips the scabs off this festering wound called racism" and begins to heal it. It challenges its audience by pointedly asking them in the end to ask themselves, "What am I building? What am I creating?" Showing up for the conversation is a fine place to start.
Canfield Drive plays through January 27 at Washington University in St. Louis' Edison Theatre. Producing Director Ron Himes directs, with scenic design by Peter and Margery Spack, lighting by Jim Burwinkel, costumes by Marissa Perry, sound design by Kareen Deanes, and stage management by Tracy D. Holliway-Wiggins. After appearing at the National Black Theatre Festival in Winston-Salem, NC this summer, it will open in New York. For more information about Canfield Drive and The Black Rep's 42nd season, visit theblackrep.org.