The Round Barn Theatre Comes To Life Again With Frank Sinatra And The Boys Returning From The Dead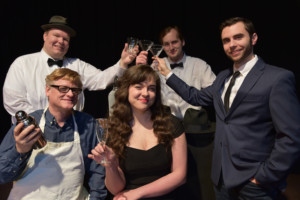 The Rat Pack Lounge kicks off The Round Barn Theatre at Amish Acres 2018 season of seven upbeat Broadway and Off-Broadway musicals, comedies, and dramas. The season headlines the theatre's perpetual Plain and Fancy, the second longest uninterrupted run of any show in America except for Andrew Lloyd Webber's The Phantom of the Opera.
The Rat Pack Lounge, the fastest selling opening show in the theatre's history, warms up the stage for one of the Midwest's first regional theatre production of the international sensation Mamma Mia. It is followed by Barry Manilow's Copacabana, Happy Days with the Fonz, Lend Me a Tenor and Annie, everyone's' favorite redhead returns for the first time since the theatre's first year of repertory theatre. "With over 300 performances over a nine month season, The Round Barn Theatre is northern Indiana's only professional resident repertory performing arts company.
The Rat Pack Lounge, the fastest selling opening show of any season, features the Rat Pack's return from Heaven to tend to some unfinished business without a single song you don't know. It opens on April 11 for a six week run through May 20th.
Long before the internet, social media, and memes, there was this souvenir postcard with a man known as the Chairman of the Board looking over his shoulder at you. The caption read, "This is Frank's world. We just live in it."
Frank Sinatra and his buddies, guys like Dean Martin and Sammy Davis, Jr., were collectively known as the Rat Pack. We knew them and their songs through the radio, TV, and the movies. They didn't create trends. They were above trends.
Frank's World comes to life again in "The Rat Pack," created and conceived by Mitch Sebastian. The show depicts Frank, Dean, and Sammy, who have gone on to their much deserved reward, but evidently they've got some unfinished business back on earth -- an unfulfilled promise to take care of before they can truly rest in peace!
Typically the Round Barn season begins with what's known as a Juke Box Musical, a show featuring popular hits, often golden oldies. But this show is more about an era, and the music has assumed a near mythic quality. "There are a lot of differences," Amber Burgess, Artistic Director, said. "It's so jazzy. We're going to have a jazz combo, piano, bass and percussionist. This is the Great American Songbook. These standards drive our whole culture."
The script, Burgess said, has grown on her and the cast. "I thought that this'll be a nice show. But the second and third time I read it I began to realize just how funny this show is. It's not just layering of plot on top of popular. The script tells a story beyond the Rat Pack. There are so many jokes based on Rat Pack banter, self-deprecating, so funny."
Putting music and words together has been the key. "What we're discovering in the rehearsal process is just incredible. There are moments that are very touching. I wasn't expecting this when I read this funny script. I thought it would be fun, but we found so many special moments. During the first read-through some of us got misty-eyed."
That's because the Rat Pack worked together all the time. "All of them hosted variety shows. They were in films together. They were everywhere. And there was this style of banter they shared, putting each other down, building each other up. It's so rare. I had to find performers that had that quality." One result of that, she said, is that "Our rehearsals are very jovial."
The cast includes a mixture of old friends and new faces. There's Bradley Kieper, who plays the Dean Martin character, returning musical director Paul Rigano who worked on last year's "The Little Mermaid," and Randa Meierhenry, who plays Angie the Angel, who's in charge of the three.
Paired with them are newcomers Greg Matzker, Jake DuVall-Early, and Max Mattox. "This is a great group of people. I'm thrilled to see where this journey is going to go."
"The Rat Pack Lounge by James Hindman and Ray Roderick, Musical Arrangements by John Glaudini, runs April 11 - May 20. For information, performance times and reservations call the Round Barn Theatre at Amish Acres, (800) 800-4942, or go to www.amishacres.com.