THE BRUCE SPRINGSTEEN EXPERIENCE Comes to The Drama Factory This Month
Performances are February 24-25, 2023.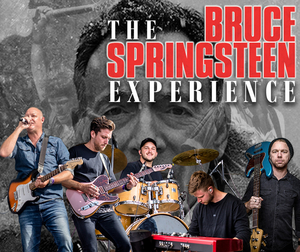 The Bruce Springsteen Experience consists of five professional and talented Cape Town musicians, who recently came together as one band, performing The Boss' greatest hits. Expect all Bruce Springsteen's greatest hits, packaged into one epic live performance. This show pays tribute not only to The Boss' music, but also to his legendary stage performances.
An explosive, sensational experience awaits you with this monumental, not-to-be-missed experience. Audiences have been mesmerized, on their feet, hands in the air, dancing in the dark. One cannot start a fire without a spark. Whether you're a Bruce Springsteen fan or not, this show brings The Boss's energetic vibe to your doorstep. Expect hits like Dancing in the Dark, Streets of Philadelphia, Hometown, I'm on Fire, Born in the USA, and many more.
Stanley Hill Ex-member of Rabbit Black and 12th Avenue (an original rock band that recorded 3 albums, was signed by Musketeer Records and toured with Seether in their Homecoming Tour), multi-instrumentalist, Stanley Hill's musical journey started at the age of 8, when he learnt to play a variety of instruments (woodwind, piano and a selection of brass instruments), but found his love for stringed instruments (in which he now tutors), most notably the bass guitar. He has shared local and festival stages with successful artists like Viljoen Retief, Desmond Wells, Johan Liebenberg, JMF, Jakkie Louw, Ray Dylan, Ryno Velvet, Juan Casey, Abel Kraamsaal and Mark Haze, amongst others, apart from having performed in a variety of award ceremonies and productions, both nations and internationally. Stanley has also performed in 64 Bok Radio Tydloos productions, since his first Tydloos show in 2017 and he is currently busy writing and producing more shows that will soon hit local stages.
Viljoen Retief Professional, vibrant and exciting Cape Town musician, Viljoen Retief, embarked on his musical career as a full-time musician in 2006, after studying and working in the Tourism Industry. He has recorded and released 4 full-length studio albums: "Jou Wêreld Wag", "Soos die Wind", "Droomvanger" and "Meerkat", apart from having written and co-written numerous songs for prominent South African artists such as Die Broers, Bruger le Roux, and many more. Some highlights of musical career include: Singing The National Anthem at a ruby test match; being invited to perform at South Africa's premiere musical event, the Huisgenoot Skouspel, as well as being involved in television productions such as Kyknet Country! Viljoen is an award nominee for the Huisgenoot Tempo Awards for his album, "Blare in die Wind" and in 2013 he won the annual Bok Radio award for his album, "Droomvanger". He recently joined the exciting stage production, "The Bruce Springsteen Experience" and launched his brand-new single "Blare in die Wind". A firm favourite with his audiences, Viljoen plans on being involved in music, production and writing for many more years to come!
Ruben Gerritz is a singer-songwriter from Cape Town, South Africa. Having his heritage in blues but being open to the influence of many different genres during his musical development, he now eliminates boundaries in music and creates his own unique sound. Writing songs mostly with an indie pop vibe, he likes to give some songs a funky African touch and proves to strike a chord with the audience.
Dillon Myburgh is a session drummer from Cape Town. His professional career of more than a decade has seen him play with a variety of musicians in and around Cape Town. Dillon has played numerous indifferent tribute shows, covering a wide variety of musical styles and genres. An incredibly versatile drummer, the engine of any production he forms a part of.
Michael Wilson-Trollip's musical journey started with classical piano, oboe, voice and pipe organ lessons at the age of 6 years old. He achieved a Grade 8 level distinction from the Royal College of Music London in all 4 of these instruments, being the first pupil in history at Bishops to achieve this. In 2019 Michael was selected as 1 of 20 people in the world for a prestigious degree to attend Berklee College of Music in Boston USA. Currently Michael is studying online and working in the South African music industry as a music producer, film composer, songwriter and performer. He has written music and chart-topping singles for over 15 full feature movies, multiple award-winning TV shows and for renowned local and International Artists. He is currently signed a songwriter/composer to Peermusic in the US (LA, NYC) and SA.