International Guest Artists Vadim Muntagirov And Tatiana Melnik For Cape Town City Ballet's CINDERELLA
The pair last danced together on the Artscape stage in 2019 for Cape Town City Ballet's production of Denise Schultze Godfrey's Sleeping Beauty.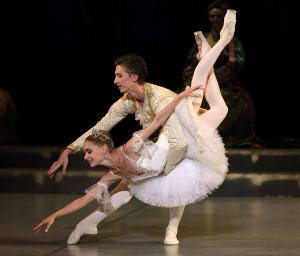 International Guest Artists Vadim Muntagirov, Principal of The Royal Ballet, and Tatiana Melnik, Principal of the Hungarian National Ballet, will perform in Cape Town City Ballet's spectacular production of Veronica Paeper's CINDERELLA for three performances only, accompanied by Cape Town Philharmonic Orchestra (CPO).
They will perform on Saturday 11 February, Tuesday 14 February and Friday 17 February, with all performances starting at 19h30. The pair last danced together on the Artscape stage in 2019 for Cape Town City Ballet's production of Denise Schultze Godfrey's Sleeping Beauty.
CINDERELLA runs from 4 to 19 February 2023 at Artscape in the Opera House. Bookings can be made at Artscape Dial-A-Seat 021 421 7695 or through Computicket. https://tickets.computicket.com/event/cinderella/4438168
The CPO will also accompany the dancers of Cape Town City Ballet at a number of other performances.
"We welcome back our esteemed international guests to perform the roles of Cinderella and Prince Charming in this classic magical tale alongside the talented dancers of Cape Town City Ballet," says Debbie Turner, CEO of Cape Town City Ballet. "What better way to start 2023 than with an enchanting story where good always prevails over evil."
"We are also delighted to announce our acclaimed South African guest artists Mervyn Williams and Marcel Meyer as the Ugly Step Sisters. Audiences are in for a treat as they gleefully love and loathe these two charming characters," says Turner.
Mervyn Williams has been making magic for an incredible 36 years at CTCB, both on and off the stage, first as a dancer and now as Head of Wardrobe as well as managing their Education, Skills Training and Enterprise Development programmes. He regularly performs as a Guest Artist with the Company, most recently in Romeo and Juliet. Marcel Meyer is a seasoned, multiple award-winning performer who has previously joined CTCB on stage in productions such as A Christmas Carol - The Story of Scrooge and The Nutcracker.
The tour-de-force creative team unites for the production, with Choreography by Veronica Paeper, Costume and Décor Design by Peter Cazalet and Lighting Design by Wilhelm Disbergen. CINDERELLA is performed to music by Sergei Prokoviev, with libretto by The Brothers Grimm 1812.
CINDERELLA is the classic folk fairytale of the sweet-tempered Cinderella, a young woman with a heart of gold who is left in the care of her two ungainly, forgetful and generally disagreeable step-sisters, Violet and Daffodil, contributing to Cinderella's woes.

Relegated to the role of a kitchen maid in her own home, she scrubs and cleans all day dressed in rags. The Prince who lives in the castle across town, decides to hold a magnificent ball in search of the perfect bride, and sends invitations out far and wide. Cinderella is unable to attend the ball.... she has nothing to wear anyway!

Then magic happens.... Enter a Fairy Godmother and her miracle wand, Cinderella goes to the ball in a beautiful ballgown and a fantastical carriage. The twist in the story is that she must promise to return home by midnight when the carriage will turn back into a pumpkin. Dancing the night away in a whirl of glamour with the prince, the clock starts to strike midnight, and Cinderella flees home inadvertently leaving one of her crystal slippers behind.

The lost slipper is found and a nationwide search ensues for the golden girl to whom the slipper belongs. A gloriously happy ending emerges in which Cinderella and her Prince live happily ever after!
CINDERELLA will be presented at Artscape in the Opera House from 4 to 19 February 2023.
Bookings can be made at Artscape Dial-A-Seat 021 421 7695 or through Computicket. https://tickets.computicket.com/event/cinderella/4438168
The production is suitable for 5 years and over. Please note that NO CHILDREN under 5 years old will be permitted to enter the auditorium.
Cape Town City Ballet is grateful for the support of all sponsors including the City of Cape Town, Western Cape Government, The Christian Ludolph Marais Trust, Food Lovers Market, Erica Manning for the Cape Town City Ballet Endowment Trust and the Friends of Cape Town City Ballet.
Vadim Muntagirov trained at Perm Ballet School before moving to The Royal Ballet Upper School. He joined the Company from English National Ballet as a Principal in March 2014. His numerous roles with The Royal Ballet have included Basilio (Don Quixote), Albrecht (Giselle), Prince Siegfried (Swan Lake), Aminta (Sylvia), Prince Florimund (The Sleeping Beauty), Prince (The Nutcracker). Mr Muntagirov's many awards include the 2013 and 2018 Benois de la danse and the 2021 Dance Europe Outstanding Dancer Award.
As a guest artist he has danced with companies including Paris Opera Ballet, Mariinsky and American Ballet Theatre, in repertory including Solor (La Bayadère), Armand (Marguerite and Armand) and at National Ballet of Japan, Bavarian State Ballet, Mikhailovsky and Cape Town City Ballet.
Tatiana Melnik is a Principal Ballerina of the Hungarian State Opera having been a member of the company since 2015.
Her education and training took place at the Academy of Choreography, Perm, Russia. She was a prize winner at both the Arabesque International Ballet Competition in 2012 and the Moscow International Ballet Competition in 2013.
Prior to her engagement with the Hungarian National Ballet, she was a member of the Russian State Ballet and the Stanislavsky and Nemirovich-Danchenko Moscow Academic Music Theatre as a soloist. During her career she has danced all the major roles including Odette/Odile in Swan Lake; Princess Aurora in The Sleeping Beauty; Giselle in Giselle; Nikiya in La Bayadère; Manon in Manon; Kitri in Don Quixote, and many others. She has danced the works of some of the world's most significant choreographers including Van Dantzig, Eagling, Ashton, MacMillan, Cranko, Van Manen and Forsythe.
Established in 1934 as the University of Cape Town Ballet Company, Cape Town City Ballet has a strong heritage and roots. The organisation is moving into the next era of dance with the objectives of delighting anew its loyal supporters as well as inspiring new audiences to engage with and develop a love of ballet, striving to achieve this by delivering unique dance performances aligned with the global dance landscape with diversity and inclusivity at the forefront of creativity, integrity and the pursuit of excellence.
Since the Company's inception, it has been renowned for providing opportunities for training and employment to all, despite the ruling laws of previous times. It remains committed to developing the dancers of the future. The CTCB's various development and education programmes have reached more than 320 000 young people. Its audience development and training initiatives include the Apprentice Programme and partnerships for training programme with various dance schools.
With the onset of Covid-19 and accompanying restrictions, nine dancers each created a dance piece for a short dance film in collaboration with Norval Foundation and inspired by and celebrating the work of William Kentridge from his Why Should I Hesitate: Sculpture exhibition.
During the 2020 lockdown, Cape Town Opera and kykNET in collaboration with Cape Town City Ballet, Camerata Tinta Barocca and Wyrd Films, presented Pergolesi's Stabat Mater. The work was choreographed by London-based South African Mthuthuzeli November, and premiered on kykNET in October 2020.
As part of their 2021 Autumn Season at Artscape, CTCB proudly presented the South African premiere of Mthuthuzeli November's Olivier Award winning Ingoma, which was commissioned in 2019 by Cassa Pancho for Ballet Black and which premiered at the Barbican in London.
In 2022, Cape Town City Ballet was once again able to present a full programme line-up, performing to capacity houses and welcoming international guest artists and collaborators. In March, the Company staged Maina Gielgud's Giselle. For the Winter Season, South African ballet legend Veronica Paeper directed five casts in her iconic Romeo & Juliet, including international guest artists Vadim Muntagirov and Fumi Kaneko, both Principals of The Royal Ballet, and Brandon Lawrence, Principal of Birmingham Royal Ballet, with guest conductor Jonathan Lo. The Company also presented a new triple bill, Ikigai, featuring Jiří Kylián's Falling Angels, Sir Frederick Ashton's Les Patineurs and Kenneth Tindall's Polarity. International guest artist Tzu-Chao Chou of Birmingham Royal Ballet danced the role of The Blue Boy in Les Patineurs at select performances.
CTCB aims to serve the dance community as a whole and provides opportunities for teachers and young dancers in training from around the City to participate and gain experience in professional productions and attend various rehearsals. In 2019, students and young dancers took part in A Christmas Carol, Sleeping Beauty and Enemy Behind the Gates. In 2020 students had the opportunity to observe rehearsals of Maina Gielgud's Swan Lake, before the sudden lockdown and subsequent cancellation of all seasons. In December 2021, after almost two years, the company was once again able to offer performance opportunities to young dancers for the restaging of the extremely popular and uplifting A Christmas Carol at the Artscape Theatre. Nationwide auditions were held for the December 2022 production of The Nutcracker, with 120 children gaining the opportunity to perform on the Artscape Opera House stage with the Company.