BEFORE THE SECOND ADVENT Comes to The Drama Factory This Month
Performances are 29-30 March.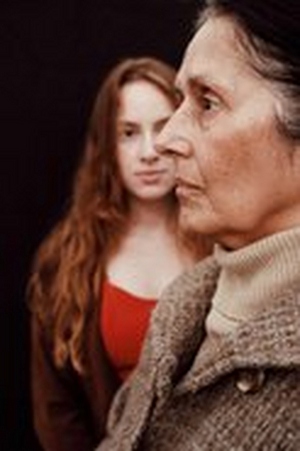 Before the Second Advent is a play in four acts (Conquest, War, Famine and Death) that tells the story of familial trauma, illness, and religious fervor. Set in an insular English/ Afrikaans Christian community, Heila visits her estranged, dying grandmother as she awaits the day of reckoning, which she believes will commence tonight. Over the course of a tension filled evening, the young girl bears witness to her grandmother's feverish fixation with the arrival of her maker and the narrative unfolds as the two characters navigate their relationship, both seeking justice, redemption, forgiveness and atonement for past sins.
The Writer's Statement:
"Before the Second Advent is a tension-filled drama comprising four scenes (conquest, war, famine, and death). It tells the story of Heila, a young girl who returns to the insular religious community she was raised in, to confront her dying grandmother who is gripped by feverish delusions that Armageddon is imminent. The initial idea for the play was born from a deeply personal space. Being raised by my grandmother, a fiercely religious woman, left me witness to the tenacity of her faith despite being ravaged by illness. As a result, I wanted to tell a story about love, fear, familial obligation, female generational trauma, and the complicated perceptions we have of the formative figures in our lives, especially within the framework of stringent, and often harsh, belief systems/structures. The most interesting part of this writing/workshopping experience, especially under the guidance of our director Nell Van der Merwe, has been watching the piece grow into something far more interesting than I could've imagined from the first draft. For this to happen, I had to let go of the personal and allow the work to evolve beyond 'reality' to ultimately land on far more compelling truths. Initially, the process was difficult and I found myself protective of the perception of a history and person I'm profoundly tied to. However, by digging at what serves the story, what drives the narrative, and what ups the stakes, the play took on a life of its own and, tonally, it shifted to something more pointed, more consistent, and ultimately more engaging. Consequently, it feels as though the same themes are being addressed in a far more exciting and, most importantly, extensive fashion that left me, as a writer, with greater insights into the technical aspects of devising a work and an even deeper appreciation for the memory of my grandmother."
The Director's Statement:
"For me, at the heart of the play is the intimate relationship between a granddaughter and her dying grandmother - a pairing of characters we do not often see portrayed onstage. The set is designed to make the audience feel as though they are peering through yellow-stained curtains, curiously observing a tension-filled evening, emphasising notions of the private and the public. The premise for these two characters being framed by the day of reckoning is very exciting to direct because the Biblical references are dense and ripe with metaphors and symbols that
coincide with a narrative that explores themes of redemption, sins, and attempts at mending past afflictions. These types of family conflicts can feel immense, as though the world is coming to an end, and that is my favourite type of story - large-scale drama in the context of the ordinary and mundane".
Director - Petronella (Nell) van der Merwe is a theatre maker based in Cape Town. She obtained BA Hons (Drama) (cum laude) at the University of Pretoria in 2018, with specialisation in directing for theatre and digital media. In 2022 she obtained a MA (Drama) (cum laude), at the University of Pretoria specialising in adaptation and magic realism. After which she continued her postgraduate studies completing another MA in theatre making at the University of Cape Town. Some of her earlier work include the play Switch that performed both at the Kopnong Student Arts festival (2018) and at the Dunkelder Theatre in Johannesburg (2019). Since 2017 she has also worked as a freelance artist in various capacities in the industry. She formed part of the writers team for the company Earcandy (in cooperation with SABC 3) for two years, responsible for the translation of three television series, namely the Turkish telenovelas Primera Dama/ First lady (2017) and Endless love/Bittersoet (2018) as well as the American animation series Ben 10 (2018). From 2018 to 2022 she also wrote three texts for teenage theatre productions: Oorgang (2018), Om Skaduwees op te vou (2019) and Dinosaurs in Pretoria (2022), two of these productions she also directed. In 2022 she was appointed co-director alongside Kanya Viljoen for the teenage theatre production of Hoërskool Jan van Riebeek titled Wat die water weet. She was also responsible for the set design for the Market Theatre production Aïda: Abridged (2018) directed by Greg Homann as well as the production Moonless (2019) directed by Gopala Davies at the National Arts Festival at Makhanda. More recently she designed the sets (in cooperation with Kanya Viljoen) for Eurydice (2022). She is also a mentor at the Zabalaza Festival hosted by the Baxter theatre. She is currently working towards a PHD in theatre making at the University of Cape Town.
Writer and Lead Actor - Ydalie Turk is a South African actress and writer who was named screenwriter to Watch in 2022 by MovieMaker Magazine for The Grand Bolero. She graduated with a BFA in acting, and currently resides in Cape Town where she works in Film, Television, and on Stage. Aside from starring in the film Color of Dreams, 2022 was a year dedicated to the theatre. She played Orpheus in Sarah Ruhl's Eurydice. Thereafter, she starred as Katjia in a production of Zakes Mda's The Bells of Amersfoort and played the lead in a run of Green Room written by acclaimed novelist Keely Shinners. She has also starred in multiple commercials, for Vaseline, M&G Investments, Castle beer and most notably as the face of a viral campaign for Rain Data, among others.
Lead Actor - Margot Wood is a graduate of UCT drama school. She is an actor, director, producer and teaching artist. She started her professional career in what was the performing arts councils, with such theatre stalwarts as Cobus Rossouw, Sanda Kotze, Siefried Mynhardt, Nerina Fereira, Mees Xteen and others. She has been involved with Educational Drama and Theatre programmes and the training of young actors for many years. After completion of a Master`s degree in Theatre for Children at US, she founded Storywood Theatre, creating theatre for children and, recently, for audiences with complex needs. Her independent company, Anex Theatre, has staged productions at NAF, the Fugard Festival, the Cape Town Festival, Woordfees and at venues around Cape Town. For Anex Theatre, she appeared as Amanda in The Glass Menagerie, Millie in People are Living There, Winnie in Happy Days and various roles in the comedy cabaret El Grande de Coca Cola. She appeared in At the Edge of the Light for Wynne Bredenkamp at NAF, Theatre Arts and the Alexander Bar. In 2022, she performed the role of Miss Helen in Road to Mecca for Darryl Spijkers as well as Fraulein Schneider in Cabaret. She is a freelance actor for theatre and film, and has appeared in a number of roles in local and international film and television productions. She is a trained puppeteer and clown.
Producer - Casey Diepeveen is a theatre and film producer based in Cape Town, with a vision to collaborate on socially-engaged films that amplify women's voices. She holds a Bachelor's degree in Industrial Psychology, Political Science, and Value Studies, an honours degree in Strategic Brand Communications, and studied at New York Film Academy in 2017. Casey is a Project Director at Bond Street Theatre, based in New York, and conducts applied theatre programming in South Africa, Egypt, and Afghanistan. She has also played a pivotal role in the international successes of multi-award-winning South African short films, Ekstasis and The Hive, as well as the experimental film, reaching. Further, in 2022, she coordinated the post-production of Recipes for Love and Murder, the 10-part TV series produced by Both Worlds Pictures.