Applications Now Open For The 2023 Women's Month Festival At The Drama Factory
The festival is set for 7-20 August 2023.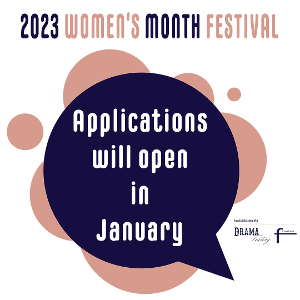 The Drama Factory and F Creations have announced the second running of their Women's Month Festival, taking place 7-20 August 2023.
Applications to perform at the festival are now open! The team is on the hunt for female-centric productions. This means that the stories must be about women and the majority of the production team must identify as female.
The application process is all done online via this form: https://forms.gle/AuebfkupmifNe4jdA
We're looking for an array of different productions to take part in the festival. This includes plays, music, comedy and dance. "It is our aim to amplify the voices of women in the arts, through a variety of performance styles," says festival co-producer, Faeron Wheeler.

The inaugural running of the festival in 2022 saw incredible range from performers. The line-up included award-winning plays île and My Weight and Why I Carry It, as well as a brand-new play from Mava Silumko, Insecure. The festival also featured a stand-up comedy night, hosted by Nicola Date.
The Drama Factory and F Creations look forward to welcoming productions to this year's festival and the theatre. August is going to be a good month for women working in the performing arts!
Deadline for applications: 31 March 2023
Dates for the festival: 7-20 August 2023
Venue for the festival: The Drama Factory, Asla Business Park, Strand, Western Cape