Daniel's Husband on Stage Videos - Off-Broadway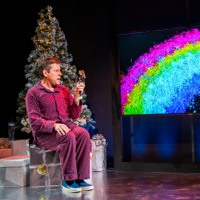 by Stage Tube - Dec 12, 2019
Houses on the Moon Theater Company presents THE SANTA CLOSET, written and performed by Jeffrey Solomon and directed by Joe Brancato (Daniel's Husband) and Emily Joy Weiner (The Assignment), now playing a limited holiday engagement through Sunday, December 22, 2019 at Teatro Círculo Theater (64 East 4th Street in the East Village, NYC).

by BroadwayWorld TV - Feb 25, 2019
Theater for the New City (Crystal Field, Executive Artistic Director), in association with MBL Productions (Mary J. Davis, Producer), will present the New York premiere of the new play, Still at Risk by Tim Pinckney (Message to Michael) at the Community Space Theater at Theater for the New City (155 First Avenue, between 9th & 10th Streets). Directed by Carl Andress (The Divine Sister; Die, Mommie, Die!), the five-member cast will feature Robert Gomes (Dada Woof Papa Hot, The Tempermentals) as Kevin, Christopher J. Hanke (How to Succeed in Business Without Really Trying, Buyer & Cellar) as Christopher, Amy Hohn (November, Cat on a Hot Tin Roof) as Susan, Ryan Spahn (Daniel's Husband, Summer and Smoke) as Byron, and Jonathan Walker (The Assembled Parties, The Divine Sister) as Marcus.