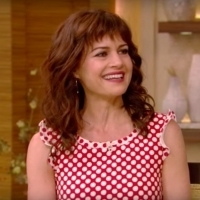 by Stage Tube - Jun 10, 2019
Carla Gugino was a guest on Monday's episode of Live with Kelly and Ryan. During the interview, Gugino talks about performing in Nassim without a script or any information about the show.
by TV News Desk - Jul 21, 2016
Tony Danza is a man of many talents. Not only does he act on stage and screen alike; he also sings and tap-dances, and even has a cheese shop.
by TV News Desk - Feb 24, 2016
Emmy winner Wayne Brady is everywhere these days: from his hit improv show 'Whose Line Is It Anyway?' to his daily game show 'Let's Make a Deal' to KINKY BOOTS on Broadway and 'White Rabbit, Red Rabbit,' a one-night-only play whose script he'll see for the first time only as he's about to hit the stage.