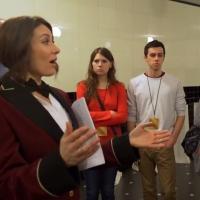 by Stage Tube - Apr 3, 2015
Laura Benanti is joining a Radio City Stage Door Tour as a surprise celebrity tour guide. However, the tourists aren't quite as excited as Laura, and she leads them on a meandering, improvised and mostly erroneous tour of the Great Hall. Spoiler alert: they make it out... eventually. Below, watch as Benanti takes on the city in her latest episode of 'Workin' It'!
by Stage Tube - Mar 19, 2015
She hasn't taken a dance class since her first grade recital in 1986. So she calls on a special dancin' friend (Derek Hough!) to get through this one.
by Pat Cerasaro - Mar 5, 2015
Derek Hough and Jared Grimes hold a terrific tap off!