Time Stands Still - 2010 - Broadway
Are we supposed to deny ourselves ordinary happiness because there's misery in the world? This is one of many questions Donald Margulies poses in his intelligent and timely new play. James and Sarah, a journalist and a photographer, have been together for nine years and share a passion for documenting the realities of war. But when injuries force them to return home to New York, the adventurous couple confronts the prospect of a more conventional life. Time Stands Still is a blazingly important new work about responsibility – to ourselves, to our loved ones, to our community, and to our world.
Video preview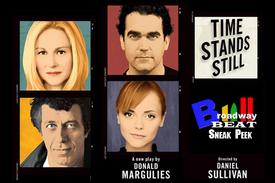 Schedule
Running Time: 2 hours, with one intermission
Featured Reviews For Time Stands Still
Time Stands Still: You've Got To Learn How Not To Be Where You Are - BroadwayWorld.com
In its limited run, Time Stands Still was one of last season's best new plays and among the most satisfying evenings on Broadway. Its return open run, with Ricci's replacement of Alicia Silverstone the only cast change and the three returning actors giving even richer performances, is bound to be among this season's cream as well.
Time Stands Still - New York Daily News
Seven months later, Donald Margulies' play is back in fine form, now at the Cort Theatre with Christina Ricci. The film actress known for edgy work in "Monster" and "The Opposite of Sex" proves herself delightfully natural on stage playing a young woman who tends to look on the bright side.
Time Stands Still Broadway Cast