The Trip to Bountiful - 2013 - Broadway
The touching American classic, THE TRIP TO BOUNTIFUL, tells the story of Carrie Watts, an elderly woman who dreams of returning to her small hometown of Bountiful, TX one last time, against the wishes of her overprotective son and domineering daughter-in-law. Her journey becomes a heartbreaking but ultimately life-affirming and inspiring tale that examines the fragility of memory and celebrates the enduring power of hope and faith.
Video preview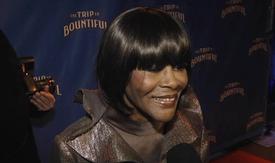 Featured Reviews For The Trip to Bountiful
Theater review: 'The Trip to Bountiful' - NorthJersey.com
The play moves along deliberately, and glibly. It's easy to root for Carrie to establish her independence and reconnect with the joy of her youth, but her trip doesn't make great demands on our emotions.
Review: Tyson sublime in 'The Trip to Bountiful' - Associated Press
The casting here is splendid. Not only is Tyson feisty and funny and glowing with inner light, but her co-stars prove more than compelling: Vanessa Williams is politely savage as her preening daughter-in-law, icy without becoming a dragon. Cuba Gooding Jr., making his Broadway debut as her son, nails the kind man unfortunately caught in the middle of these two women. And the rising talent Condola Rashad, as a soldier's wife, turns a small role into a star turn...Michael Wilson...lets the words and action flow with a genuine gentleness and respect that allows each eye roll, shuffle and sigh to have its maximum impact. The care and love all the creators have for this play pours out from the stage.
The Trip to Bountiful Broadway Cast