The Trip to Bountiful - 2013 - Broadway
The touching American classic, THE TRIP TO BOUNTIFUL, tells the story of Carrie Watts, an elderly woman who dreams of returning to her small hometown of Bountiful, TX one last time, against the wishes of her overprotective son and domineering daughter-in-law. Her journey becomes a heartbreaking but ultimately life-affirming and inspiring tale that examines the fragility of memory and celebrates the enduring power of hope and faith.
Video preview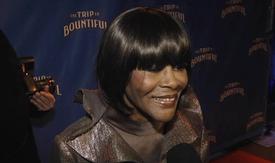 Featured Reviews For The Trip to Bountiful
'The Trip to Bountiful': Theater review - NY Daily News
The wonderful veteran actress Cicely Tyson packs plenty of that playing Carrie Watts, a homesick woman who goes to great lengths to remedy her ache. Tyson slowly but surely drives her way into your heart in a Broadway revival that casts the Watts family as African-American.
The Trip to Bountiful: Theater Review - Hollywood Reporter
[Tyson's] performance as Mrs. Watts is as remarkable for its spry, shuffling energy and wiliness as for its warmth and emotional transparency...Tyson's ability to convey stubborn resilience in the face of defeat is profoundly touching...But the production's tone is inconsistent, too often sacrificing truthful poignancy in favor of jaunty humor and manufactured sentiment. Instead of a quiet elegy that can cut deep with its sense of reaching for a past that exists now only in the imagination, it has become a heartwarming dramedy (a word I hate) of a kind regularly found on basic cable. It's still perfectly entertaining, just a long way from being all that this play can be.
The Trip to Bountiful Broadway Cast