The Gin Game - 2015 - Broadway
Weller Martin (James Earl Jones) and Fonsia Dorsey (Cicely Tyson) meet on the porch of their nursing home and strike up a friendship, with Weller teaching Fonsia how to play gin rummy. As they play, they share stories about the lives they led in the outside world. But when Fonsia wins every hand, Weller becomes increasingly frustrated, until their gin games and conversations become a battleground, with each player exposing the other's failures, disappointments and insecurities.
Mr. Jones and Ms. Tyson are sharing a Broadway stage for the first time since 1966, when they appeared in A Hand Is On The Gate at the Longacre Theatre. They also starred in the long-running Off-Broadway production of Jean Genet's The Blacks. They starred opposite each other in the film The River Niger and the TV movie "Heat Wave." Mr. Jones is a two-time Tony Award winner (Fences, The Great White Hope), three-time Emmy Award winner ("Heat Wave," "Gabriel's Fire," "Summer's End") and the recipient of a Grammy Award and an Honorary Academy Award. Ms. Tyson is a Tony Award-winner (The Trip to Bountiful), a three-time Emmy Award winner ("The Autobiography of Miss Jane Pittman," "The Oldest Living Confederate Widow Tells All") and an Academy Award nominee (Sounder).
Video preview
Photo preview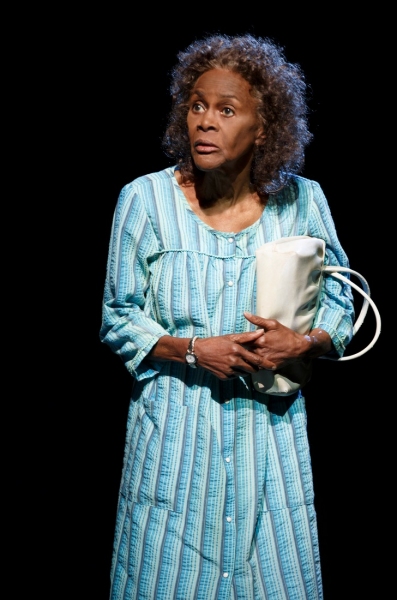 Schedule
Running Time: Two hours, with one intermission
Featured Reviews For The Gin Game
Review: James Earl Jones, Cicely Tyson risk it in 'Gin Game' - Associated Press
One thing you should probably not bet against at "The Gin Game" on Broadway is the little old lady onstage who seems to have supernatural luck with cards. Another is the two-person cast, James Earl Jones and Cicely Tyson...The handsome and beautifully acted revival of D.L. Coburn's Pulitzer Prize-winning play...about two lonely, alienated nursing home residents is directed by Leonard Foglia, who has put an emphasis on the play's humor. That makes for an enjoyable evening but also makes the come-out-of-nowhere ending a gut-wrencher...Jones curses up a storm, pushes for faster games and slaps the cards down on the table in hopes of winning just a single hand. Tyson plays her little old lady with a stutter-step and tentativeness to her gait, but a mind sharp and stinging. There's a girlish glee that comes over her as each new round ends with her victory. Watching them together is a sheer honor.
'The Gin Game' review: Stars shine in uneven revival - NJ.com
There's probably not much that a pair of old pros like James Earl Jones and Cicely Tyson couldn't put over on stage. At age 84, he still possesses that haunting, deep bass voice; is still capable of sliding like quicksilver from gentle humor to powerhouse authority. At age 90, she still looks ethereal and commands attention despite that tiny frame and sometimes whispery manner...They generate considerable laughs alongside moments of quiet tenderness, and each actor find moments to shine and other moments to relinquish the spotlight -- it's a duet with glorious solos. Where this "Gin Game" stumbles is in its second half, when Coburn's play takes a series of dark turns and the two characters begin mercilessly attacking one another. Except director Leonard Foglia and his actors don't entirely take those turns alongside Coburn, preferring instead to keep the tone broad and semi-jokey...The result feels a little too much like empty calories; a "Gin Game" that goes down exceedingly easy, but leaves you hungry for real substance.
The Gin Game Broadway Cast