The Gin Game - 2015 - Broadway
Weller Martin (James Earl Jones) and Fonsia Dorsey (Cicely Tyson) meet on the porch of their nursing home and strike up a friendship, with Weller teaching Fonsia how to play gin rummy. As they play, they share stories about the lives they led in the outside world. But when Fonsia wins every hand, Weller becomes increasingly frustrated, until their gin games and conversations become a battleground, with each player exposing the other's failures, disappointments and insecurities.
Mr. Jones and Ms. Tyson are sharing a Broadway stage for the first time since 1966, when they appeared in A Hand Is On The Gate at the Longacre Theatre. They also starred in the long-running Off-Broadway production of Jean Genet's The Blacks. They starred opposite each other in the film The River Niger and the TV movie "Heat Wave." Mr. Jones is a two-time Tony Award winner (Fences, The Great White Hope), three-time Emmy Award winner ("Heat Wave," "Gabriel's Fire," "Summer's End") and the recipient of a Grammy Award and an Honorary Academy Award. Ms. Tyson is a Tony Award-winner (The Trip to Bountiful), a three-time Emmy Award winner ("The Autobiography of Miss Jane Pittman," "The Oldest Living Confederate Widow Tells All") and an Academy Award nominee (Sounder).
Video preview
Photo preview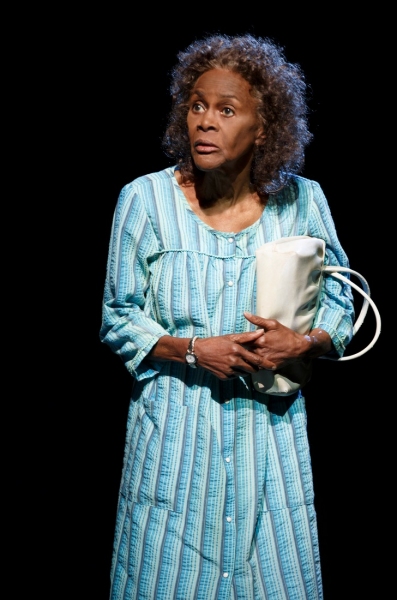 Schedule
Running Time: Two hours, with one intermission
Featured Reviews For The Gin Game
'The Gin Game' review: James Earl Jones and Cicely Tyson, a duet of pros - Newsday
The multi-award-winning virtuosos, who have worked together at least five other times, manage to play off the intimate rhythms of one another while still making us believe that their characters begin as strangers...Directed with leisurely sensitivity by Leonard Foglia, the production lets the balance of powers shift and flow through the games of gin that Coburn uses as a device to weave the characters' bond. Tyson, in fuzzy light brown curls and an omnipresent handbag, has a simplicity that makes everything look easy. Jones, mostly in old windbreakers and a scowl, uses a showy technique to suggest how hard the volatile Weller works to hide his own isolation. Both are estranged from their families and, after a while, we start to understand why.
'The Gin Game' Broadway Review: James Earl Jones and Cicely Tyson Play to Win - The Wrap
Cicely Tyson doesn't let her approaching 91st birthday get in the way of being downright girlish on stage. She achieves this marvel twice in the new Broadway revival of "The Gin Game"...She evokes youthful giddiness at beating the pants of James Earl Jones's card-playing veteran in the first act. Later, when she may be falling in love with him, their hands accidentally touch and then they dance. Tyson suddenly has the glow and all of the stability of an adolescent...[Jones'] immense build, especially in comparison to the petite Tyson, is again on display in "The Gin Game," but to poignant effect. His character rages at all that power being trapped in an old body that no longer works the way he wants it to...What doesn't work (except as an excuse to watch two pros go at it) is Coburn's play.
The Gin Game Broadway Cast