The Color Purple - 2015 - Broadway
See it on Broadway through January 8th only. The Color Purple is the 2016 Tony Award winner for Best Musical Revival. Best Actress Tony Award winner CYNTHIA ERIVO ("an incandescent new star" says The New York Times) leads a powerhouse cast in this epic story of a young woman's journey to love and joy in the American South. Joining her is Tony and Grammy-winning Broadway legend JENNIFER HOLLIDAY (Dreamgirls). Tony winner JOHN DOYLE directs.
Don't miss two of Broadway's most powerful performers together on one stage in this Tony-winning triumph that New York Magazine calls "one of the greatest revivals ever."
Experience the exhilarating power of this Tony-winning triumph that New York Magazine calls "one of the greatest revivals ever."
Video preview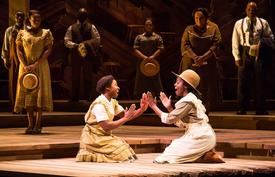 Photo preview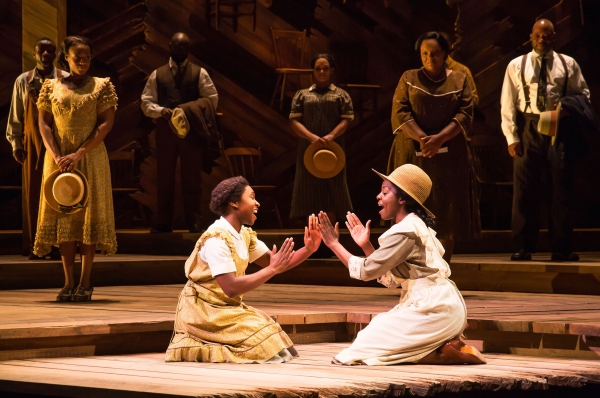 Schedule
Running Time: Two hours and 35 minutes, with one intermission
Featured Reviews For The Color Purple
Broadway Review: 'The Color Purple' with Jennifer Hudson, Cynthia Erivo, Danielle Brooks - Variety
The ladies wear the pants in John Doyle's ravishing revival of "The Color Purple." Jennifer Hudson is radiant as the love machine Shug Avery. Danielle Brooks shakes the house as the earthy Sofia. And Cynthia Erivo, the tiny pint of dynamite who originated the role at the Menier Chocolate Factory in London, brings the audience roaring to its feet as Celie...All three performers are making their Broadway debuts, which makes it all the more thrilling. In a feat of reverse magic, Doyle's minimalist production maximizes the strength and beauty of Marsha Norman's book...Both the beauty and the brains of the score are evident in the fact that each character's signature song belongs only to that character.
Review: Cynthia Erivo Amazing in 'The Color Purple' Revival - Associated Press
Cynthia Erivo is an absolute marvel in the lead role of Celie, playing her at first with defeated deference, then indignation and then righteous might. Her voice lifts the roof off the Bernard B. Jacobs Theatre. There are times you forget Jennifer Hudson also is onstage...Doyle's pacing in the first act is so swift that there's little time to breathe as misery seems to visit Celie without release...Things loosen up in a more airy second act...Hudson as the hedonistic Shug Avery rushes her lines a tad but no one will care when she opens her mouth to deliver the title song...There is purity and astounding horse power in her voice. Danielle Brooks...makes a strong Sofia, one whose spirit of mirth never gets lost.
The Color Purple Broadway Cast