The Assembled Parties - 2013 - Broadway
THE ASSEMBLED PARTIES welcomes us to the world of the Bascovs, an Upper West Side Jewish family in 1980. In a sprawling Central Park West apartment, former movie star Julie Bascov and her sister-in-law Faye bring their families together for their traditional holiday dinner. But tonight, things are not usual. A house guest has joined the festivities for the first time and he unwittingly - or perhaps by design - insinuates himself into the family drama. Twenty years later, as 2001 approaches, the Bascovs' seemingly picture-perfect life may be about to crumble. A stunning new play infused with humor, THE ASSEMBLED PARTIES is an incisive portrait of a family grasping for stability at the dawn of a new millennium.
Video preview
Photo preview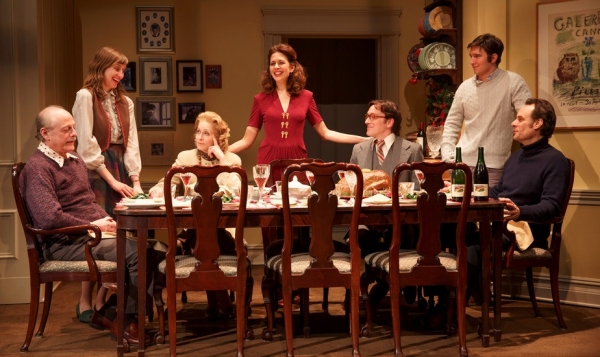 Twitter Watch
@mtc_NYC
01/12/2021 11:40am
We've just announced the final two plays in our 2021-22 season! Don't miss Dominique Morisseau's SKELETON CREW and… https://t.co/ziqI0di71t
Featured Reviews For The Assembled Parties
Throwback to the Days of Tasteful Opulence - New York Times
There are tales, still told by the old ones of Broadway, of a time when Charm - with a capital C - was a cardinal virtue in the theater...To my great surprise, a brand-new version of such a play has materialized at the Samuel J. Friedman Theater, and it is, in a word, charming. It is also smart, sad and so impossibly well-spoken you may feel like giving up on conversation. It is called "The Assembled Parties," written by Richard Greenberg and featuring a leading lady, Jessica Hecht, who is charm - I mean, Charm - incarnate..."The Assembled Parties"...is an elegy to a breed of woman, a style of living and a genre of theater of which only vestiges remain in frantic, self-promoting New York. Directed with loving care by Lynne Meadow, this is an old-fashioned play that ruefully knows that its time has passed and, moreover, why it's passed.
'The Assembled Parties': Theater review - NY Daily News
But Light, who won a Tony last year for "Other Desert Cities," proves ever-invaluable as Faye, a smart-mouthed mensch with bark and bite. She's the life of the party - and this production.
The Assembled Parties Broadway Cast