Rodgers + Hammerstein's Cinderella - 2013 - Broadway
Rodgers + Hammerstein's Cinderella is the Tony Award-winning Broadway musical from the creators of South Pacific and The Sound of Music that's delighting audiences with its surprisingly contemporary take on the classic tale. This lush production features an incredible orchestra, jaw-dropping transformations and all the moments you love - the pumpkin, the glass slipper, the masked ball and more-plus some surprising new twists! Be transported back to your childhood as you rediscover some of Rodgers + Hammerstein's most beloved songs, including 'In My Own Little Corner,' 'Impossible/It's Possible' and 'Ten Minutes Ago' in this hilarious and romantic Broadway experience for anyone who's ever had a dream.
"The ultimate and most enduring of makeover shows is back in town, and this CINDERELLA is no passive damsel waiting for a rescuing knight. She takes charge of her destiny."
-The New York Times
"EYE-POPPINGLY OPULENT enough to wow any six-year-old at heart!"
-The New Yorker
Video preview
Photo preview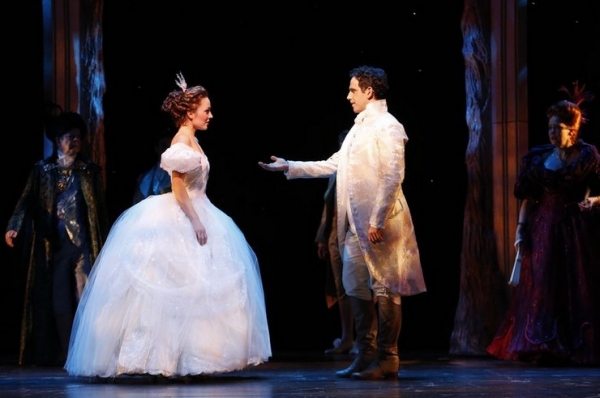 Schedule
Running Time: 2 hours and 20 minutes, with one intermission
Featured Reviews For Rodgers + Hammerstein's Cinderella
Legit Review: 'Cinderella' Sparkles - Variety
Helmer Mark Brokaw...has cast this show shrewdly, with actors who can sing, get their laughs, and in one crucial case especially, even dance. That triple threat is Osnes...While her light soprano gives sweet voice to Ella, Osnes' acting chops and dancing skills make her as lovely to watch as she is to listen to...The cheeky humor of Beane's book comes from imposing modern sensibilities (and contemporary lingo) on timeless storybook figures....But all these clever alterations radically change the story we all grew with, the tale about how true love rescues a callously mistreated girl from persecution. Because the evil stepmother and stepsisters are no longer cruel or threatening, our fairytale Cinderella is no longer a despised outcast, the unhappy victim of her sad circumstances. For that matter, Ella is no longer even the hero of her own fairytale.
'Cinderella' Charms as Show Turns Into Pumpkin: Review - Bloomberg
You can see light beaming from Laura Osnes at the Broadway Theatre, where she's playing the Cinderella of any girl's fantasy....Osnes has doe-eyed charm, a lovely soprano and whatever it is that separates a star from the chorus without trumpeting the fact. And in this first-ever Broadway production of "Rodgers + Hammerstein's Cinderella" she shimmers -- even when just about everything around her is flying off the rails.
Rodgers + Hammerstein's Cinderella Broadway Cast