Einstein's Dreams - 2019 - Off-Broadway
The year is 1905. A young and uncertain Albert Einstein dares to envision new worlds beyond the limits of classical physics. Drawn deeply into his dreams, he is guided by a mysterious woman whose elusive identity awakens his full genius.
Based on the bestselling novel by Alan Lightman, this elegant new musical bridges imagined and real worlds, and unlocks the passionate intellect of one of the 20th century's greatest thinkers.
Schedule
Running Time: 95 minutes including intermission
(New York, NY)
59 E. 59th St.
Einstein's Dreams Off-Broadway Cast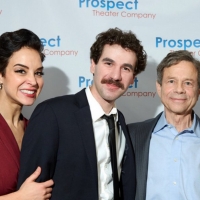 by Chloe Rabinowitz - November 25, 2019
The cast and creative team of EINSTEIN'S DREAMS celebrated the opening with friends and family at Sarabeth's on Central Park South on Wednesday, November 20 hosted by EINSTEIN'S DREAMS producer Prospect Theater Company.