Clyde's - 2021 - Broadway Tickets, News, Info & More
In CLYDE'S, a stirring new play from two-time Pulitzer Prize winner Lynn Nottage and her frequent collaborator, director Kate Whoriskey (Ruined, Sweat), a truck stop sandwich shop offers its formerly incarcerated kitchen staff a shot at redemption. Even as the shop's callous owner tries to keep them under her thumb, the staff members are given purpose and permission to dream by their shared quest to create the perfect sandwich. You'll want a seat at the table for this funny, moving, and urgent play. It's an example of Nottage's "genius for bringing politically charged themes to life by embodying them in ordinary characters living ordinary lives" (The Wall Street Journal).
The full creative team for Clyde's includes scenic design by Takeshi Kata, costume design by Jennifer Moeller, lighting design by Christopher Akerlind, sound design by Justin Ellington, original compositions by Justin Hicks and casting by The Telsey Office.
Clyde's is supported by the Art for Justice Fund, a sponsored project of Rockefeller Philanthropy Advisors and by Terry and Bob Lindsay, with additional support provided by American Express.
Video preview
Photo preview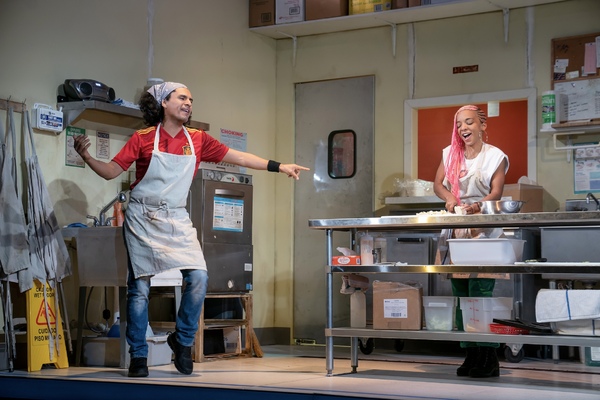 Featured Reviews For Clyde's
Lynn Nottage sets 'Clyde's' in a truck stop cafe, and feisty comedy is on the menu - Washington Post
What melts away as you get to know the characters are the monumental stigmas attached to jail time. Donovan's Jason is inked to the max with prison tats, some of them racist symbols, but the story behind them reveals something unexpected. Letitia, here called Tish, in Young's smashingly vibrant turn, is all adolescent energy and adult anxiety, the latter brought on as a single mother caring for a sick child. Salazar's hyper Rafael needs an emotional home for his nurturing instincts, as an alternative to his weakness for drugs.
CLYDE'S: LYNN NOTTAGE COOKS UP A SHARP KITCHEN-SET COMEDY - New York Stage Review
Kitchen workers Letitia, Rafael, Jason, and their guru, Montrellous, spend their shifts dreaming up the perfect Bon Appétit-ready concoction at a purgatory-like Pennsylvania truck-stop sandwich shop named Clyde's, run by the mean-as-a-cobra, tough-as-acrylic-nails Clyde (Uzo Aduba, late of TV's Mrs. America and Orange Is the New Black). They're all ex-cons-something Clyde, who also did time, uses to beat them into submission whenever she gets the chance. "She might actually be the devil," muses Jason. And, in fact, she might. Consider the burst of flames she produces periodically.