Click Here for More Articles on Broadway by Design
Broadway By Design: David Zinn Brings AMELIE from Page to Stage
Who is Annie without her red dress? Or Eva with out her balcony? It is the charge of the Broadway designer to transport the audience into the world of a show, whether it be Great Depression-era New York City or outside of the Casa Rosada.
In Broadway by Design, BroadwayWorld is shining a spotlight on the stellar designs of this Broadway season, show by show. Today, we continue the series with David Zinn, who acted as both scenic and costume designer for Broadway's playful, imaginative, Amelie.
---
Amelie is an extraordinary young woman who lives quietly in the world, but loudly in her mind. She covertly improvises small, but surprising acts of kindness that bring joy and mayhem. But when a chance at love comes her way, Ame?lie realizes that to find happiness she'll have to risk everything and say what's in her heart. Come be inspired by this imaginative dreamer who finds her voice, discovers the power of connection and sees possibility around every corner. In these uncertain times, Amelie is someone to believe in.
So where did Zinn begin? He explains: "Jeunet's film was obviously a big touchstone and inspiration for all of us-- the challenge being how to capture his gorgeous cinematography and sense of a heightened world of imagination and translate it to the theater."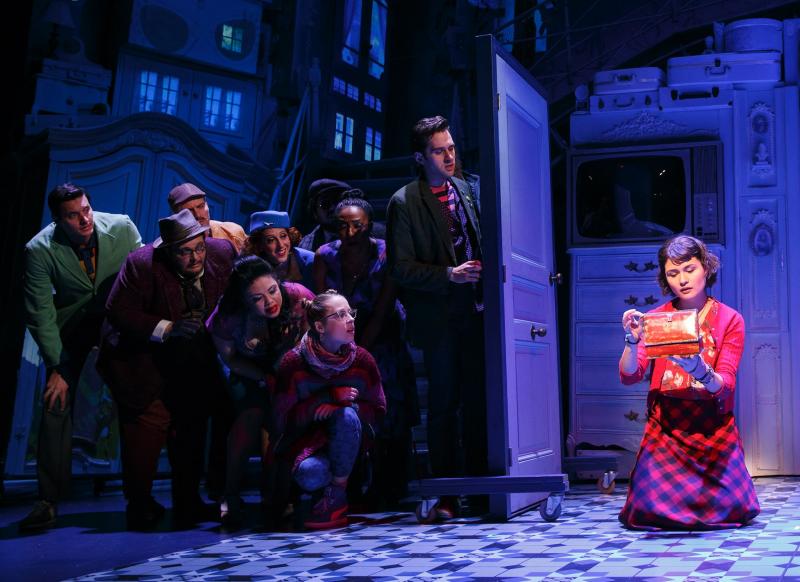 "Color, really, is where I started, and also transformation-- how can one thing become another in the eye of a creative person... so the vocabulary of Amelie's interior world--the place where she feels the safest-- becomes the city that surrounds her. And there's a lightness to it, almost as if it's made out of sky. And then her journeys out of that space are marked by big changes and interventions of strong color. It's Amelie's point of view--how she sees the world."
How did that translate to his costume designs? "The costumes, in a way, are the reverse of that equation," says Zinn. "Amelie in her bright, bright red stands out in her surroundings and the people around her have a little more to do with feeling like they're made-up from her environment. It's also an exercise in my favorite thing which is playing loose with patterns and colors--it's a playground of pattern-mixing."
His challenges? "[It was] fitting so many locations in to such a small and relatively simple design. We keep moving and moving all thru the musical and we have to get to so many places quickly and simply."
"Pam [MacKinnon] and Sam [Pinkleton] helped navigate through that beautifully--we tried to essentialize what was necessary for each place, each scene, and not bring more of that than was necessary--plus we couldn't fit any thing else in the Kerr! It's a gorgeous theater but it's small!"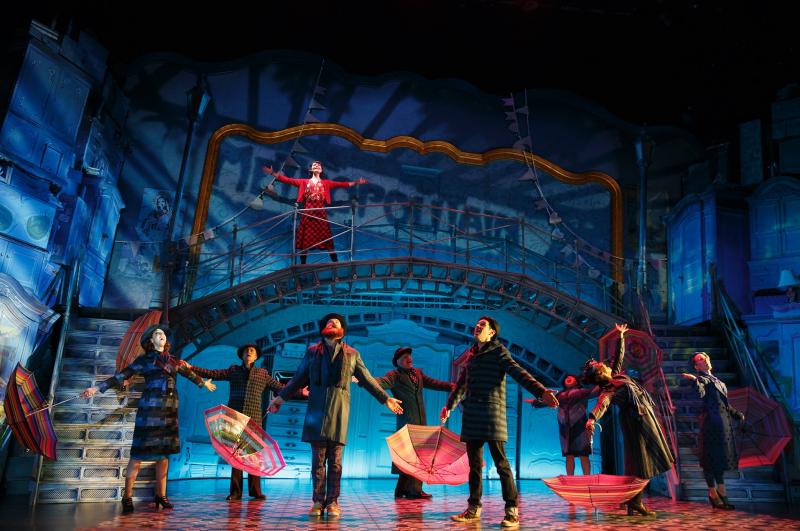 Want more Broadway By Design? CLICK HERE.
---
The new Broadway production of AMÉLIE, A NEW MUSICAL, directed by Tony Award winner Pam Mackinnon (Who's Afraid of Virginia Woolf), with a book by Pulitzer Prize and Tony Award nominee Craig Lucas (The Light in the Piazza), music by Daniel Messé and lyrics by Nathan Tysen & Messé, starring Tony Award nominee Phillipa Soo and Adam Chanler-Berat, is now playing at Broadway's Walter Kerr Theatre (219 W 48th Street).
Amélie, A New Musical features musical staging and choreography by Sam Pinkleton, music direction by Kimberly Grigsby, scenic and costume design by Tony Award winner David Zinn, co-lighting design by Tony Award nominee Jane Cox and Mark Barton, sound design by Tony Award nominee Kai Harada, projection design by Peter Nigrini, puppet design by Amanda Villalobos, hair and wig design by Charles LaPointe, vocal arrangements by Kimberly Grigsby and Daniel Messé, and orchestrations by Tony Award winner Bruce Coughlin.
Related Articles
Originally from Pittsburgh, Pennsylvania, Nicole began writing for BroadwayWorld in 2010. She currently resides in New York City, where she gets to enjoy far more (read more...)