A Time To Kill - 2013 - Broadway
This fall, John Grisham's debut novel A TIME TO KILL, one of the most celebrated courtroom dramas of the last several decades, becomes the first in his iconic collection of legal dramas to be adapted for the Broadway stage.
A TIME TO KILL is the incendiary story of a Southern community torn in half by an unspeakable crime. As the shocking news hits the public, small town America becomes the center of a media storm, where innocence is the victim, race is on trial and lives hang in the balance.
Part courtroom drama, part suspense thriller, pure theatrical dynamite, A TIME TO KILL begins performances September 28 at the Golden Theatre.
'It was my first book and the first that I have allowed to be adapted for the theatre. Rupert Holmes did an excellent job of translating it from the page to the stage, and I am happy that not only my loyal readers, but a whole new audience, will be able to experience this story in live theatre.'
- John Grisham
Video preview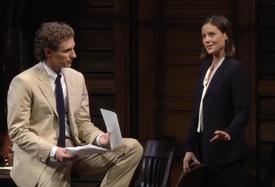 Featured Reviews For A Time To Kill
A Time to Kill: Theater Review - Hollywood Reporter
The audience becomes the jury in A Time To Kill, Rupert Holmes' by-the-numbers stage adaptation of John Grisham's page-turning 1989 debut novel. But unlike the workings of a real jury, there's no room for ambiguity, moral complexity or startling insight in this formulaic courtroom drama about institutionalized racism in the Deep South, in which every liberal-pandering response has been hardwired into the dated material. Sturdy ensemble acting and Grisham's compelling storytelling make this go down easily, but the production provides little persuasive evidence that the thriller needed to become a play.
Review: 'A Time to Kill' Is Not Worth Killing Time - Associated Press
A paperback copy of John Grisham's novel "A Time to Kill" will set you back less than $10. The DVD of the film will cost a few bucks more. The new adaptation on Broadway? Tickets at the box office start at $70. Save your money...director Ethan McSweeny and a talented cast that includes standouts Patrick Page, Tom Skerritt and Fred Dalton Thompson can't seem to get any traction with a story about the case of a black father who kills the white men who raped his daughter.
A Time To Kill Broadway Cast