A Delicate Balance - 2014 - Broadway
A DELICATE BALANCE, Edward Albee's Pulitzer Prize and Tony-winning masterwork returns to Broadway with an extraordinary cast.
In A DELICATE BALANCE, Agnes (Glenn Close) and Tobias (John Lithgow), a long-married couple, must maintain their equilibrium as over the course of a weekend they welcome home their 36-year-old daughter (Martha Plimpton) after the collapse of her fourth marriage, and give shelter to their best friends (Bob Balaban and Clare Higgins), all the while tolerating Agnes' alcoholic sister Claire (Lindsay Duncan).
The Daily News calls A DELICATE BALANCE "a beautiful play- easily Albee's best and most mature, filled with humor and compassion and touched with poetry." It "proves that old-fashioned stage virtues- originality of voice, depth of feeling, richness of language- can still provide a thrill" (TIME Magazine). "If you really care about serious theatre, brilliant theatre, great acting, and great playwriting, this is the only play to see on Broadway" (New York Post).
Video preview
Photo preview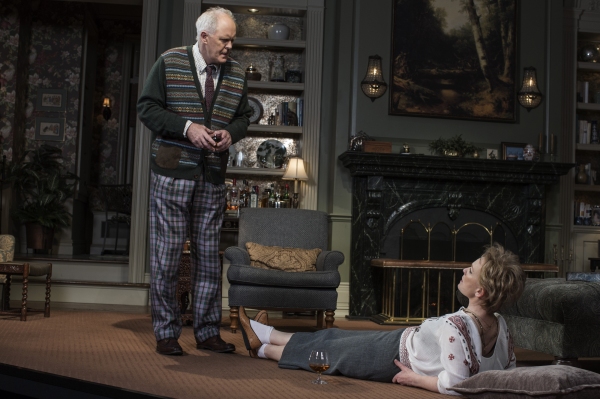 Schedule
Running Time: Two hours and 55 minutes
Featured Reviews For A Delicate Balance
Pretty Crowded for an Empty Nest - The New York Times
Hope arrives in the form of dread toward the end of the first act of Edward Albee's "A Delicate Balance"...Up to that point in this production, directed by Pam MacKinnon, it's been hard to detect much feeling of any kind within the carefully color-coordinated, dust-free, energy-free environs that have been installed onstage. To be sure, the three talented and celebrated people we have been watching up there thus far -- Glenn Close, John Lithgow and Lindsay Duncan -- have been delivering their characters' zingers and stingers with crispness, clarity and, when one feels an important theme coming on, heavy italics. Yet they have the distant, flattened dimensions of specimens under glass...But then -- oh, sweet deliverance -- here come good old, miserable, intrusive Harry and Edna to shake things up...As embodied by Bob Balaban and Clare Higgins, Harry and Edna arrive like a gust of -- well, I was going to say fresh air, but what Harry and Edna bring with them is something noxious and polluted...Their acting is more subtle than anybody else's here, but it is also bone deep...Yet in this version of "A Delicate Balance," there is no underneath. Its stars speak the lines as if they -- I mean, the performers, not the characters -- know exactly what they're saying and why...As you would expect of these highly accomplished, multi-award-winning cast members, none of them are bad. But they're giving us the play, instead of living it.
A Delicate Balance review – Close and Lithgow share cocktails and threats - The Guardian
In A Delicate Balance, an ominous domestic drama of 1966 now revived on Broadway, there's hardly a sentence that isn't meant to scratch or slice or slash...The director, Pam MacKinnon, who superintended the most recent and rather dazzling revival of Who's Afraid of Virginia Woolf, works to ground these seemingly extraordinary events and to temper Albee's penchant for absurdism with a realistic emotional palette...Despite the exertions of director and cast, the play can feel long and talky and the audience was not without its snoozers. Yet nearly half a century on, it hasn't really dated. The sense of menace and threat that underlies the chat - the tenuousness of even the most settled lives - remains immediate and disturbing. Like Who's Afraid of Virginia Woolf (if unlike The Zoo Story), a lot threatens to happen, but not much does....
A Delicate Balance Broadway Cast