BWW Review: LADY WINDERMERE'S FAN at Taproot Theatre is a Tightly Woven Tapestry of a Show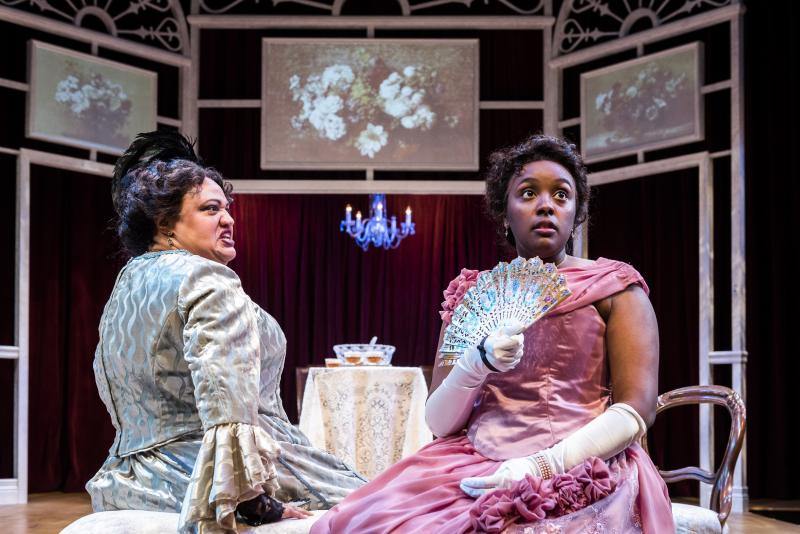 Lady Windermere's Fan at Taproot Theatre is a tapestry of tightly woven threads in which all are needed to tell the story. This show, an Oscar Wilde classic, is often produced in such a way that the humor overshadows the heart. Co-directors, Karen Lund and Marianne Savell, have instead chosen to explore the genuine fears and dilemmas that women of society faced in the late nineteenth century. With little power and few choices, these women struggled to uphold the ideals imposed by their society. Lady Windermere reminds us how easily a single decision can forever change the trajectory of a life. When authenticity is the cornerstone of a show, especially one with as strong a script as this, there is no need for a circus of distractions.
Lady Windermere's world is thrown into chaos on her birthday as she prepares to celebrate by hosting a ball. She is told of her husband's frequent visits and loans of money to an attractive and mysterious woman, new to the town. When Lady Windermere confronts her husband, he brushes off her accusations and even insists that this woman, Mrs. Erlynne, be invited to the ball. He believes that if his wife, a good woman, accepts her into their home that Mrs. Erlynne will then be accepted back into good society. Of course nothing is as it seems. Both Lady Windermere and Mrs. Erlynne are faced with difficult choices that once made cannot be undone.
Having watched bits of the royal wedding the same day as this show, I couldn't help but think about the rules of society that unfairly bound women for so long. A poorly chosen frock, the wrong length gloves, a departure in hairstyle were long considered valid reasons for being shunned by good society. And once exiled, the path back to acceptance was long, hard, narrow, and seldom successful. In a time where simply following a set of accepted rules was all that was needed to be deemed a good woman, this show reminds us that sacrifice and compassion, the true hallmarks of goodness, rarely follow the conventions of the day.
Maya Burton's portrayal of Lady Windermere boasts all the innocence and stubbornness of youth. You can almost see her mind open as her character is forced to acknowledge the gray areas of life outside of society's precious rules. Tyler Trerise as Lord Darrington is utterly charming, making you wish you knew more about why he is teased for being a scoundrel (of course men were allowed to be scoundrels and still be accepted by good society). Rebecca M. Davis (Duchess of Berwick) and Laura Lee Caudill (Lady Agatha Carlisle) provide a comic duo that is much needed. However, some of their most important scenes were lost to me due to the U-shaped seating in the theater. Agatha's back was directly in front of me which also blocked the Duchess who was straight across from her. When Agatha tells her mother that she has agreed to go to Australia with Mr. Hopper, I'm sure there were wonderful things happening on both their faces, but I could see neither. At least the laughter in the audience let me know that they made the most of this moment.
Frank Lawler (Mr. Dumby), Nolan Palmer (Lord Augustus "Tuppy" Lorton), and Conner Neddersen (Mr. Cecile Graham) also provide comedic breaks to the show. Their delivery of witty one-liners and carefully raised eyebrows allowed a bit of levity just as the show was reaching its apex of tension. However the star of the night was Nikki Visel whose portrayal of Mrs. Erlynne is perhaps my favorite. She is a flawed character who finds her heart but doesn't quite know what to do with it. The paradox of the play is summed up in her one line to Lord Windermere (Richard Nguyen Sloniker), "I regret my bad actions. You regret your good ones."
The set design by Mark Lund is simple but rich with references to fans. The costumes by Jocelyne Fowler are elaborate without being burdensome or overpowering. Together they strike just the right note of the era and help the audience immerse themselves into another time period. The show rings true on every note. Don't miss the wonderful notes from the Dramaturg, Anthea Carns, especially the piece on the secret language of fans in Victorian England. Taproot Theatre has reminded us about the importance of being earnest and warned us against allowing society's rules to predetermine our opinions of others.
Lady Windermere's Fan is playing at the Taproot Theatre through June 23rd. For tickets of information, www.taproottheatre.org.