EDINBURGH 2017: BWW Q&A- The Unmarried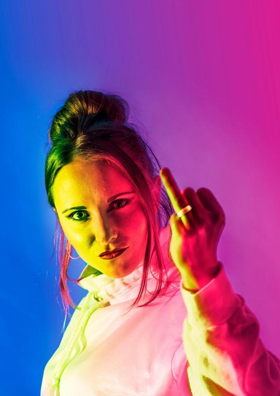 About the show:
The Unmarried is a truly original production that's boldly cross-genre. Sharp comedic and poetic writing laced with explosive musical beats. This is theatre you can rave to.
Rhythmically underscored by a live mix of beat boxing 90's Dance hits and old school UK Garage. Award winning performer-writer Lauren Gauge explores with cutting comedy, the feminist defiance of the legacy of a patriarchal society that nearly succeeded in defining the hopes of a generation.
The story we tell is a raw, feminist, physical, comedy. Luna is a bold a brass lager lout on the prowl for wild times, putting two fingers up to society's expectationswhilst in a 7 year long relationship with a man who is starting to resemble the system.
The Unmarried by Lauren Gauge: World Premiere at the Edinburgh Fringe Festival (Underbelly, Med Quad) 2nd - 28th August 2017, after sell out previews whilst in development at Lyric Hammersmith and Camden People's Theatre.
Why bring it to Edinburgh?
Because we defy the norm too! The Unmarried as a production is magnificently challenging to catergorise. We love to challenge the status quo and people's expectations. Equally we love to entertain and offer something mentally exciting and innovative so Edinburgh Fringe is the perfect stomping ground and launch pad for the World Premiere of The Unmarried - a bold cross-genre production that melds spoken word, theatre, gigs, dance, beatboxing and comedy. We've got the perfect slot at 10:35PM at Underbelly Med Quad to confront the hangover of the patriarchy!*
*But we cannot be responsible for the hangover of your night out afterwards!
Equally, it's my debut play so it's kind of my baby. What better place to introduce my screaming child than the lovingly harsh, vibrantly overcrowded home of the outrageous? Really there is no better playground, birthing pool or family, so it's literally the coolest, scariest and most ambitious thing I may have ever done. Be gentle!
What sets it apart from other shows at the Fringe?
Honesty. A rawness to the writing that makes it cuttingly comic. It's form: theatre you can rave to.
After he read one of my first drafts one of my playwriting idols, the utterly magnificent Simon Stephens, compared my story to Lena Dunham and my lyricism to Kate Tempest but commented that my writing identity is full of an infectious vitality and a striking rawness that's distinct and rare. I'm still mulling this comment over in my head. But I know that Luna's world is full of fun and pleasure seeking and in some senses that candor and purity is what makes her relatable and rare.
I started writing The Unmarried because there aren't enough female stories centre stage being honest about our needs and rebelling against labels that entrap us.
The story we tell is raw, feminist comedy, it's new writing from a not often told perspective. The story is the main thing, the road to marriage, the labels, the judgment the expectations - the total dissatisfaction I had with the patriarchy and to a large extent social conventions - how they're not helping anyone to be themselves.
Alongside the raucous story of Luna - a raucous, sassy, young woman trying to figure out how to navigate the world and society's expectations, you can expect a piece inspired by spoken word with dance and a live mix and beatboxing and singing!
Who would you recommend comes to see you?
1) Those that love the brave, and those that live to rave!
2) Anyone who's tired of the patriarchy that wants to be liberated and join in our anarchy and hope!
And of course...
3) Lover's of Old School Garage and 90's Dance anthems... Luna's looking for wild times whilst stuck in a relationship that starts to resemble the system they came together to defy. Experience Luna's backing track of DJ Luck and MC Neat's With A Little Bit Of Luck and Amber's I'm A Dreamer with live beatboxing from Haydn-sky Bauzon and vocals from Georgia Bliss!
I love Garage music and it felt intrinsic to the character's uninhibited desires, drive and identity growing up. I suppose in that sense I am a lover of anarchy and the club scene because of the collective energy, sense of freedom and possibility. So what better score to set the love and curious spirit that Luna embodies to, than 90's and 00's anthems, when club culture was uproarious?
This play is for everyone who is willing to challenge the status quo, fall in love and go for broke with integrity. Luna is fierce, sexy, awkward (as sh*t) and funny (as f*ck), and I am always fascinated by the power of cutting comedy and visceral music to propel important truths into audiences' hearts.
Are there any other shows you're hoping to catch at the festival?
Offisde by two fellow female poet/playwrights about women footballers (I used to play for Aston Villa as a kid so that should be a passionate one!)
Trashed - fellow Underbelly ticklers. They're a lovely bunch.
Luke Wright. I loved his last show What I Learned From Johnny Bevan.
Secret Life Of Humans based on a book I love: Sapiens from a great team at the New Diorama.
I've just graduated from Soho Theatre's Stand Up Comedy Lab taught by comedian AnDrew Doyle so I'll be heading in to support him in his new show too!
Underbelly Med Quad (Buttercup), Teviot Place, Edinburgh, EH8 9AG
2nd- 28th August 2017 (not 14th, 21st) 22:35 (50 min)