EDINBURGH 2017: BWW Q&A- Britney in 'John'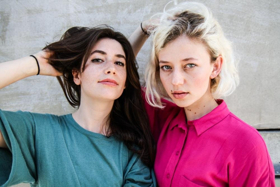 Tell us a bit about John
John is a sly glance at mythmaking, ignorance and arrogance, through the lens of the Ellen and Charly's footage of their 2011 journey across the states by Greyhound Bus. It's a nostalgic and irreverent look back at the pair's 'documentary' based on the founding father, big signatory of the Declaration of Independence and the original unscrupulous businessman: John Hancock. Filled with a cast of transatlantic nonconformists, John is the heartwarming tale of two teenagers embarking on the adventure of a lifetime, and very nearly missing it in their desperate attempt to be film-makers

Why bring it to Edinburgh?
Because we're masochists? I dunno. Nah, because in the immortal words of one Lady Gaga:
'I live for the applause, applause, applause
I live for the applause-plause, live for the applause-plause
Live for the way you cheer and scream for me
The applause, applause, applause'

What sets it apart from other shows at the Fringe?
We feel quietly confidently that no other show will have footage of us aged 18, at least no show that we've given consent to. We're two smokin' hot females telling a story about America, friendship, film-making and MURDER (not really the last one but if that's what you're lookin' for then eff it, it's about MURDER. REAL MURDER)

Who would you recommend comes to see you?
Philip May

Are there any other shows you're hoping to catch at the festival?
Whatever Sarah Kendall is offering up this year because we love her and she's funny and fierce. And the new show from our best buds Two Plus Ones. Also, Philip May's super secret spoken word/beat boxing gig called 'I put the heat in wheat'.
Timings and ticket information for Britney in: John are available on the edfringe website.
Photo Credit: Kate Burns