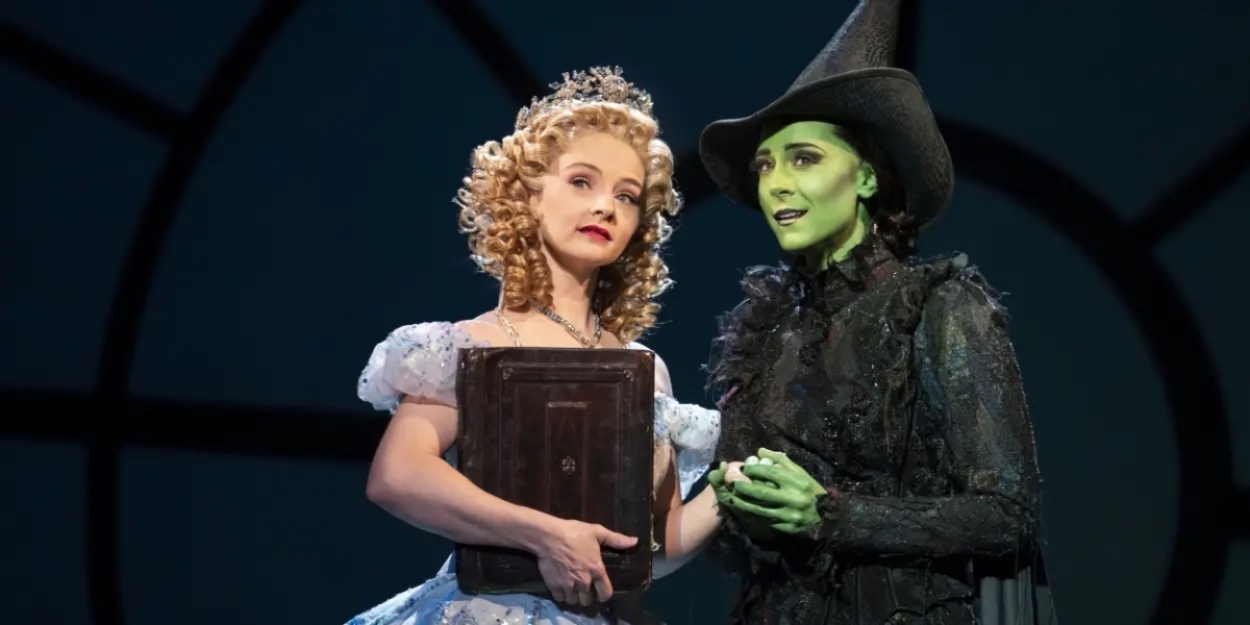 Review: WICKED at Straz Center
The Untold Story of the Witches of Oz
WHAT IS THIS FEELING, you ask? Well, much of the Gulf Coast has been feeling a little WICKED lately and ready to spend ONE SHORT DAY, DANCING THROUGH LIFE as they travel down the yellow brick road (I-75 to Tampa)) to the Emerald City (Straz Center) just as Glinda glides off her bubble and Elphaba dismounts her broom in the land of Oz. Get ready to drop your jaw at the visually stunning sets and costumes. Bring your tissues for those tender moments that will get you, even if it's the 20th time you have seen this production. Defy some gravity. Try not to be too POPULAR by singing too loud, because you know every song. And please wear something GREEN!
If this all sounds like Munchkin gibberish to you then you are one of the 15 people on the planet who have not seen WICKED, at least once. THANK GOODNESS you have come to see production and will now be changed FOR GOOD.
About 20 viewings ago I confess I was one of those people who had no interest in seeing yet another rendition of Dorothy's trip to Oz. When a dear friend (thank you Leslie Z) insisted on going to see WICKED for our birthday celebration, I firmly stated I'M NOT THAT GIRL but reluctantly acquiesced. That night changed the trajectory of my life for good, forever.
Tick tock, the time dragon takes us back in time so we can peer into the lives of The Wicked Witch of the West, Lissa deGuzman as green girl Elphaba, and Jennafer Newberry as perky Glinda the Good Witch to better understand their history. This clever version of Oz is written from the witches' perspective, and we see very little of Dorothy.
Not to give too much of the story away to those 15 people who have not seen WICKED yet, but I have to share some highlights. Based on Gregory Maguire's novel with perfected music and lyrics by Stephen Schwartz and a mind-blowing book by Winnie Holzman, the audience is treated to a whole different realization. Absolutely meticulously written there are threads of the original story intact, however, we find out why the wicked witch is green. We find that the good witch was a mean girl, and the wicked witch was just misunderstood. So, who's really wicked here? What is most mind-blowing is how the Tin Man, Cowardly Lion, and Scarecrow became who they are. I'm not giving that away. You'll have to take that little trip to Oz to see for yourself.
Under the tutelage of Madame Morrible (Natalie Venetta Belcom) the girls become roommates at Shiz University. At odds with each other at first, they soon become best friends amidst the turmoil and political background growing in Oz. They struggle with a mutual love interest over Fiyero (Christian Thompson). Glinda wants to be popular and Elphaba wants to meet the wizard in hopes to right injustice. Written over 20 years ago, real-world stuff is going on in Oz much like today. This story is timeless, and everyone can relate.
One of the songs Elphaba sings, THE WIZARD AND I, is a prophecy, a foretelling of her tragic end. From her perspective, she is relating that she will be famous for her friendship with the wizard and the good things they will do. But we know what is coming, and she does not. She sings her heart out naively stating, "when people see me, they will scream" and "I'll be so happy I could melt". Lissa deGuzman shook the rafters on this song and delivered one of the strongest DEFYING GRAVITY and NO GOOD DEED vocals I have heard. She played Elphaba with an awkward grace that is so this character.
The leading ladies pay respectful homage to two past witches, Kristin Chenoweth (Broadway's original Glinda) and Margaret Hamilton (the movie's original Wicked Witch of the West). This comes to life, as evident in their righteous display of mannerisms and vocal intonations. They nailed it. If Chenoweth had a daughter, her name would be Jennafer Newberry. Jennafer's Glinda is not to be missed. She has the chops to reach those operatic high notes as well. Natalie Venetta Belson is one of the best Madame Morribles I have seen. Her strutting comedic timing is spot on; she can make Morrible fun one minute and nasty the next. Rounding off this exceptional cast is Christian Thompson's handsome Fiyero, Tara Kostmayer's beautifully played Nessarose, Kyle McArthur's sweet Boq, Boise Holmes' delightful Doctor Dillamond, Brian Marquis Watson's backbreaking Chistery and Timothy Shew's crafty Wonderful Wizard of Oz.
This is a timeless tale with so many treasured songs and heartwarming and heartbreaking moments. There are lessons to be learned on so many levels that will appeal to audiences of all ages. My only issue with this particular production was the sound quality. For those of us who knew the dialogue and the lyrics, we laughed and ooh'd and ah'd at all the right places. Many were left looking around as if to ask, "what did I miss?" I was struggling myself to hear every word and every song with clarity.
WICKED is staged at the Straz Center through March 26, 2023. To learn more about the Straz Center and upcoming shows visit https://www.strazcenter.org/
For more information on WICKED visit https://wickedthemusical.com
Now that you are officially WICKED, don't go home without heading over to one of the biggest merch displays in Broadway history. I know you want that T-shirt, and mug, and especially the Grimmerie.
Photo credit: Joan Marcus