BWW Review: RAGTIME at Asolo Repertory Theatre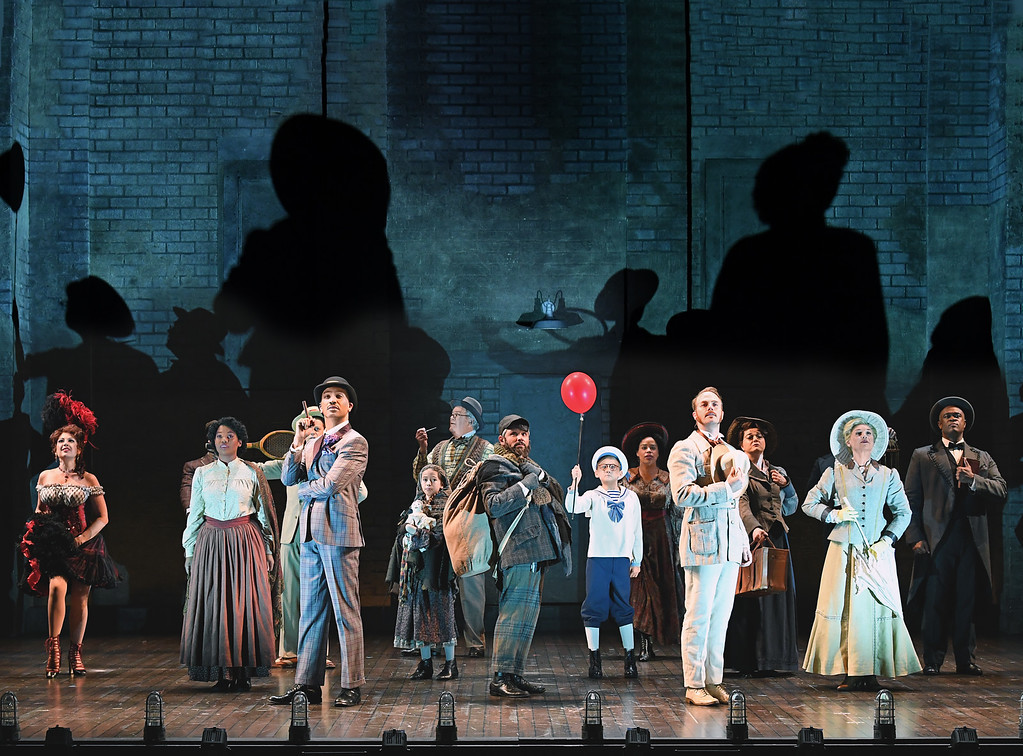 RAGTIME is such an underrated piece of art. Although written in 1996 and staged for Broadway in 1998, it is almost prophetic in its reflection of the social unrest, racism and immigration sanctions prevalent in our world today. Based on the 1975 novel by E. L. Doctorow, with a book by Terrence McNally, music by Stephen Flaherty and lyrics by Lynn Ahrens, RAGTIME is as relevant today as it was when first conceived. Its timelessness is a credit to its brilliant and perceptive writing, albeit a sad commentary of our present society which has not learned from its past and has not progressed much in civility or compassion.
RAGTIME unfolds as a timeline of the United States during the early 20th century. The story follows the interactions of 3 distinct communities of society, focusing on the figurehead of each; African Americans, represented by suave Coalhouse Walker Jr., a Harlem musician; Mother, the compassionate matriarch of a white upper-class family; and Tateh, a kind Jewish father from Latvia, representing the immigrants of Eastern Europe. The production is sprinkled with US historical figures such as Harry Houdini, Booker T. Washington, J. P. Morgan, Evelyn Nesbit and Henry Ford to name a few, who further add contrast and disparity.
Like its title, the music in this production is rich in ragtime, jazz, cakewalk and gospel. Sometimes it represents hope, lifts the spirit and calms the soul, and other times it is a battle cry to rally the troops. As we come to know and love each character and subset of humanity they represent, we find ourselves on everybody's side, understanding why they believe what they stand for, and all the while wishing they could just get along.
Britta Ollman as kindhearted Mother looks like and angel and has the voice to accompany her character, played with such compassion. Her solo, "What Kind Of Women" says it all. Mother starts out with a low profile but when she finds a black newborn baby in her garden and comes to know the baby's mother Sarah, she befriends her. Sarah is avoiding Coalhouse, her boyfriend, who doesn't know of the baby's existence. Mother welcomes Sarah and the baby into her home and shows her spine by letting everyone know, including her disapproving husband, JP Morgan, that they are in her charge. She takes a strong stance against racism and is backed by her Younger Brother, skillfully played by David Darrow.
Bret Shuford precisely portrays the methodically inclined Father/J.P.Morgan, the epitome of wealth and power. He displays just enough of his love for his family without breaking his stalwart demeanor. When he leaves for a one-year expedition with Robert Peary to the North Pole, he tells Mother she is in charge, however things WILL remain the same. Mother has other ideas that blossom in her new found freedom.
Jared Joseph brings Coalhouse to life with profound pride and belief in the justice of the law. After courting Sarah back into his life, while on a peaceful drive through a rough neighborhood, his car is demolished and the law he once believed in provided no restitution. That was a turning point for him. His hurt transformed into resentment. We see this once happy go lucky, piano-playing charmer with so much hope morph into an angry soul.
Danyel Fulton portrays his love, Sarah, with such kindness and gentleness. Their duet "Wheels Of A Dream" practically received a standing ovation in the middle of the show - so much hope and promise in this song. When Sarah goes to a Presidential rally to seek out the President himself for restitution for her beloved Coalhouse, Danyel packed all she could in her solo, "President". Ms. Fulton makes you feel you are watching Sarah against the world, David against Goliath, and you want to join in.
Sasha Andreev believably played Tateh, an immigrant single father struggling to care for his daughter. You could see the heartbreak in his body language yet he always managed a kind and positive word for his precious Little Girl. Gigi Spagnolo gave a fine performance as his daughter. Billie Wildrick was blissfully adorable as "lethal beauty" Evelyn Nesbit. "Wheeeee!"
I won't share the entire plot. You need to experience this show for yourself. I was told cast members played principal roles as well as ensemble roles to give the cast greater breadth. There were 17 members in this cast and they made it look like at least double that size. Michael Hoover's set design was simple yet very effective for this production. Lighting designer Duane Schuler rendered just the right amount of ambiance for the variance of each scene. Choreographer Kelli Foster Warder challenged her cast with beautiful footwork and they skillfully obliged. I liked that Trevor Bowen graced wardrobe with renderings from the turn of the century to highlight the disparaging difference between the haves and the have-nots. Musical director Steve Orich and his 10-piece ensemble of musicians dynamically brought this powerful and beautiful score to life. Director Peter Rothstein called on this ensemble to deliver impeccable timing in their lines, dance routines and vocals.
Kudos to Asolo Repertory Theatre for their impeccable timing in producing a show that parallels our own social dilemma. This production should be the next live musical performance for television.
RAGTIME is currently running through May 27 in the Mertz Theatre. For more information visit www.asolorep.org.
Broadway's Bret Shuford who portrays Father/J.P.Morgan took some time to answer a few questions.
Sarasota is thrilled to have you in town performing in Ragtime at The Asolo Repertory Theatre. Tell us about the part you play and your approach to bringing this character to life.
I'm thrilled to be in Sarasota telling this important and relevant story. I play Father, who is holding on to his ideals in a rapidly changing world. I had to approach this character with a lot of sympathy. He is struggling to accept things as they change, but is in love with his family and his country at the same time. I think his story really begins at the end of the play.
You enjoy a career on Broadway, television and film. Do you have a particularly favorite role you have played?
I loved going on for Lumiere in Beauty and the Beast on Broadway. The magic of that show will stay with me forever. Every time I sang 'Be Our Guest' with that orchestra, those dancers, and the pyrotechnics was a moment I felt I was doing what I was put on this earth to do.
Stage acting is known for broad gesturing and vocal projection while film and television spotlight the actor's facial expressions. How do you transition between the different types of mediums in which you perform?
Both forms of acting require that you believe what you are saying and doing as if it's real. When transitioning from one medium to the other, the necessary skill set doesn't really change - but they both do require lots of experience. That's why acting classes and practice are important. It's important to remember the style you are playing, and the audience you are playing to.
You admit to being a Disney geek. How did the Disney spell capture you and is there a Disney character you would like to play?
It's hard to say when the Disney bug bit, but it's always been a big part of my life. Once I read Walt Disney's autobiography I was committed to his legacy for life. Working for Disney on Broadway was a dream come true, and I have a dream to be a creative with the company in the future. I would love to play Lumiere again!
I applaud you for becoming a certified life coach. What drew you in to wanting to help others?
Having come from a small town in Texas I had a lot of doubts that got in the way of my success. It made the journey that much more difficult, and I want to help people release their doubts so that their paths to success can be joyful.
What was the most difficult barrier you helped a client overcome, and how?
That's a tough question because so many clients need help at different levels. The most common barrier I come across is when someone thinks they have to accomplish a certain level of success before they can be happy. I believe it's the opposite, be happy then you'll achieve success.
Can you share any upcoming projects with us?
I just released a fun video 'RENT Underground' on my YouTube Channel. I have a couple more fun videos coming out this summer. Make sure to subscribe to my YouTube channel and check out my Instagram to get updates.
Mr. Shuford is known on stage, TV and screen, starring as Robbie in Cirque du Soleil's Paramour on Broadway, Bert in Mary Poppins at the Alabama Shakespeare Festival and in a few Disney shows such as The Little Mermaid, Beauty and the Beast. Shuford toured with shows Next to Normal, A Chorus Line, Hairspray, West Side Story, Anything Goes (Carbonell Nomination)
In addition, Shuford has starred in numerous films on every scale, from the critically-acclaimed Martin Scorsese feature film, The Wolf of Wall Street, to the successful indie short Bedfellows. Presently, Shuford has turned his passion for performing into a thriving career coaching practice, Broadway Life Coach, helping other artists to follow their dreams.
Most recently, Bret appeared in an episode of NBC's LAW & ORDER: SVU; and coming soon he stars in a fresh episode of the digital YouTube series Underground!, as New York subway riders get an special show as Broadway performers unveil their underground version of the famed American musical, RENT.
For more about Bret Shuford visit: www.BretShuford.com
Related Articles View More Sarasota

Stories

Shows