BWW Review: JUNGLE BOOK at ASOLO REPERTORY THEATRE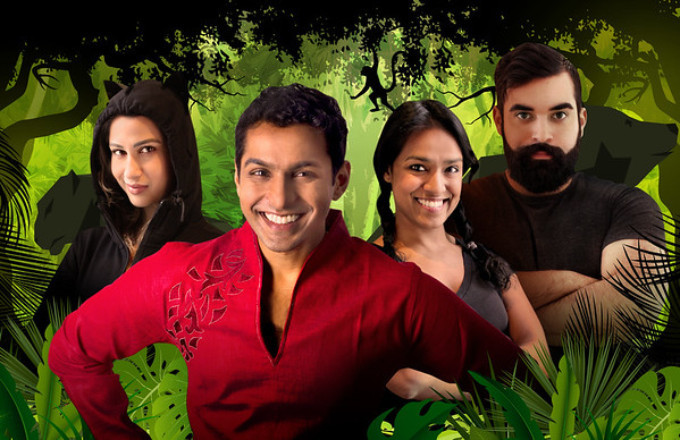 Asolo Repertory Theatre hits a home run bringing this re-imagined and inventive production to its stage. The Canadian theater and television team of Craig Francis and Rick Miller who staged their version of "Twenty Thousand Leagues Under the Sea" last year is the talent behind the re-telling of this classic children's story.
There have been many adaptations of Jungle Book in film and other media but do you remember the original Jungle Book by Rudyard Kipling written in 1894? To refresh your memory, it is a collection of stories where most of the characters are animals such as Shere Khan the tiger and Baloo the bear. The principal character however is a human boy or "man-cub" named Mowgli, who is raised in the jungle by wolves.
The story is set in a forest in India and the theme throughout the story focuses on abandonment followed by fostering, as in the life of Mowgli who was displaced from his human family but found comfort in being fostered by wolves that accepted him as one of their own. Supposedly this reflects Kipling's own childhood having been separated from his parents at an early age, bullied by other children and raised by people with little regard for a nurturing environment. If you have read the story of this interesting Englishman's life you will quickly understand why he writes the way he does and expresses such things from his own experiences, triumphs and tragedies.
Mowgli (Levin Valayil) begins the story by narrating us through, what his sister Maya (Miriam Fernandes) calls, his "jungle book", a personal anthology of writings and animal sketches about his life's journey from being raised by wolves in the jungle, then returning to civilization and his human family. As he speaks to the audience and moves into the scenes he is recollecting, clever projections utilizing a combination of stage scrims and screens bring us with him to various places in the jungle and the village where he was born. He tells of the interactions and struggle to survive between animals in the wild and how mankind can be so cruel at times, yet they are said to be the most wise and civilized. There are a lot of deep lessons in this story, none too far beyond a child's comprehension or too understated for the adults in attendance.
Mr. Valayil is playful, boisterous and comfortable in this role, sporting a razzle-dazzle smile that should win him a toothpaste commercial. He connected well with all ages that attended this very creative world premiere.
Miriam Fernandes, Matt Lacas, Anita Majumdar held various animal and human roles throughout the production. One part of the story that was particularly fun for the children as well as the adults was when Mowgli's sister Maya decided to turn the tables on her mother's rendition of fairy tales that she told her each night. Maya's interpretation was overstated with great theatrical panache and brought a good laugh of approval from the audience.
Miss Fernandes was delightful as the sweet and loving sister. Mr. Lacas played Baloo with a lovable silliness that was charming and Miss Majumdar brought a gentle yet powerful persona to Mowgli's human mother.
Creative lighting design by Rebecca Picherack, versatile scenic, prop and costumes by Astrid Janson and Melanie McNeill, and beautifully effective projections by Irina Litvinenko set the depth, mood and tone for each scenario.
This family-oriented production is a lesson in respect for authority, obedience, and knowing one's place in the world regarding "the law of the jungle". Kipling's story illustrates the freedom to move between different worlds, such as when Mowgli moves between the jungle and the village in which he was born. It also sadly reflects the irresponsible side of human nature. It was a lesson for yesterday and is just as relevant and maybe even more so today. Jungle Book is a must see, especially for multi-generational families where this can open the door for dialogue on bullying, respect, temperance and so much more.
For further information about this production and Asolo Repertory Theatre's exciting upcoming season featuring The Music Man, Sweeney Todd, Around the World in 80 Days and more, visit www.asolorep.org.
Photo credit: Gary W. Sweetman