BWW Preview: WOMEN FORWARD: 2 PLAYS at Center Stage Theater
The #MeToo movement enacted a shift in social focus toward denouncing the not-so-surreptitious dehumanization of women, and galvanized open expressions of rage and ire from all genders. It inspired specific works of art that further demanded recognition of this long-standing social ill and insisted on cultural change. But beyond exhibitions of fury, the movement toward gender equality has also prompted artists to place attention on the importance of the authentic female experience in an attempt to instigate understanding of the universality of the human condition beyond traditional lines of gender.
Santa Barbara, though fairly socially progressive, has often struggled with providing a healthy offering of female-forward theatrical works. Too many locally produced plays ignore the social shift of the last year (not to mention the many previous years of building toward gender equality), leaving a bad taste in the mouths of aware viewers, who can't ignore the disturbing fallacy of using antiquated womens' roles as points of plot or, worse, as explanation for character motivation. This week, two Santa Barbara theatre companies have joined forces to banish this model of theatrical disempowerment by producing Women Forward, two plays in rep that celebrate the life experiences of strong, intelligent women. This dual production, created through a collaboration between DramaDogs, A Theater Company and Dogstar Theater Company, includes Edward Albee's drama, Three Tall Women and Peter Shaffer's comedy, Lettice and Lovage. Both plays feature the empowerment of their female characters--not in response to male animosity, but as a function of the natural female experience. Directed by DramaDogs' Ken Gilbert (Lettice and Lovage) and Dogstar's Nita June Davanzo (Three Tall Women), these shows will share the stage at Center Stage Theater September 7th-16th.
Both shows are strong theatrical choices: each has Tony wins for their Broadway productions, with Albee's play winning several honors in the last awards cycle, including Best Revival of a Play. Three Tall Women features E. Bonnie Lewis as an aging woman awaiting her final breath, attended by two younger women (Lynn Craig Robinson and Leah Salinas)--who are, in fact, all different-aged versions of the same woman. Three Tall Women introduces this character in her 90s, her 50s, and her 20s, allowing for a poignant exploration of how she perceives herself: who she is, who she was, and who she will become.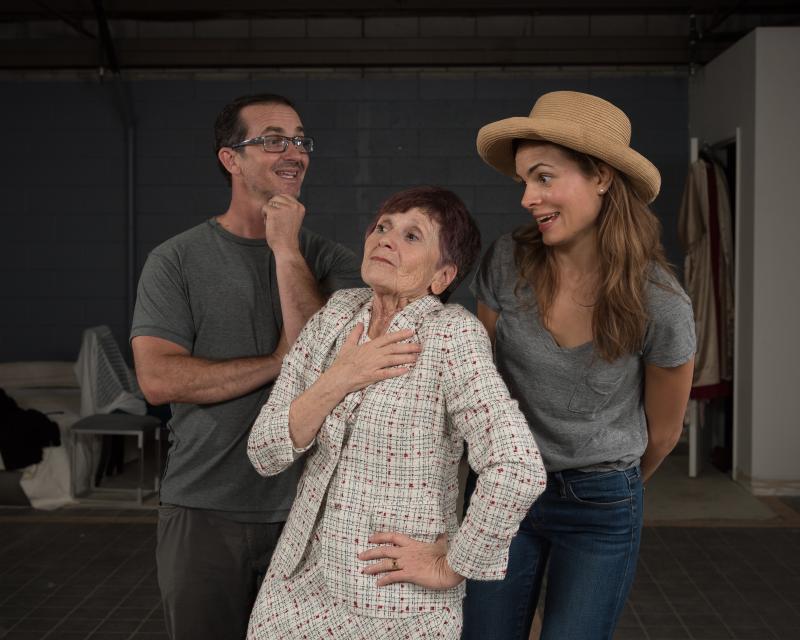 Shaffer's comedy, Lettice and Lovage, features E. Bonnie Lewis and Meredith McMinn as women with particular specialties in niche aspects of English history, from Elizabethan cuisine to medieval weaponry. When Lettice (Lewis) is fired after presenting a historical demonstration to a representative from the Preservation Trust (McMinn) with overemphatic gusto, the women begin an intrepid battle of wits that eventually finds comfort in mutual respect and lasting friendship.
Women Forward features plays by male playwrights who specifically wrote to feature older female characters. These plays will be a chance for E. Bonnie Lewis of DramaDogs to show the performance range she's developed during an impressive 25 years on Santa Barbara stages. Davanzo says that recent personal experience with reflecting back on her own life led to her interest in directing Three Tall Women. She and Gilbert decided on Lettice and Lovage as a balance for such an intense drama; not only does Shaffer's play offer a comedic counter to Three Tall Women, but, as the directors describe, the disjointed throughline of Three Tall Women offers an interesting contrast to the conversational storytelling style of Lettice and Lovage. Most importantly, both directors wanted to showcase, as Gilbert says, "powerful women who make choices as human beings, not just as women."
Hear the discussion with Gilbert and Davanzo about Women Forward on the TheatrixSB podcast: http://theatrixsb.com/2018/08/drama-dog-star/
WOMEN FORWARD: 2 PLAYS
Three Tall Women
By Edward Albee
Directed by Nita June Davanzo
Lettice and Lovage
By Peter Shaffer
Directed by Ken Gilbert
Friday, September 7th-Sunday, September 16th.
TICKETS: www.centerstagetheater.org
Featured BroadwayWorld Events
Check out these concerts...