BWW Previews: COOKIN' AT THE COOKERY: THE MUSIC AND TIMES OF ALBERTA HUNTER at Ensemble Theatre Company
The grand finale of Ensemble Theatre Company's 2017-2018 season brings the bluesy hits of Alberta Hunter to the stage with Marion J. Caffey's Cookin' at the Cookery: The Music and Times of Alberta Hunter. This music-infused interpretation of the great songstress's life is a true American rags-to-riches success story. Hunter moved to Chicago in the early 1900s to pursue a singing career at age 10, and achieved critical and commercial acclaim in the 1920s-50s. In the late 1950s, Hunter abruptly abandoned music to become a nurse. Several decades later, Hunter retired from nursing and returned to the stage for a two-week engagement at renowned New York blues bar, The Cookery. At age 82, this jazz legend rekindled the public's love for her powerful voice and spirit--her two-week stint at the Greenwich Village nightclub stretched into a multi-year, late-in-life comeback. She recorded and performed for the next six years, until her death in 1984.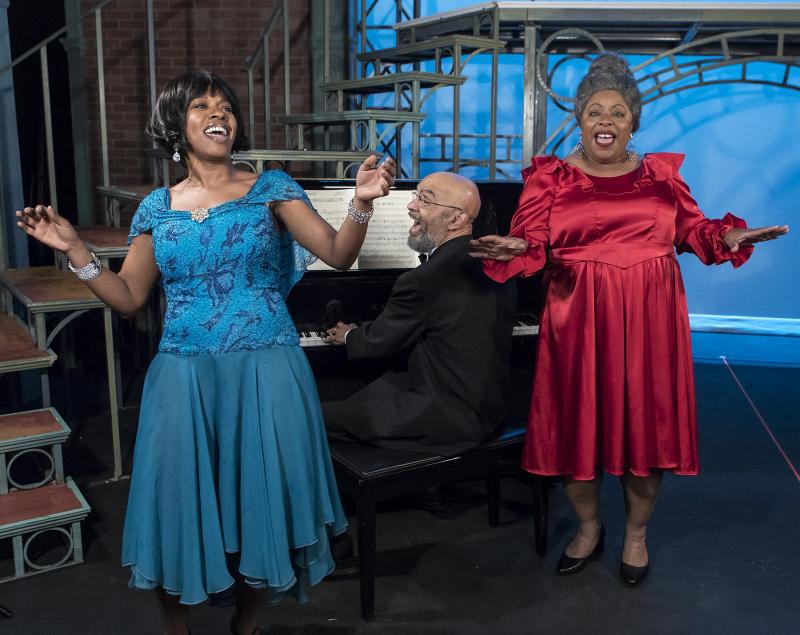 In Cookin' at the Cookery, 82-year-old Alberta Hunter (played by Lavon Fisher Wilson) sings her hits at the Cookery, which creates the musical backdrop for the story of her life, rendered in flashback (Dayna Jarae Dantzler plays the young Alberta Hunter, from age 10 to her initial retirement from performing). Wilson, whose career on Broadway includes credits from Newsies, Lysistrata Jones, Chicago the Musical, and The Color Purple, says performing as Ms. Hunter requires tremendous vocal stamina. "I'm on stage the whole time," she says. "...It's a lot of singing."
Wilson's relationship with Cookery's writer and director, Marion J. Caffey, stretches back almost two decades. "I've worked with Marion for 17 years," says Wilson. "The work I did with Marion helped prepare me for my work on Broadway." Wilson has also played the role of the younger version of Hunter, and says that experiencing the early part of the character's life--as well as the joy and loss she's faced in the real world--have provided her an in-depth understanding of Hunter that allows her to fully connect emotionally with the material.
Ensemble's production gives a musically narrated tour of Hunter's life, from dreams of leaving Tennesee and becoming a singer in the big city to a life outside the public eye to her grand comeback. Experience the music and times of this American jazz artist in Cookin' at the Cookery, opening at the New Vic Theater June 9th, and running through June 24th. Featuring Lavon Fisher Wilson and Dayna Jarae Dantzler; written and directed by Marion J. Caffey. The performance features music direction by George Caldwell, and a swingin' live band.
Ensemble Theatre Company Presents
Cookin' at the Cookery: The Music and Times of Alberta Hunter
Written and Directed by Marion J. Caffey
June 9-24
The New Vic Theater
https://ensembletheatre.com