The Stage Presents Martin McDonagh's Obie Winning THE LIEUTENANT OF INISHMORE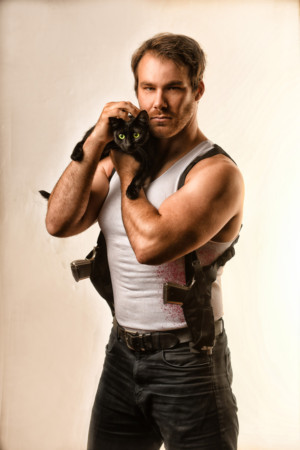 The Stage kicks off Season 36 with the Obie-winning play 'The Lieutenant of Inishmore' by acclaimed playwright Martin McDonagh; screenwriter, director, and producer of this year's Golden Globe winner for Best Motion Picture - 'Three Billboards Outside Ebbing, Missouri'. McDonagh's work is built into the fabric of San Jose Stage Company's mission to illuminate the human condition. 'The Lieutenant of Inishmore' marks The Stage's 5th work by Martin McDonagh previously producing the Leenane Trilogy 'The Beauty Queen of Leenane' (2001), 'A Skull in Connemara' (2002), 'The Lonesome West' (2004) and 'The Pillowman' (2009). "Through 'The Lieutenant of Inishmore' McDonagh forces us to view the ludicrous nature of terrorism with his special brand of black comedy."- Randall King | Artistic Director- San Jose Stage
This edge of your seat satirical comedy jabs at the absurdity of terrorist mentality. 'The Lieutenant of Inishmore' is a comedic tale of the extent one Irish Liberation Officer will go to find justice for his feline companion. Set in 1993 the play follows "Mad Padraic" on his quest for revenge. After receiving threatening news regarding his beloved cat 'Wee Thomas' he immediately returns to his home on the Island of Inishmore. Fueled by passion, he loves his cat more than life itself and someone is going to pay, Padraic sets out on a mission to avenge 'Wee Thomas' by any means necessary. This darkly comedic journey will have audiences captivated in both shock and laughter.

"I suppose I walk that line between comedy and cruelty because I think one illuminates the other. We're all cruel, aren't we? We are all extreme in one way or another at times and that's what drama, since the Greeks, has dealt with." -- Martin McDonagh
Martin McDonagh is a British-Irish playwright, screenwriter, and director. Born and brought up in London, the son of Irish parents, he holds dual British and Irish citizenship. He is among the most acclaimed living Irish playwrights. A winner of the Academy Award for Best Live Action Short Film, McDonagh has been nominated for three other Academy Awards, and in 2018 won three British Academy of Film and Television Arts Awards from four nominations and two Golden Globe Awards from three nominations for his film Three Billboards Outside Ebbing, Missouri.
Separated into two trilogies, McDonagh's first six plays are located in and around County Galway, where he spent his holidays as a child. The first is set in Leenane, a small village on the west coast of Ireland, and consists of The Beauty Queen of Leenane (1996), A Skull in Connemara (1997) and The Lonesome West (1997). His second trilogy is set across the Aran Islands, off the coast of County Galway, and consists of The Cripple of Inishmaan (1997), The Lieutenant of Inishmore (2001) and The Banshees of Inisheer.
McDonagh's first non-Irish play, The Pillowman, is set in a fictitious totalitarian state and premiered at the Royal National Theatre in 2003, after a reading in Galway in 1997. A Behanding in Spokane is McDonagh's first play that is set in the United States and it premiered on Broadway in March 2010. Lead actor Christopher Walken was nominated for a Tony Award for Best Actor in a Play for his performance as a killer looking for the hand he lost in his youth. McDonagh also penned two prize-winning radio plays, one of which is The Tale of the Wolf and the Woodcutter.
Joshua Marx is a director, actor, professor, and certified fight choreographer who holds an MFA in Acting from Rutgers University. He has worked with numerous theatre companies nationally and throughout the Bay Area. He is returning to San Jose Stage after having played Martin in last season's acclaimed production of Sam Shepard's Fool for Love as well as the TBA nominated Toxic Avenger for which he received a TBA nomination for his role as White Dude. Joshua is a Professor of Theatre Arts at San Jose State University and Diablo Valley College, he also teaches for Theatreworks, SF Shakes, and Cal Shakes. As an actor, Joshua has worked nationally in the major regional circuit, working at theaters such as Theatreworks, the Berkshire Theatre Festival, Flat Rock Playhouse, the Alabama Shakespeare Festival, Aurora Theatre, San Jose Stage, Woodminster, and 42nd Street Moon. Most recently he directed A Few Good Men at Hillbarn Theatre, and Saturday Night Fever and Oklahoma! at Broadway by the Bay. He has also directed a variety of other immersive site specificity pieces including The Being at FloodLight and has worked with companies such as Speakeasy and Epic Immersive. Upcoming directorial projects include Sweeney Todd at Hillbarn Theatre, and 110 in the Shade at 42nd Street Moon.
Related Articles View More San Francisco

Stories

Shows
More Hot Stories For You