Click Here for More Articles on SHAKESPEARE SPOTLIGHT
Photo Flash: Sneak Peek at We Players' Site-Specific ROMEO AND JULIET
We Players will present Shakespeare's Romeo & Juliet at the historic Rancho Petaluma of Petaluma Adobe State Historic Park in August/September 2016. Continuing nearly 10 years of unprecedented partnership with the National Park Service and Califonira State Parks, We Players will once again integrate a well-loved Shakespeare play into the environs of a national historic landmark. Audiences will enter a 360-degree sphere of performance as We Players blurs the boundary between audience and actor and history and the present, all on the spectacular grounds of Rancho Petaluma Adobe. Scroll down for a sneak peek at the cast on location!
Making their We Players' debut, the company welcomes Courtney Walsh as Mercutio and Prince Escalus, Rush Rehm as Friar Laurence, Steve Thomas as Tybalt and Paris, John Steele Jr. as Benvolio, Amy Nowak as Peter, and Mohammad Shehata as Romeo. In addition to predominantly new talent, several We Players veterans complete the ensemble . Jennie Brick (2015 TBA finalist for her performance as Eugenie in We Players' Ondine at Sutro) will play the Nurse, and Maria Leigh (The Odyssey on Angel Island, Macbeth at Fort Point) will play Juliet. Director Ava Roy has merged the roles of Lord and Lady Capulet into one character, to be played by another We Players' alumna, Libby Oberlin (Ondine at Sutro, The Odyssey on Angel Island).
As with all recent We Players productions, Artistic Director Ava Roy and Managing Director Lauren Chavez will co­-produce. Resident Music Director Charlie Gurke (a 2014 TBA award winner for his original score for Macbeth at Fort Point), will compose an original score and music direct. We Players welcomes back Brooke Jennings (TBA award winning costume designer for her work on the company's 2015 production Ondine at Sutro), to design the show. Becky Robinson-­Leviton will choreograph the dances, including audience­ participation group dances at the masquerade ball embedded in the play. Original, hand­-made masks will be created by visual artist Monica Lundy. Lundy's work can be seen in many local galleries and has been featured in We Players' visual art exhibits on Alcatraz Island (2011), Angel Island (2012), Fort Point (2013), and SF Maritime Museum (2015). Megan Hillard, who has provided properties and production support in several recent productions, will serve as Properties Master. Benjamin Stowe will choreograph the fights. Further credits include Moira McGovern as Production Stage Manager, Britt Lauer as Stage Manager and Fight Captain, Albert Kong as Assistant State Manager and Lauren Matley as House Manager. Romeo & Juliet will be directed by Ava Roy.
As with recent and ongoing collaborations at other National Park Sites (Alcatraz Island 2009­2011, Fort Point 2013­-2014, SF Maritime 2011­-2017, Marin Headlands 2014, Sutro Baths/ Land's End 2015, Fort Mason Center 2015), We Players entices visitors to environmentally rich, historically and culturally charged sites, and invites guests to experience these places with their senses awakened. "An essential goal of our work is to inspire in our audience personal relationships with the places in which we play," says Artistic Director Ava Roy.
So far, in this season of love and intrigue, We Players has explored scenes and vignettes of Romeo & Juliet in many unique ways. We Players held four performance­-infused parties in four unique venues, known as The Capulet Ball, mask-making salons, as well as exciting staged combat events known as Sandwiches and Swordfights. August through September culminates with the large-­scale, fully site­-integrated production of Romeo & Juliet at historic Rancho Petaluma Adobe State Historic Park in Sonoma County.
The production runs August 12-September 25, 2016. For tickets and more information, visit www.weplayers.org.
Photo Credit: Lauren Matley/Rock Shots Photography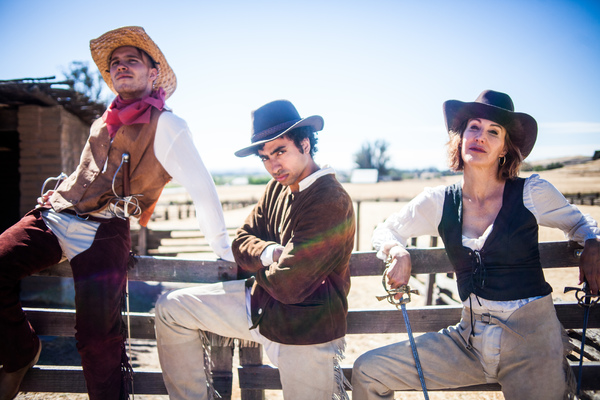 John Steele as Benvolio, Mohammad Shehata as Romeo (center) and Courtney Walsh as Mercutio and The Prince

Juliet, played by Maria Leigh, in Petaluma Adobe's wheat grasses

Mohammad Shehata as Romeo and Maria Leigh as Juliet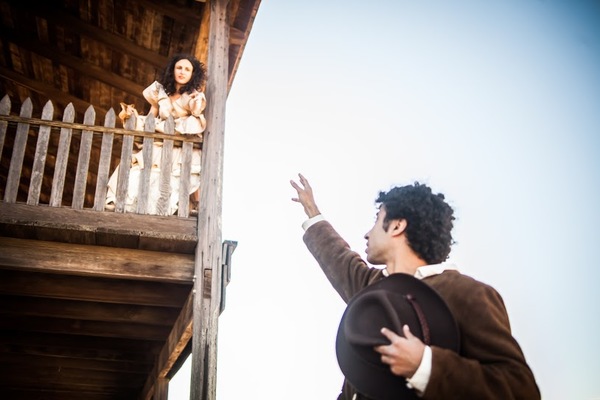 Maria Leigh as Juliet and Mohammad Shehata as Romeo