BWW Review: RED SCARE ON SUNSET at New Conservatory Theatre Center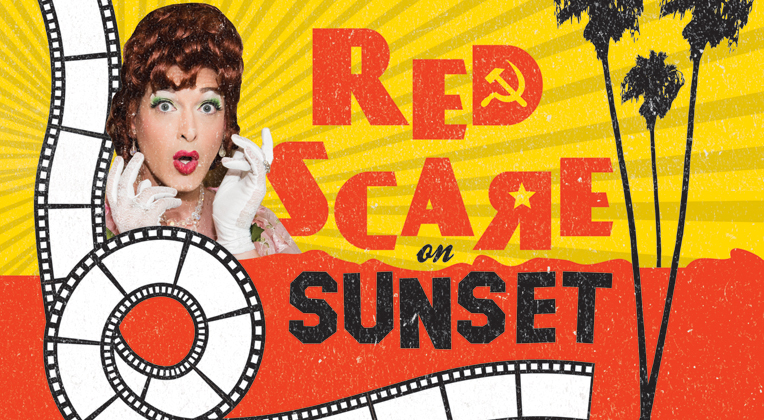 This past weekend I made the long trek into the city from the South Bay to see Red Scare on Sunset at the New Conservatory Theatre Center. I was elated that the first show I would be covering for BroadwayWorld would be this high-camp and all-to-relevant play by Charles Busch.
The play is a fun twist on McCarthyism, which, frankly, isn't a sentence I thought I'd ever be typing. In the show, Mary Dale (J. Conrad Frank) sleuths to uncover a secret Communism ring fronting as a Method acting class. Same.
While Ms. Dale is certainly a fantastic detective, she is assisted by her trusted bestfriend, Pat Pilford (Nancy French). The two of them work quite well together and are able to navigate issues like a husband trying to kill them, poisonous necklaces, difficult radio shows scripts, and that one 'serious actress' Marta Towers (Baily Hopkins).
I found the show incredibly topical given the current political climate. Hollywood stars having elicit affairs with Russians? Relevant in comedy shows featuring drag queens...and also the White House.
Overall, I found the show quite fun and worth the trip. Charles Busch's writing contains ample wit and depth. I thought several members of the cast shined, including Hopkins' ability to pull some of the most dramatic faces this side of the Mississippi, and Frank, who led the play perfect with impeccable line delivery.
Everything is better when there is a man in a wig involved, so the drag element of the show is a refreshing twist. I can't think of an occasion in life that isn't instantly improved with drag.
At the secretary of state office? Improved with a man in a wig.
Getting brunch? Certainly improved.
Go check out Red Scare on Sunset at the New Conservatory Theatre Center, as well as the rest of their queer and allied programing throughout the year.

Related Articles View More San Francisco

Stories

Shows