BWW Review: Pink, Pink And Nothing But Pink At SLAC's Perfectly Performed PINKALICIOUS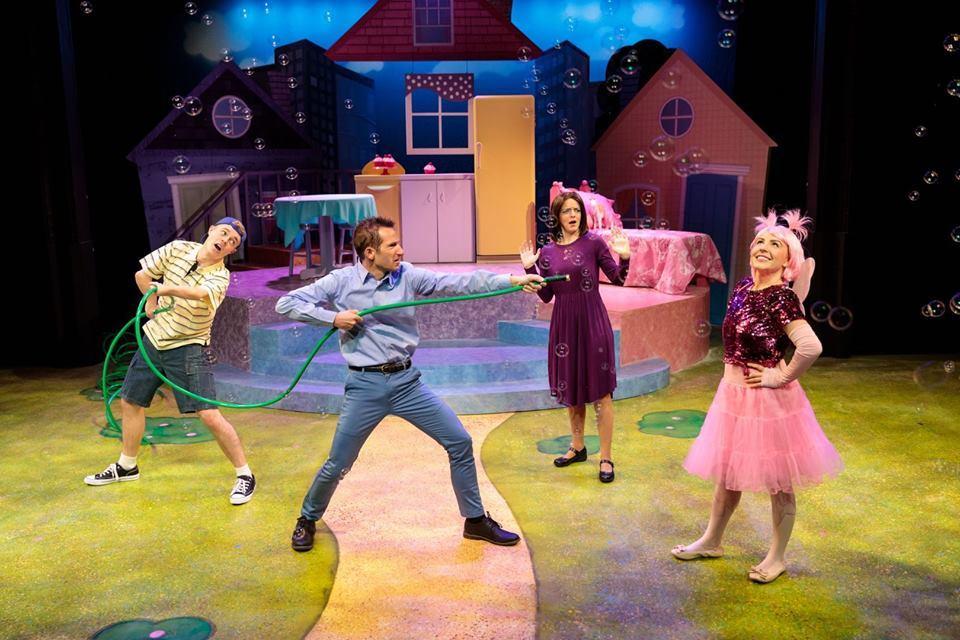 Drama, Musical, Chamber Musical, Opera, Gilbert & Sullivan, Sondheim: Each a separate Theater Art Form, among others we can classify. And Theater for Young Audiences merits standing shoulder-to-shoulder proud alongside its siblings. (And I will beat your lame ass if you don't enthusiastically agree.)
I became familiar with TYA through The Imagination Company, a Southern California-based touring group headed by Teresa Love, now a BYU Theatre and Media Arts faculty member; and Tom Provenzano, professor of Theatre at California State University, San Bernardino. The stagings they directed were magical. And I learned to cherish delightfully produced TYA.
Each yuletide, the Salt Lake Acting Company takes a break from its stagings of "The Wolves," "A Funny Thing Happened on the Way to the Gynecologic Oncology Unit," "Fun Home," "Stupid Fucking Bird" or other titles you'd find in a typical season -- along with the annual cash cow "Saturday's Voyeur"-- for a title like "The True Story of the Three Little Pigs" or "Diary of a Worm, a Spider and a Fly" or "The Cat in the Hat."
"The impact SLAC has been able to make over the past decade through this family-friendly seasonal tradition and our Title 1 Arts Education Program is one of the finest examples of the power of theater-- and of SLAC -- in our community," enthuses Cynthia Fleming, SLAC's executive artistic director, who inherited the concept from Nancy Borgenicht, a previous executive director. There have been more than 100 free community-outreach performances of SLAC's TYA productions.
This season, SLAC gifts Salt Lakers with PINKALICIOUS THE MUSICAL, a true delight -- no matter if you are in the pink-loving K-2nd grade target audience, a parent, a grandparent or if you enjoy quality, highly animated theater with an endearing pink message.
PINKALICIOUS is enchanting. Director Penelope Caywood, artistic director of the University of Utah Children's Theatre program, returns to SLAC for her ninth TYA staging, and her confident hand is seen throughout the production. She guides SLAC alumni Shannon Musgrave (Mrs. Pinkerton), Alexis Baigue (Mr. Pinkerton) and Micki Martinez (Alison/Dr. Wink), along with newcomers Fiona Hannan (Pinkalicious Pinkerton) and Seth Foster (Peter Pinkerton) to play TO the audience, decidedly not DOWN TO the audience. It's an exaggerated acting style -- an enhanced reality, which is superb for a TYA staging.
You see, Pinkalicious can't stop eating pink cupcakes despite warnings from her parents. Her pink indulgence lands her at the doctor's office -- with Pinkititis, an affliction that turns her pink, from her pink head to her pink toe. Alas, a girl, cannot live on cupcakes alone, pink or any other color, which is pretty much the moral of this pink enterprise. You also need greens, greens and nothing but greens: parsley, peppers, cabbages, and celery; asparagus and watercress and fiddlefern and lettuce. You also need greens, greens and nothing but greens: parsley, peppers, cabbages, and celery; asparagus and watercress and fiddlefern and lettuce. (Sorry, wrong musical.)
The songs -- composed by John Gregor with lyrics by Gregor and the series authors, Elizabeth Kann and Victoria Kann -- are fun and clever. You may not leave the theater humming "I Got the Pink Blues," but you will find a recording of the songs on Amazon.
"Pink is not just a color. It's powerful stuff," Pinkalicious sings out. In "Cupcake Dream," cast members make a quick costume change into a cupcake (wardrobe designed by Shannon McCullock) to deliver one of the flight-of-fantasy numbers in the show.
If you need another indicator that SLAC takes PINKALICIOUS THE MUSICAL seriously, consider that the inviting set was crafted by Gage Williams, a resident designer at Idaho Shakespeare Festival and recently the U of U Theatre Department chair.
Treat yourself to a pink cookie from Flourish Bakery, served atop a pink tablecloth. And you might be persuaded to buy one of the Pinkalicious books in the lobby's Kings English Bookshop pop-up Pinkalicious store.
PINKALICIOUS is perfectly presented. And perfectly pink. Shall I say it? Yes, I'll say it: You'll be tickled pink.
PHOTO: dav.d daniels/dav.d photography