BWW Review: PASSION at Good Company Theatre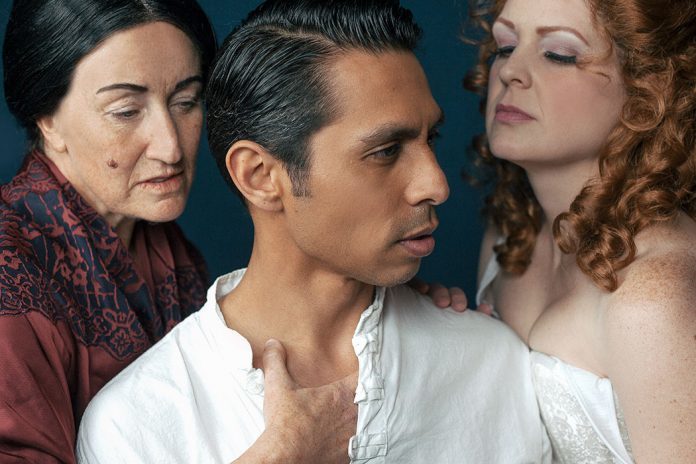 Loving you is not a choice; it's who I am.
Utah knows Stephen Sondheim through "Sweeney Todd" and the ever-frequent "Into the Woods," along with an occasional "A Funny Thing Happened on the Way to the Forum." There have been striking "A Little Night Music" and "Assassins," along with a wavering "Company."
We're now treated to a strong production of the master composer's masterpiece by Good Company Theatre. With direction/music direction by Paul Naylor, PASSION is tonal correct, and for its emotional depth this heavily dramatic work is perhaps the most difficult of Broadway musicals to stage.
Good Company producers have wisely recognized that, while as powerful as an opera, PASSION is at heart a chamber musical and easily can be stripped down to talented performers, minimal set pieces and no backdrop. (With "Night Music," Sondheim has two shows that are also produced by leading opera companies.) While identifying locations by scene in the playbill would have helped, nearly all of the locations are written into the largely sung-through design.
Based on a late 19th-century novel and its film adaptation, PASSION takes place in Milan and on a remote army base, telling the story of the sickly and unattractive Fosca and her love for the dashing soldier Giorgio, who prefers his married mistress, the beautiful Clara. But his choice is not as simple as beauty or beast.
The two deeply impressive performances are in the leading women's roles: Lori Rees as Fosca and Ginger Bess as Clara.
If the audience sees Fosca as grotesque and overly obsessive, there's no compassion for her, and the show will easily fall apart. Rees is powerful and dramatically commanding, revealing Fosca's pain and ecstasy. Bess is spectacular as Clara. Her voice is bright and sweet. The minor criticism of Bess' performance is initial joy in the opening "Happiness"; but that's a directorial misstep, leaning too heavily on melodrama. The requisite conviction to the characters is evident in these skilled performers.
As Giorgio, Tito Livas is sadly unexceptional and stolid. There is little detail to the performance, and the actor is unpersuasive in Giorgio's affection for Fosca or even Clara.
In very minor roles, two actors impress: Allen Smith as the tipsy Sgt. Lombardi and Nick Rice as a mistress in the flashback to Clara's marriage.
Julie Barker is splendid on the piano. The bass by Spencer Howe and percussion by Jakob Turley don't contribute strongly.
With a book by his most frequent collaborator James Lapine, Sondheim structures his score as "one long, rhapsodic love song," using his words. (Quite famously, the individual song titles were omitted from the original Broadway playbill.) I found this staging slackly paced.
While the scene changes are not directly to blame, we see the cast enter the stage from the lobby, without an apparent adequate backstage, and then the bed must be rolled onstage in darkness. Why not begin the first scene with an empty bed, the one set piece that links the love triangle, in full display? And the cast enter after the opening of Giorgio and Clara entwined in bed ends?
There is a structural post dead center on stage, which I thought would be painfully obtrusive. But the blocking makes it nearly disappear.
It's unclear that it's not frailty alone that ends Fosca's life.
PASSION holds the record for the shortest-running Tony-winning Best Musical, at only 280 performances. (It also swept 1994 honors for Book and Score.) Yet it's a deeply rewarding show questioning the nature of love.
Related Articles View More Salt Lake City

Stories

Shows
Blair Howell's career is in the professional publishing arena (for more years than he cares to remember), with a longstanding interest in theater. He found (read more...)