Review: AN OFFICER AND A GENTLEMAN Lifts Us Up at Broadway Sacramento
Now at Broadway Sacramento through November 7
Broadway Sacramento continues its phenomenal comeback season in the newly renovated SAFE Credit Union Performing Arts Center with An Officer and a Gentleman. Based on the Academy Award-winning 1982 film starring Richard Gere, the musical boasts an impressive 1980's arrangement including the hit "Up Where We Belong." Sacramento is the third stop of the first North American tour, which visits over 50 cities through 2022.
You might be thinking, "Another jukebox musical?" or "Another film to musical?" I wouldn't blame you-those thoughts crossed my mind, too; however, this one hit all the right notes. First, I hadn't seen the movie before the musical, so I had nothing to compare it to and was able to enjoy it without any expectations. Next, the music made my 80's loving heart soar, featuring favorites such as "Fly By Night," "Venus," and "Never Surrender." Finally, the combination of clever staging, athletic choreography, and relatable themes made for a show that I would see more than once.
Of course, a show is nothing without a cast and this one is certainly memorable. Amaya White (as Casey Seeger) had the audience cheering for her as she broke down racial barriers and gender stereotypes with a quiet determination and steely resolve. Emily Louise Franklin and Cameron Loyal (as star-crossed lovers Lynette and Sid) achingly wrestled with the heart-wrenching reality of navigating a bi-racial relationship in small-town America. Mary Nikols likeably played the love interest, Paula, of Wes Williams' Zack Mayo, the downtrodden, determined son of a failed enlisted man who expertly blossoms from a selfish loner to the archetypal team player.
In this musical, there is something for everyone. If the beautiful projections don't keep you transfixed, the music will. The tense to tender (and back again) storyline invites you onto the stage and connects you to the characters. You'll leave feeling a little sad, very invigorated, and wanting to see it again and again.
An Officer and a Gentleman plays at Broadway Sacramento through November 7. Tickets may be found at BroadwaySacramento.com or by calling the box office at (916) 557-1999.
Photo credit: Matthew Murphy
Courtney Symes is a long-time theatre aficionado who has been writing for BroadwayWorld since 2017. She has been active in theatre and youth organizations in her community. After trying law sc... (read more about this author)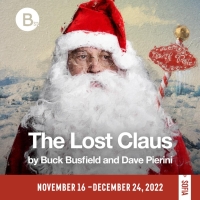 Review: THE LOST CLAUS Finds Christmas Spirit at the B Street Theatre

November 23, 2022

'Tis the season to be jolly!  Unless you're Santa, whose ancient body has compiled a laundry list of ailments. Playwright Buck Busfield has imagined a contemporary North Pole in this sweet and salty tale of Christmas hijinks at the B Street Theatre.
---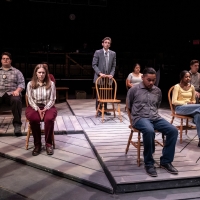 Review: THE LARAMIE PROJECT Sparks Dialogue at Sacramento State's Playwrights Theatre

November 21, 2022

As I watched The Laramie Project at Sacramento State University on Saturday night, I thought to myself how far we've come as a society and how much progress we've made since 1998. That was the year Matthew Shepard was beaten and tied to a fence in rural Wyoming by two young men – left to die simply because he was gay. What I didn't know was that, at about the same time, another tragedy was unfolding in Colorado as another young man opened fire on innocent victims at an LGBTQ nightclub, proving that we have much further to go and illuminating the importance of pieces like The Laramie Project.
---
Interview: Freefall Stage Talks About THE MOUSETRAP, Plays vs. Musicals, and Being Excellent

November 13, 2022

A cozy parlor, a warm hearth, an inviting inn…what could possibly go wrong when seven strangers gather to seek refuge from a storm?  Come find out in Freefall Stage's production of Dame Agatha Christie's The Mousetrap. Known as the world's longest-running play, it has run in London's West End continuously since 1952, only halting temporarily due to Covid restrictions. 
---
Review: Sacramento Says Hello! And Welcome Back To THE BOOK OF MORMON

November 3, 2022

Our favorite doorbell-ringing devotional devotees are back in Sacramento with a new and improved version of the Tony Award-winning hit, The Book of Mormon.  It's been four years since they brought the good word of the creators of South Park (Trey Parker and Matt Stone) and Avenue Q (Robert Lopez), and we are ready for a refresher! 
---
Review: Come Aboard for MURDER ON THE ORIENT EXPRESS at Sacramento Theatre Company

October 14, 2022

It's the dawn of a titillating new season at Sacramento Theatre Company (STC) and this one may be the best yet!  The 2022-2023 Season of Curiosity, Intrigue, and Suspense kicked off with previews of the adaptation of Agatha Christie's famous whodunit, Murder on the Orient Express.  Published in 1934 to rave reviews, the story has stood the test of time.  Versions have been performed on stage, television, and, most recently, in a 2017 film featuring Kenneth Branagh.
---