Click Here to Visit the College Center

Blogs are the opinions of the authors and do not necessarily reflect the opinions of BroadwayWorld. BroadwayWorld believes in providing a platform for open and constructive conversation.

Student Blog: BFA Musical Theatre at Manhattanville
Today, I will be taking you through the audition process for the program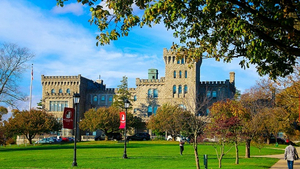 Hi, my name is Olympia Prodafikas and I am a BFA Musical Theatre major at Manhattanville College. In this post, I would like to walk you through the audition process and some information about the school. I auditioned at Manhattanville in February of my senior year in high school. I decided to go because of the small school size and location. My high school had 4,000 people so I felt like I needed a small school that would treat me like a person and not just a number. Manhattanville only has 1,500 undergraduate students; definitely a lot better. A great bonus is that the college is only about an hour away from New York City.
Manhattanville gives you the ability to study and hone your craft without being overwhelmed by the hustle and bustle of city life. As soon as I stepped out of the car I felt completely at home. Standing tall as a landmark of the school is its beautiful castle which houses admissions, financial aid, payroll, etc... It is also a great place for concerts, weddings, and general corporate events. The music building is just a short walk across campus. When you step in, you immediately feel a sense of comfort and peace. To your left and right are classrooms and vocal studios. Right in the center are two double doors that lead into Pius X which is the main concert hall on campus. Held in here are classes, concerts, and chorus rehearsals. On audition day you will also find the dean of arts and sciences among some students helping you sign in.
Before the audition, all candidates are given access to the practice rooms which are located down the stairs. Each room has a piano and music stand for ultimate preparation. When the panel is ready for you someone is sent down to come to get you and bring you back upstairs. You are brought to a very small classroom with a pianist, the director of the program, and another professor from the music department. When I auditioned the requirements were 2 contrasting musical theatre pieces, one classical piece, and one contemporary monologue. When auditioning I really felt completely comfortable and like I was just singing in front of family. At the end of the audition, the department chair talked to me about some of my experiences on my resume. This felt extremely personal and showed me that the school cared about you as an individual.
After I walked of that room I felt amazing, finally heard, and appreciated. That was by far the best audition that I had ever done. If you are thinking about auditing for schools or would even just like some more audition experience, audition for Manhattanville's BFA Musical Theatre program. You may be just what they are looking for.