BWW Review: Yeston/Kopit's PHANTOM at Westchester Broadway Theatre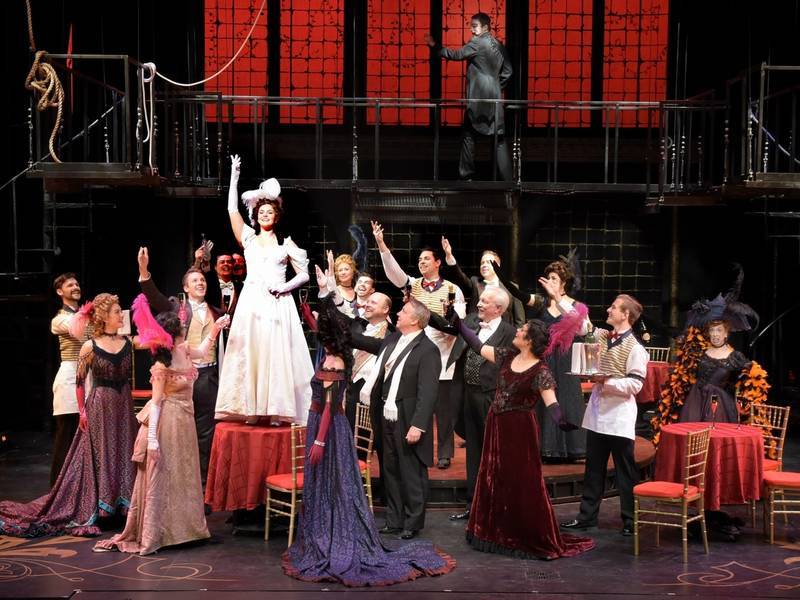 I may be the only serious Broadway fan who has not seen Andrew Lloyd Weber's version of Phantom of the Opera, so I went into Westchester Broadway Theatre's Revival of Maury Yeston/Arthur Kopit's Phantom with a completely open mind. I did do a little research on the two musicals, though, and was surprised to discover that this version was in development a few years before Weber's, but due to better financial backing, Weber got his show mounted first. Yeston/Kopit's was shelved, but thanks to some innovative producers, this show has received a second life in regional productions, breaking box office records-including one at Westchester Broadway Theatre.

This is Westchester Broadway Theatre's third production of Phantom. It's directed by Tom Polum, who appeared in the ensemble for the first production in 1992. He clearly knows this show thoroughly; the staging was quite fluid. The set, Paris' famous Opera House, conveys a romantic, mysterious vibe. The actors played on different levels of the stage, complete with a circular platform that raised the Phantom and elevates him to a rock star persona.
Something interesting and different about this show is the Phantom's part written as a baritone which, brings a more dramatic, richer tone to the character. It also helps that Matthew Billman as the Phantom is vocally and physically up to the task.
Kayleen Seidl as Christine Daeé, the ingénue who captivates The Phantom with her Lily Pons pyrotechnical voice, sings coloratura high notes effortlessly. I kept thinking she would not be able to top her showstopper "Home" in the first act, but I was wrong! The urgent counterpoint in the first act "Lessons" ensemble is also a goosebump moment. Larry Luck as Count Philippe rounds out the love triangle and sings with beautiful phrasing.
Sandy Rosenberg as Carlotta plays the comic foil of the show and her musical moment in "This Place is Mine" shows her to be a diva to be reckoned with. She sings with such wonderful facial expression, it is hard at that moment to not root for her. I am reminded a little bit of Bette Midler, if she were an opera singer.
After that seemingly unbeatable first act, James Van Treuren as Gerard Carriere sings one of my favorite duets, "You are my Own," with The Phantom in the second act. That was the song that stayed in my head on my way out.
There were lovely, authentic acting moments in this production and it was especially effective to have the cast front and center, so we can really see facial and body gestures. I cannot remember a Westchester Broadway Theatre Production that made me feel like I was so involved.
George Puello's original set design is intact with striking lighting design by Andrew Gmoser. The costumes by Keith Nielsen and Wig/Hair Design by Gerard Kelly are lovely and Bob Bray's musical direction is a full-bodied orchestral sound. It does not seem like there is only one instrument to a part! Erica Mansfield's musical staging is gracefully executed by a lively ensemble.
Of course, there is a dramatic chandelier moment--and it does not disappoint. What captures my attention with this version of Phantom is how truly heartfelt it is. From what I gather, this telling of Phantom delves more into the Phantom's backstory and how he came to his destiny. If you are a fan of all things Phantom and want more, this is a show worth seeing. It is long - roughly three hours--but worth seeing for such impressive production values and singing: a feast for the eyes and ears.
See Phantom at Westchester Broadway Theatre, through Nov 25, 2018 with a second run from Dec 27-Jan 27, 2019 following holiday season performances of A Christmas Carol.
WBT's first production of Phantom ran for nine months, making it the longest running show in the theatre's 44 year history. The July, 1992 - April 1993 Phantom performances brought 120,000 people to the theatre. Phantom returned to Elmsford in 1996, in 2007, and is back on stage in 2018.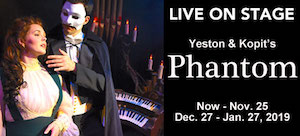 Westchester Broadway Theatre is located at 1 Broadway Plaza Elmsford, NY 10523. The Box Office can be reached at (914) 592-2222 or online at BroadwayTheatre.com

Related Articles View More Rockland / Westchester

Stories

Shows
Kathryn Kitt is a Classically Trained Lyric Soprano who is comfortable singing different types of genres. She has a BA in music from Bennington College (read more...)